Children living under Isis 'forced to participate in public executions and play with decapitated heads'
UN-backed report reveals the extent of Isis indoctrination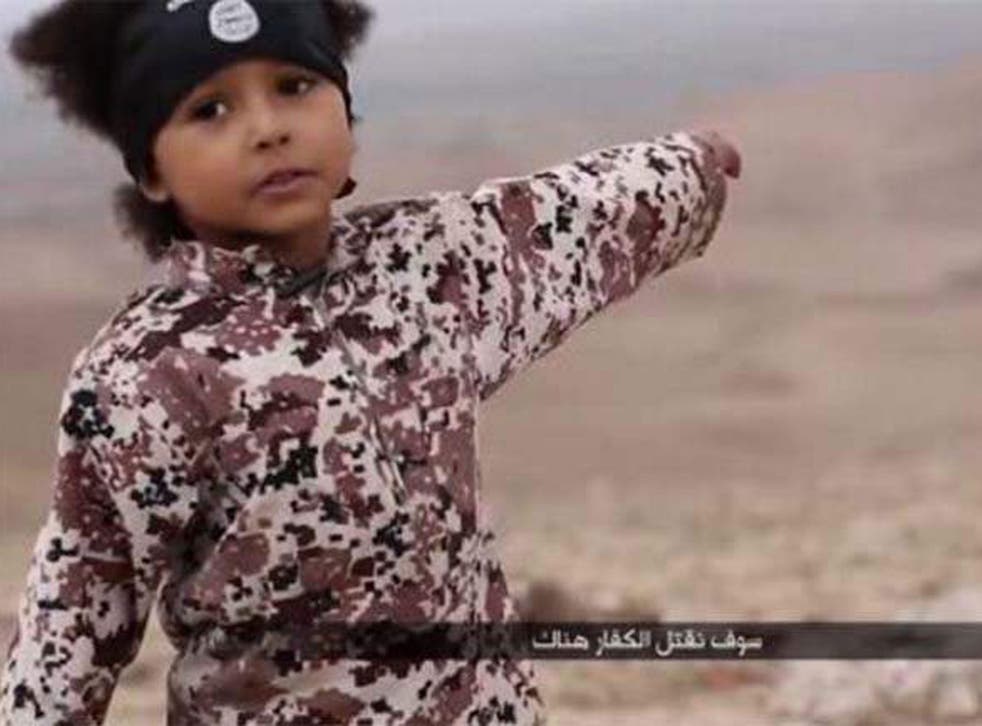 Children living under Isis – as many as 50 of them British – are being forced to participate in public executions and play with decapitated heads in order to turn them into ruthless jihadis, a new UN-backed study has claimed.
The shocking claims were made in a report by the British counter-extremism think-tank Quilliam, which will be published at an event in Parliament on 9 March.
The authors of the study, Children of Islamic State, write: "The organisation… focuses a large number of its efforts on indoctrinating children through an extremism-based education curriculum, and fostering them to become future terrorists."
According to the report, youngsters are regarded by the current generation of fighters as better and more lethal fighters than themselves, because "rather than being converted into radical ideologies, they have been indoctrinated into these extreme values from birth, or a very young age".
The research comes weeks after four-year-old London-born Isa Dare, wearing combat fatigues and a black headband, appeared in an Isis propaganda video showing three men being strapped into a car and blown up. Over the past six months, such propaganda has featured 12 child killers.
Quilliam found that the caliphate's education system is central to indoctrinating the next generation of fighters. The process begins in schools, where boys are taught a rigid Islamic curriculum from which drawing, philosophy, social studies and any references to atheism have been removed.
It intensifies in training camps, where boys between the ages of 10 and 15 are instructed in sharia law, desensitised to violence and prepared for combat. Girls – the "pearls of the caliphate" – are veiled, kept at home and taught to look after the men.
Boys are widely used to execute those who do not comply with Isis ideology. By forcing young children to participate, the report says, Isis normalises atrocities.
Youngsters are also trained in how to commit suicide attacks and are sometimes told to wear suicide vests while performing other jobs, such as guard duties, in case they come under attack.
The report further notes that children are used extensively in Isis propaganda. Between August 1 last year and February 9 this year, researchers identified 254 events or statements in which children were used to promote state-building.
The report claims children are usually coerced into joining Isis through abductions. For example, in June 2015, it is estimated that the group abducted between 800 and 900 children, ranging in age from nine to 15, from various regions of Mosul, in Iraq.
It also engages in a more indirect, systemic coercion in which people, specifically children, are pressured to join the group out of fear of being tortured, raped and killed, the report adds.
The authors believe Isis leaders have been influenced by the "systematic indoctrination" of children in schools and training camps in Nazi Germany and the use of child soldiers in conflicts in Africa.
The primary influence, however, are tactics used by the Ba'athist regime of Saddam Hussein, which actively recruited children into its armed forces. It "influences all aspects of [Isis] recruitment of children", the authors add.
The study is based on documents released by Isis that were translated by Quilliam, the think-tank's sources inside the caliphate and the group's propaganda videos.
The authors recommend setting up a commission to protect future generations from violence and to help monitor and reintegrate heavily indoctrinated children in Europe.
Join our new commenting forum
Join thought-provoking conversations, follow other Independent readers and see their replies