Fourteen killed in Syrian capital's deadliest attack for four years
Wednesday's bombing is the worst in Damascus since March 2017, reports Bel Trew in northern Syria and Aisha Rimi
Wednesday 20 October 2021 15:03 Comments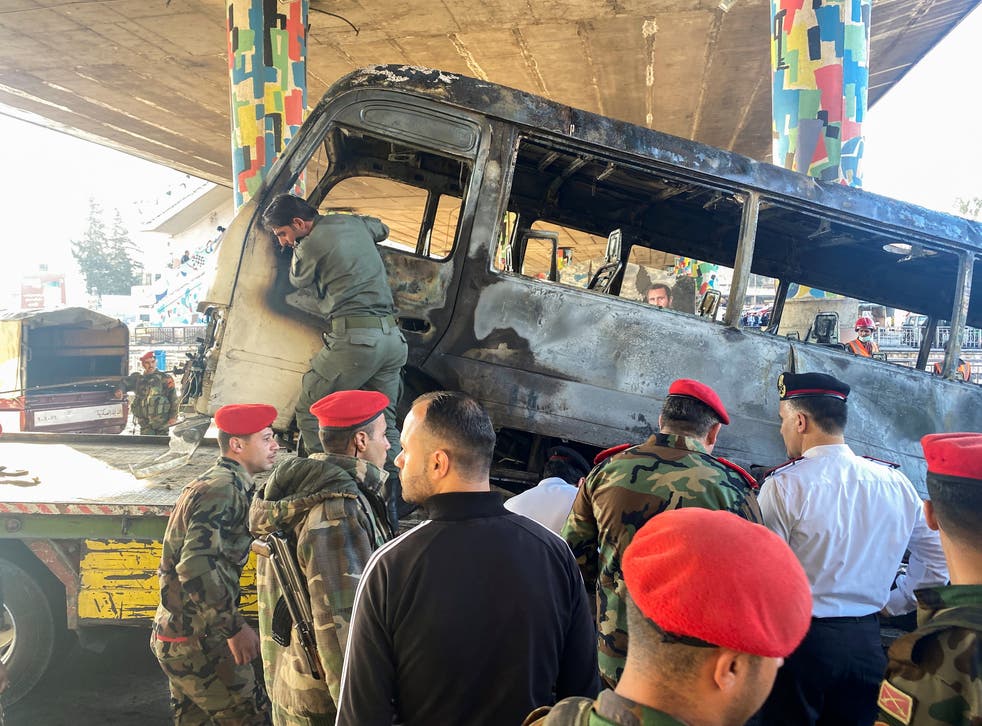 Fourteen people have been killed in a double bombing of an army bus in the heart of Damascus, the first such attack on the Syrian capital in several years.
It came as the United Nations reported that four children were among 10 killed in regime shelling of a rebel enclave in the north west of Syria.
Footage taken at the scene in Damascus showed smoke rising from the charred vehicle which was being hosed down by soldiers.
Local media quoted military officials saying that two bombs attached to the bus's exterior exploded killing and injuring several people while a third fell to the ground and was later dismantled.
Notably, it is the first major attack in central Damascus since 2017.
Hours after the deadly bombing ten people were report killed in government shelling of a enclave in the country's northwest where many opposition groups operate including Hayat Tahrir al-Sham, once directly affiliated with Al-Qaeda.
UNICEF confirmed that four children, three boys and a girl were killed on their way to school in the attack which hit a market in Ariha, south of Idlib.
It added that the numbers of injured and killed was continuing to increase. It is unclear if the two incidents are connected.
But back in the Syrian capital, residents told The Independent the explosion had happened at an intersection under Presidential Bridge, which lies in the heart of the city and next to a busy bus station serving the Damascus suburbs.
They said it occurred just before 7am during rush hour when workers, students and school children typically gather before heading out for the day.
Prominent hotels, popular with foreigner aid workers are located just metres away. No one immediately claimed responsibility for the the attack but several insurgent and jihadists groups that seek to overthrow president Bashir al Assad stil operate within Syria.
"It's a cowardly act," Damascus police commando Major General Hussein Jumaa told Syrian state TV, adding that the police force had cordoned off the area immediately and made sure no more bombs detonated.
Jumaa said that 14 people were killed, including one person who was initially listed as wounded but later died.
UNICEF said that the two attacks in one day were a pertinent reminder that the "war in Syria has not come to an end".
"Civilians, among them many children, keep bearing the brunt of the brutal decade-long conflict.
"We repeat our calls to those fighting that children are not a target. They should be protected at all times especially in times of conflict."
The UN's deputy regional humanitarian coordinated Mark Cutts said the shelling that hit market and roads near schools, as students were heading to work calling it "shocking".
This was one of the most violent attacks in the area since the March 2020 truce negotiated by Turkey and Russia, although its terms have been repeatedly violated.
Fighting still rages in the northwest of the country although Assad controls most of the county backed by close allies Russia and Iran whose military might has tipped the power balance in the Syrian regime's favour.
As Assad has solidified his grip on power, attacks in Damascus have become scarce.
One of the last major explosions was in 2017 when suicide bombers hit a judicial office building and a restaurant killing nearly 60 people. Those attacks were claimed by the so-called Islamic State.
Syria's devastating war erupted in March 2011 and has killed as many as 450,000 people. Nearly half the population have been internally displaced while five million Syrians are refugees abroad.
Register for free to continue reading
Registration is a free and easy way to support our truly independent journalism
By registering, you will also enjoy limited access to Premium articles, exclusive newsletters, commenting, and virtual events with our leading journalists
Already have an account? sign in
Join our new commenting forum
Join thought-provoking conversations, follow other Independent readers and see their replies