Death of a Palestinian leader: President Abbas under pressure after Ziad Abu Ein dies in protest
Ziad Abu Ein, a senior Palestinian Authority official, scuffles with an Israeli soldier. Minutes later he was dead, apparently struck as the protest he was leading was dispersed by troops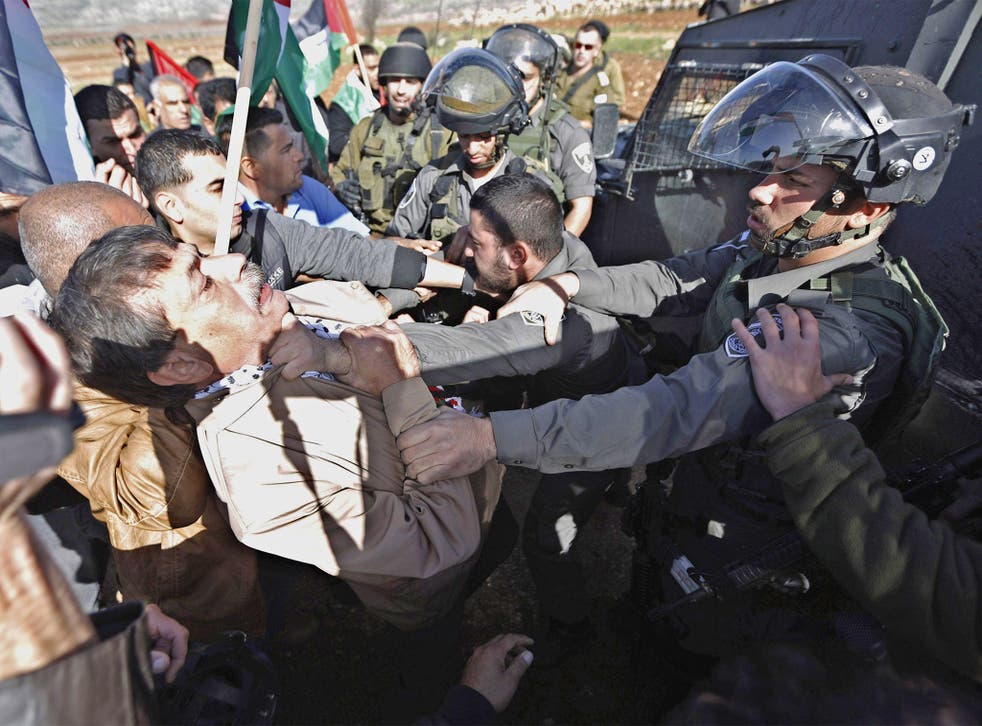 President Mahmoud Abbas was under increasing pressure last night to respond sharply to the death of a senior Palestinian Authority official whom witnesses say was struck while Israeli troops broke up a protest march he was leading.
Ziad Abu Ein, 55, head of a commission in charge of coordinating opposition to Israeli settlements, became the highest-ranking Palestinian to die in confrontation with Israeli forces in recent years after he was pronounced dead in Ramallah Hospital where he was taken from the scene of the protest in nearby Turmus Aya. He had been heading what participants said was a peaceful march by about 300 people. The death ignites further tensions during a time when Israeli-Palestinian ties are particularly fraught.
This is due to Muslim perceptions of an Israeli threat to al-Aqsa mosque, Islam's third holiest site; a wave of Palestinian violence against Israelis that culminated in an attack on a Jerusalem synagogue, and the breakdown of the peace process and current Palestinian efforts to secure a UN security resolution on ending Israel's hold on occupied territories. The death was termed a "murder" and an "assassination" by Palestinian officials.
"This calls for a political reply equal to the magnitude of the crime itself," said Qais Abdul Karim, a Palestinian legislator and Abbas ally before a leadership meeting scheduled for last night to weigh responses. He said the main proposal that would be discussed was "to speed up accession of Palestine to international conventions and organisations" including the International Criminal Court (ICC). Israel is doggedly opposed to such accession, fearing the Palestinians will use the ICC to prosecute alleged Israeli war crimes.
Jibril Rajoub, a leader in Mr Abbas's Fatah movement called for the suspension of the security cooperation between Palestinian forces and the Israeli army that has been responsible for thwarting attacks on Israeli targets.
Participants said the marchers were stopped by the army as they carried olive saplings they intended to plant as a protest on International Human Rights Day against an Israeli settlement outpost's takeover of land from Palestinian villages. The army said in a statement that the marchers were "rioters" and that troops prevented their progress towards the outpost, Adei Ad, by using "riot dispersal means".
Reut Mor, spokeswoman for the Israeli NGO Yesh Din, who was present at the march, said: "There was no provocation or stone-throwing, no violence by the protesters. Straight away the soldiers used tear gas and stun grenades on people walking with olive trees."
An AFP photographer on the scene said that after soldiers confronted the group, tear gas was fired. Three soldiers grabbed Mr Abu Ein and he was struck on the chest, the photographer said. A Reuters photographer at the scene said Mr Abu Ein was struck on the neck during an altercation with two soldiers.
Mr Abu Ein can be seen holding his chest in video footage. He was treated by an Israeli army medic before being taken by ambulance to hospital. Relatives said he suffered from high blood pressure and diabetes. Mr Abbas declared three days of mourning and said the death was a result of a "savage attack".
Mr Abu Ein is to be buried today after an autopsy. The Israeli army released a statement saying that the Palestinians had agreed to the participation of an Israeli pathologist, but there was no confirmation of this from the Palestinian Authority. "We will take the required and necessary steps after knowing the results of the investigation," Mr Abbas said. An Israeli official said: ''We express regret at the death of anyone and we have offered to conduct a joint investigation."
Mr Abu Ein had formerly served as deputy minister for prisoner affairs. He was a close associate of Marwan Barghouthi, the popular leader of the second intifada uprising who is serving multiple life sentences for the murder of Israelis and a Greek Orthodox monk.
UN Secretary General Ban Ki-moon called for an investigation into the death, and urged "all sides to exercise maximum restraint and avoid escalation".
Meanwhile, the US Secretary of State John Kerry will travel to Rome on Sunday for talks with Israeli Prime Minister Benjamin Netanyahu on developments in Israel and the West Bank.
The meeting comes as Jordan pushes to begin talks with United Nations Security Council members on Palestinian and European proposals for a draft resolution to end the Middle East conflict. Jordan circulated a Palestinian-drafted resolution to the 15-member council last month calling for Israeli occupation of Palestinian territory to end by November 2016.
Join our new commenting forum
Join thought-provoking conversations, follow other Independent readers and see their replies