Defend government policy or resign, Israel's ambassadors are told
Top security chief tells envoys to 'quit or go into politics' if they disagree with settlement plans
Matthew Kalman
Tuesday 01 January 2013 20:39 Comments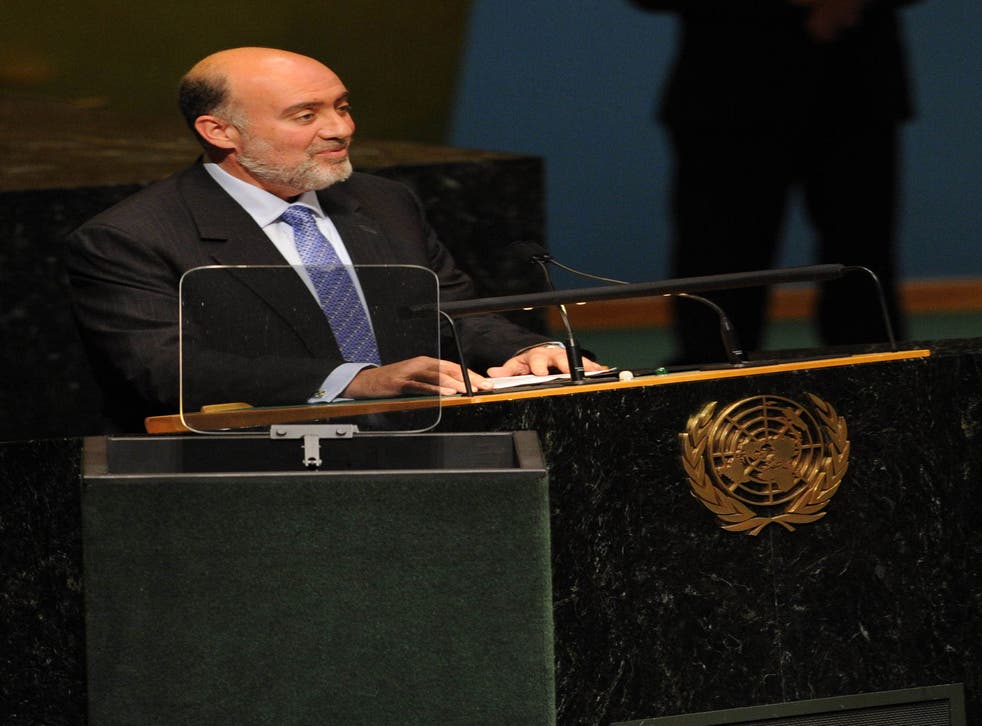 Israeli ambassadors from around the world meeting in Jerusalem for their annual get-together have been told to support the government's domestic and foriegn policies or resign.
Yaakov Amidror, the head of Israel's National Security Council, lashed out at the 150 diplomats, telling them they were "clerks" whose job was to represent and advise the government.
"If this doesn't suit you, quit or run for political office," Mr Amidror told the ambassadors after they applauded a question from Israel's ambassador to the United Nations, Ron Prosor, an ex-ambassador to London and former foreign ministry director-general.
Mr Prosor had queried the timing of a recent Israeli government decision announcing settlement construction in E1, an area of the West Bank east of Jerusalem that Palestinians say is vital for the geographical integrity of their future state. The undiplomatic bust-up, which occurred behind closed doors but was leaked to the press, reflected mounting frustration among Israeli diplomats who feel they are excluded from key areas of foreign policymaking. The two most important arenas of Israeli foreign policy – the peace process with the Palestinians and Israel-US relations – are handled directly by the Prime Minister, bypassing Israel's regular diplomatic machinery.
Foreign ministry officials often complain in private that they have little or no input or knowledge about policy-making but are expected to defend controversial decisions once they are taken. Ambassadors said they had no advance warning of the E1 decision, which was taken in response to the UN General Assembly vote on 29 November recognising Palestine as a non-member observer state. Mr Prosor had led the doomed Israeli diplomatic effort to stymie the vote.
Israel's ambassador in Prague wrote a scathing memo after the E1 decision, sarcastically congratulating the government on alienating the Czech government, perhaps Israel's strongest supporter in Europe.
Israeli diplomats were shocked by the vehemence of Mr Amidror's response which they described as "unwarranted and excessive". Ran Curiel, the foreign ministry's deputy director-general, said the applause was a sign of widespread frustration. "We want to explain the government's policies but are not always given the tools," he told the Yediot Ahronoth newspaper.
"The job of ambassadors is to defend and explain Israeli policy," said Gerald Steinberg, a political science professor at Bar-Ilan University. "They don't make policy and that's frustrating – even more when they are not consulted or informed. These are the most difficult issues to defend. Israeli ambassadors would rather deal with anything but settlements."
Most right-wing Israelis 'accept two-state plan'
Most right-wing Israelis would accept a demilitarised Palestinian state as part of an overall peace deal, a survey suggests.
The Washington-based S Daniel Abraham Centre for Middle East Peace found that at least 57 per cent of Israelis who said they would vote for the Likud-Beiteinu list headed by Prime Minister Benjamin Netanyahu and the pro-settler Jewish Home party would support two states. Among all Israelis, at least 67 per cent were in favour.
However, the polls specified a list of conditions, including no right of return for Palestinians to Israel and land swaps that would leave large settlement blocs in the West Bank under Israeli sovereignty.
Matthew Kalman
Register for free to continue reading
Registration is a free and easy way to support our truly independent journalism
By registering, you will also enjoy limited access to Premium articles, exclusive newsletters, commenting, and virtual events with our leading journalists
Already have an account? sign in
Join our new commenting forum
Join thought-provoking conversations, follow other Independent readers and see their replies