Donald Trump plans to cut foreign aid worldwide, but increase assistance for Palestinians
Move viewed as surprising considering US president's pledged support for Israel and lukewarm attitude towards Palestinian issues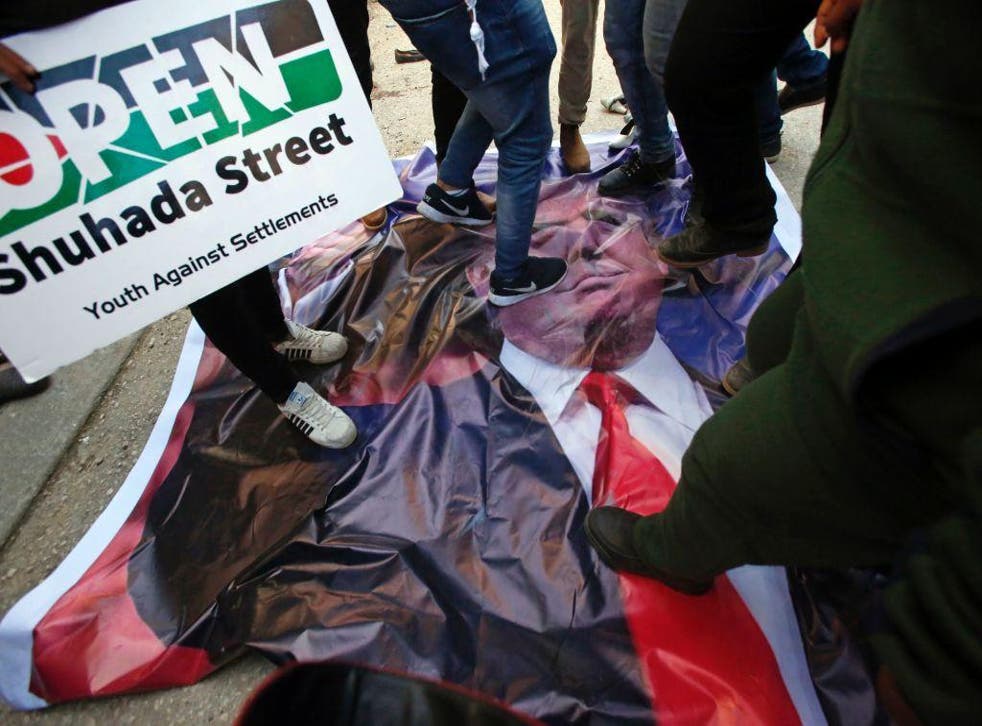 US State Department documents obtained by Foreign Policy magazine show that while President Donald Trump intends to stick to his promise to slash foreign aid, under the budget proposals the Palestinian Territories would receive increased funding.
The Trump administration announced last month that it planned on reducing the diplomacy and foreign aid budget by 28 per cent in the next fiscal year while increasing funds for military programmes and preserving Israel's current $3.1bn (£2.4bn) security aid package.
The leaked documents propose a cut in assistance for several countries across the world, but a 4.6 per cent rise for both the West Bank and Gaza - a total of $215m (£168m) for fiscal year 2018.
Teacher attacked by right-wing American Jewish group 'for being Palestinian'
Syria, Iraq and Libya would also receive increased aid spending, the 15-page proposal said, as the administration seeks to more closely link aid with the US' national security objectives.
The moves are somewhat surprising considering Mr Trump's lukewarm attitude towards the Palestinian authorities and pledged support for Israel during his election campaign and tenure so far.
While Jordan's King Abdullah is the only Middle Eastern leader to have been invited to meet the president twice so far, Jordan - which hosts more than 1.4 million Syrian refugees - would have its aid slashed by 21.7 per cent.
Lebanon, where one in four of the population is now Syrian, would have its budget cut by 22.7 per cent, and Yemen - currently embroiled in a two-year-long civil war, and where the UN estimates more than half of the 27million strong population is food insecure - would see its aid reduced by 16.8 per cent.
The situation in Yemen

Show all 14
Health programmes worldwide would also face a 25 per cent decrease in funding. Other sweeping cuts would target food security institutions, as well as programmes and offices for global women's issues and climate change.
The administration is also seeking to merge the State Department with USAID, the government's development wing - a streamlining move former USAID administrator Andrew Natsios told Foreign Policy would "end the technical expertise of USAID, and in my view, it will be an unmitigated disaster for the longer term."
Earlier this year more than 120 retired US generals and admirals wrote to Congress urging the body to fully fund diplomacy and foreign aid, arguing the functions were "critical to keeping America safe."
Congress is highly unlikely to approve the Trump administration's proposals in their current form.
The budget plans have already faced bipartisan opposition among politicians. Republican Senator Lindsey Graham called the leaked documents "dead on arrival."
Register for free to continue reading
Registration is a free and easy way to support our truly independent journalism
By registering, you will also enjoy limited access to Premium articles, exclusive newsletters, commenting, and virtual events with our leading journalists
Already have an account? sign in
Register for free to continue reading
Registration is a free and easy way to support our truly independent journalism
By registering, you will also enjoy limited access to Premium articles, exclusive newsletters, commenting, and virtual events with our leading journalists
Already have an account? sign in
Join our new commenting forum
Join thought-provoking conversations, follow other Independent readers and see their replies