Donald Trump's decision to arm Kurdish fighters could have profound impact on the Syria crisis
Syrian Kurds will now help defeat Isis in its de facto capital of Raqqa, but the move risks alienating the US's key Nato ally Turkey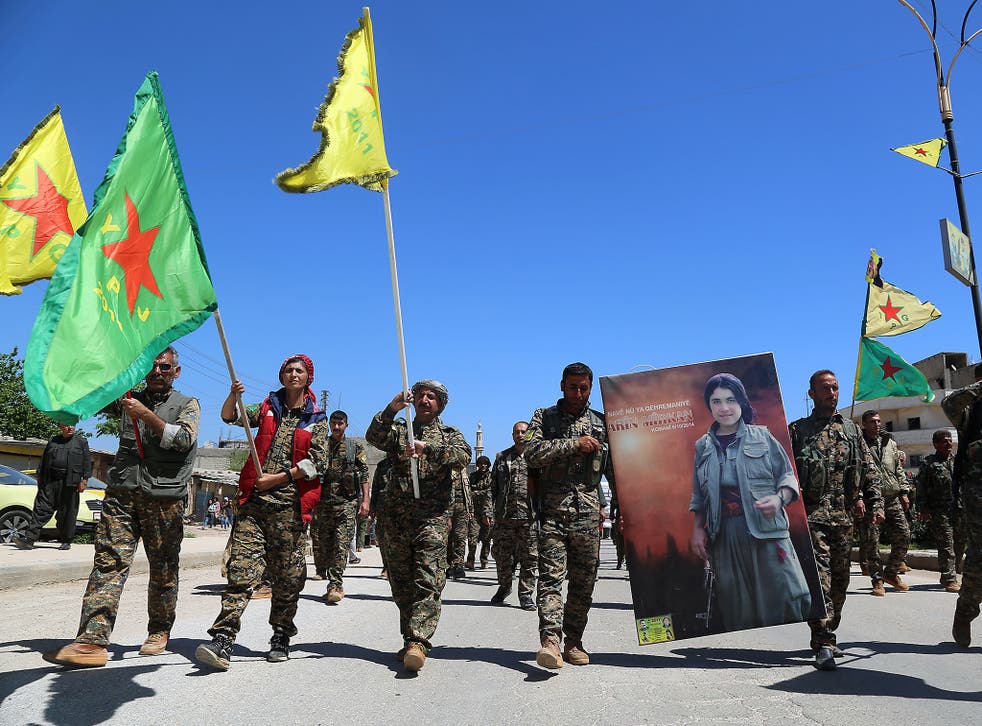 President Trump's decision to provide weapons to the Syrian Kurds, who are fighting Isis, potentially marks a crucial change in the political geography of the Middle East. In effect, the US is choosing to support its Kurdish ally in Syria, in defiance of Turkey, whose aim is to prevent the establishment of a quasi-independent Kurdish state there.
Mr Trump approved a plan on Monday to arm the Kurds directly, in order to enable the People's Mobilisation Units (YPG) Kurdish militia and its Arab allies to assault and capture Raqqa, the de facto capital of Isis in Syria. The US will send heavy machine guns, anti-tank weapons, mortars, armoured cars and engineering equipment to bolster the attack.
Turkey has sought in vain to persuade the US to break its alliance with the Syrian Kurds, accusing the YPG of being the Syrian arm of the Kurdistan Workers' Party (PKK) that has been waging a guerrilla war against the Turkish state since 1984. "Both the PKK and the YPG are terrorist organisations and they are no different, apart from their names," said Turkish Foreign Minister Mevlut Cavasoglu on Tuesday. "Every weapon seized by them is a threat to Turkey."
Mr Trump has always said that he gives priority to defeating Isis, leading him to agree to a long-delayed plan to capture Raqqa with ground forces led by the Syrian Democratic Forces (SDF). This was said by a US official last December to have 45,000 fighters of whom 13,000 are Arabs and the rest Kurdish. It has defeated Isis repeatedly when backed by air strikes by the US-led air coalition ever since Isis besieged but failed to take the Kurdish city of Kobani in late 2014.
The US wants to inflict a double defeat on Isis by capturing both Raqqa and Mosul in Iraq over the next few months. Isis fighters are still holding out in the Old City of Mosul after a siege by Iraqi government forces that has lasted almost seven months. Most of the city has already fallen with heavy casualties on all sides and severe destruction. The loss of Raqqa and Mosul will not be the end for Isis, which is reverting to being a guerrilla organisation, but the self-declared caliphate will no longer exist as a state with an administration and extensive territory.
Raqqa, once a city of 300,000 people on the northern bank of the Euphrates River, is already isolated from the south bank by air strikes destroying bridges. The road south to Deir Ezzor, the biggest city in eastern Syria, has been cut by the SDF. Isis fighters can only move in and out of Raqqa by boat, though they have proved in Mosul that they are skilled in urban warfare using sniper teams, suicide bombers and booby traps to slow down and inflict losses on a more numerous and better armed enemy.
But the fate of Raqqa is not the only issue being decided in the fighting in northern Syria. Turkey is facing a disastrous outcome of the wars in Syria and Iraq which it once hoped would extend its influence in the northern Middle East. Since 2011, it has been seeking to overthrow President Bashar al-Assad and to stop the two million Syrian Kurdish minority gaining control of a broad band of territory along Turkey's southern frontier.
Children of Mosul describe life under Islamic State
Turkish efforts to stop the Kurdish advance have largely failed and the intervention of Turkish ground troops west of the Euphrates in August 2016 has only been a qualified success. Its local Arab and Turkman allies were unable to take the Isis stronghold of al-Bab without Turkish army intervention. Though Turkey has offered its services to the US as an ally capable of replacing the YPG in the battle against Isis, this always looked a dubious option. It has long been obvious that President Recep Tayyip Erdogan is more interested in targeting the Kurds than in fighting Isis.
Turkey's response to the YPG and SDF successes has been to step up military engagement in northern Syria and to threaten much tougher action. On 25 April, Turkish planes launched air strikes against YPG positions killing 20 fighters, half of them women. Mr Erdogan threatened that similar action might happen "at any time". The US said the Turkish action was "unacceptable" and was so concerned about a Turkish ground invasion that it sent patrols of US special forces in vehicles to monitor the Syrian side of the border. For their part, the Syrian Kurdish leaders said they would not take Raqqa if Turkish military action continued.
The public decision by Mr Trump to send heavier weapons to the YPG is important primarily as a sign that the US is ignoring Turkish threats and will stick to its military alliance with the Syrian Kurds, which has served it well. This makes it difficult for the Turkish army and air force to escalate its attacks on the YPG.
Donald Trump's first 100 days: in cartoons

Show all 33
Mr Erdogan is to see Mr Trump for the first time in Washington on 16-17 May and will seek to persuade him to reverse his policy towards the Syrian Kurds, but he is unlikely to succeed. In his final days in office, President Obama had also decided to send heavier equipment to the YPG, indicating that the pro-Kurdish policy has broad support in the US. At the same time, the Americans are trying to reassure the Turks by saying that the new weapons will be only used against Isis and the quantity of ammunition delivered will be limited to what is needed for that operation. The Turks say they fear that the arms will be handed over to the PKK and used against their soldiers.
The Syrian Kurds are worried that, once Isis is defeated, the US will no longer need them and will revert to its old alliance with Turkey as a member of Nato and a major power. This would leave them vulnerable to a Turkish ground attack aimed at extinguishing their semi-independence. For now, however, the Kurds in Syria will be relieved that the US has decided to stick with them.
Register for free to continue reading
Registration is a free and easy way to support our truly independent journalism
By registering, you will also enjoy limited access to Premium articles, exclusive newsletters, commenting, and virtual events with our leading journalists
Already have an account? sign in
Register for free to continue reading
Registration is a free and easy way to support our truly independent journalism
By registering, you will also enjoy limited access to Premium articles, exclusive newsletters, commenting, and virtual events with our leading journalists
Already have an account? sign in
Join our new commenting forum
Join thought-provoking conversations, follow other Independent readers and see their replies