Bashar al-Assad says he is open to cooperation with Donald Trump over 'promising' Syria policies
'We have more hopes regarding the US because of the new administration,' Syrian President says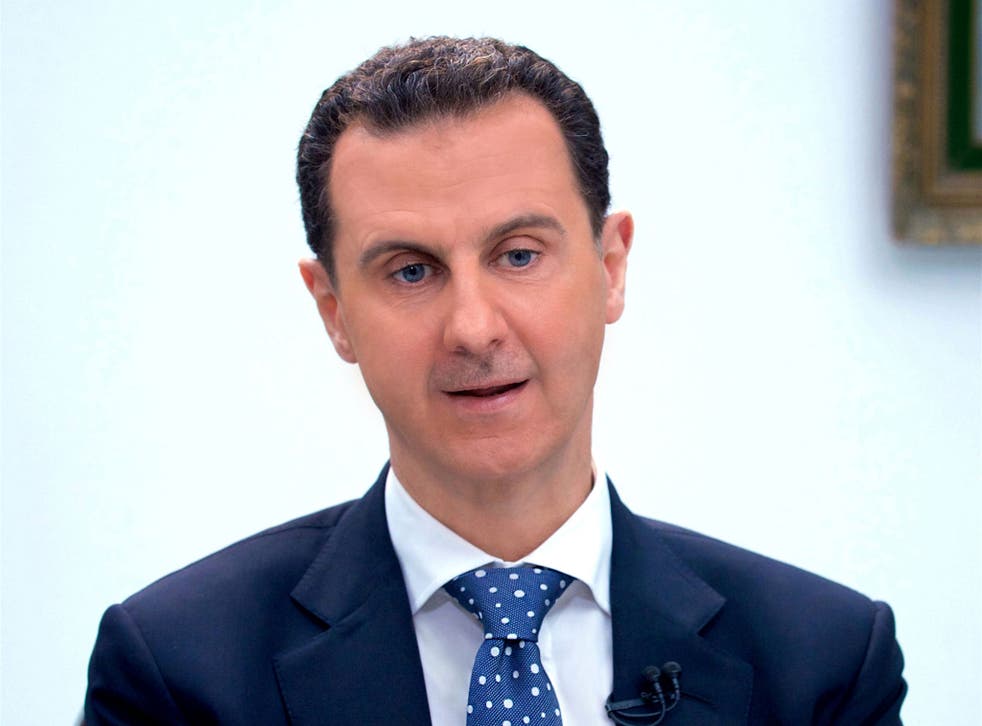 Bashar al-Assad says he is open to cooperation with Donald Trump over the US president's "promising" policies for the Syrian civil war.
The new administration has not officially deviated from the US's longstanding position of opposing the Assad regime while calling for a political transition to ensure long-term stability.
But Mr Trump made complimentary statements about the Syrian president during his election campaign, calling him "much tougher and much smarter" than Hillary Clinton and Barack Obama before conceding that he was a "bad guy".
Donald Trump 'open to working with Moscow' to fight Isis in Syria
In the same televised debate, he suggested he could drop the US's military and financial support for Syrian rebel groups, claiming: "We're giving them lots of money, lots of everything [but] we don't know who they are."
Mr Trump's statements on the civil war have focused on atrocities committed by Isis, rather than war crimes attributed to Assad's forces and allies.
The Syrian president told Chinese journalists Mr Trump's focus was a "promising approach" but that no concrete proposals had emerged.
Asked whether there was potential for cooperation with the Trump administration, Assad replied: "In theory, yes, but practically, not yet, because there's no link between Syria and the United States on the formal level."
He said there had been no contact between himself and Mr Trump but suggested Damascus was open to formal talks, adding: "We have more hopes now regarding the American party because of the new administration."
In January President Trump ordered military commanders to draw up a plan to "defeat Isis" within weeks but details of the strategy have not been made public.
Hundreds of US marines and Army Rangers have arrived in northern Syria in recent days to bolster rebel allies in an impending assault on Isis's de facto capital of Raqqa.
The deployment, planned under the Obama administration, intensifies American cooperation with the Syrian Democratic Forces (SDF) rebel alliance – the coalition's most effective allies against Isis on the ground.
But the move has angered Turkey which classes Kurdish groups in the SDF as terrorists and is backing Free Syrian Army factions to push them back from swathes of territory seized along the Turkish border.
Assad has dismissed suggestions his government may have "green-lit" the deployment, accusing the US of "creating problems and destroying" countries with interventionist wars.
"Any foreign troops coming to Syria without our invitation or consultation or permission, they are invaders, whether they are American, Turkish, or any other one," he told Hong Kong-based broadcaster Phoenix.
The Syrian president also called the US-led coalition's air raids "illegal" and ineffective, while repeating allegations of widespread links between opposition groups and al-Qaeda.
Regardless, Assad said he expected the war to be over by 2018 – ending with his victory.
"If we presume that you don't have foreign intervention, it will take a few months," he added. "We always have hope that this year is going to be the last year."
After retaking the ancient city of Palmyra from Isis for a second time, the regime's next main target is expected to be rebel strongholds in Idlib province, to which fighters from eastern Aleppo were evacuated.
In pictures: Civilians freed from Isis in Manbij

Show all 11
Al-Qaeda affiliates are interspersed with Islamist and opposition rebels in the region but Assad and his allies describe all groups as "terrorists", despite efforts to agree on a common list of designated groups at the UN.
Russia's entrance into the conflict in 2015 is credited with turning the tide in Assad's favour with the firepower provided by Vladimir Putin's air force and large deployments on the ground.
Rebel groups have seized swathes of territory from Isis but as the terrorist group has been driven back, tensions between rival opposition factions have exploded into open conflict.
The opposition council in Manbij has handed some territory over to the Syrian regime in efforts to create a buffer between fighting US-backed and Turkey-backed forces, with American troops sent to monitor frontlines.
Emergency talks were held between Turkish, American and Russian military commanders last week in an effort to calm the clashes.
Analysts have warned of the potential for a full-blown "proxy war" in Syria where Russia, Iran, the Lebanese militant group Hezbollah and Iraqi militias are supporting Assad, while Turkey and the US-led coalition back rival rebel groups.
A new round of UN-brokered peace talks in Geneva failed to make any progress as the conflict's six-year anniversary approaches, and rebels have called for the postponement of separate Russian-backed negotiations in Kazakhstan.
The new round of talks in Geneva will start on 23 March.
Register for free to continue reading
Registration is a free and easy way to support our truly independent journalism
By registering, you will also enjoy limited access to Premium articles, exclusive newsletters, commenting, and virtual events with our leading journalists
Already have an account? sign in
Register for free to continue reading
Registration is a free and easy way to support our truly independent journalism
By registering, you will also enjoy limited access to Premium articles, exclusive newsletters, commenting, and virtual events with our leading journalists
Already have an account? sign in
Join our new commenting forum
Join thought-provoking conversations, follow other Independent readers and see their replies