Donald Trump's US ambassador to Israel backs two-state solution
David Friedman says he would be 'delighted' to see an independent Palestinian state, contrary to president's signal the US could move away from established policy 
Friday 17 February 2017 14:11 Comments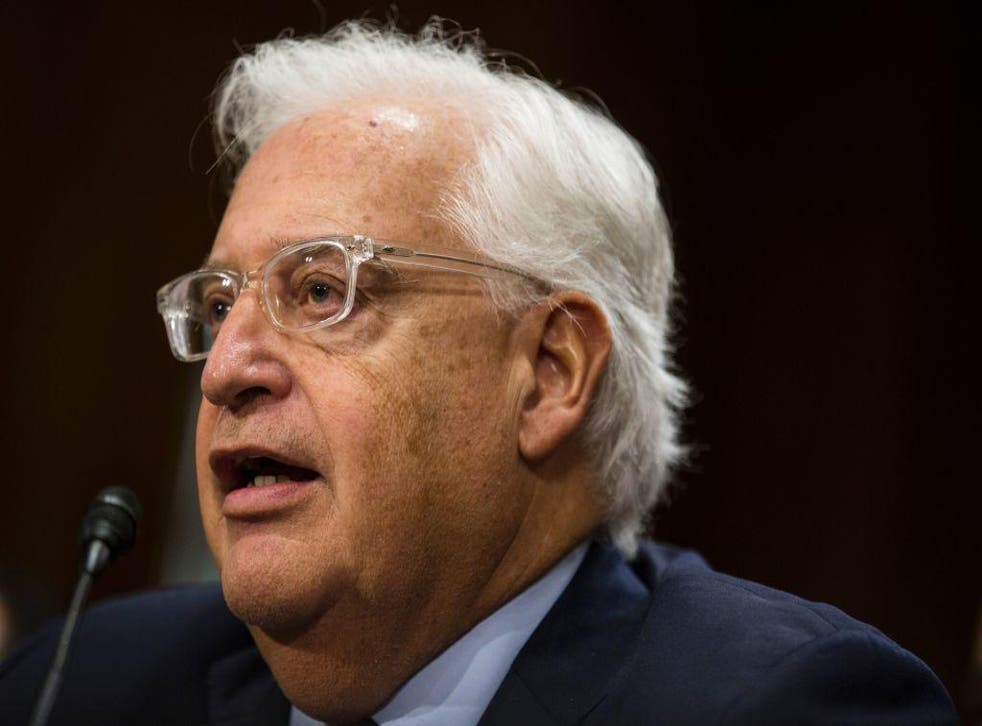 US President Donald Trump's controversial pick for ambassador to Israel has told the panel at his Senate confirmation hearing that he would be "delighted" with the establishment of an independent Palestinian state.
While Palestinian sovereignty is in theory a good idea, David Friedman said he remained sceptical "solely on the basis of what I've perceived as an unwillingness on the part of the Palestinians to renounce terror and accept Israel as a Jewish state."
The new ambassador made the remarks in front of the Senate Foreign Relations Committee on Thursday, as the world continues to react to the possibility that Mr Trump could be ending decades of support for a two-state solution to the intractable conflict.
Palestine's chief negotiator warns Trump against one-state solution
When asked by reporters whether the US will continue its policy of support for the creation of a Palestinian state alongside Israel in a media conference with visiting Israeli Prime Minister Benjamin Netahyahu on Wednesday, Mr Trump was equivocal in his answer.
"I'm looking at two-state and at one-state, and I like the one that both parties like... I can live with either one," he said, in what would be a momentous break from what has been a cornerstone of US policy in the Middle East since Bill Clinton's administration.
The suggestion was condemned by Palestinian leaders, as well as the UN and Arab League.
Israel: From independence to intifada

Show all 7
Saeb Erekat, chief negotiator and Secretary-General of the Palestinian Liberation Organisation (PLO), warned that Mr Trump's vision was akin to "apartheid".
Calling for "concrete measures in order to save the two-state solution", he said the only alternative would be "one single secular and democratic state with equal rights for everyone, Christians, Muslims and Jews, in all of historic Palestine".
Speaking at the UN on Thursday, US Envoy Nikki Haley also distanced US policy from the president' s comments, saying the US "absolutely" supports a two-state solution and anyone who believed the country was moving away from the stance was "in error."
Trump: I'm looking at two-state and at one-state, and I like the one that both parties like
Right-wing Mr Friedman's nomination for the position of US Ambassador to Israel has also been met with outcry for - among other things - his pro-settlements stance. Increasing Israeli expansion in the West Bank over the 1967 Green Line endangers a two-state solution, international observers say.
The former bankruptcy lawyer's hearing was also notable for heckling from those present in the room. As Mr Friedman began his opening remarks, a youn bman who identified himself as Palestinian stood up and shouted, "Mr Friedman said that Palestinian refugees don't have a claim to the land… My grandfather was exiled, was kicked out, by state officials. And I'm right here, holding up the Palestinian flag!"
Other Palestinian and Jewish demonstrators went on to interrupt the hearing by singing songs and waving flags.
Register for free to continue reading
Registration is a free and easy way to support our truly independent journalism
By registering, you will also enjoy limited access to Premium articles, exclusive newsletters, commenting, and virtual events with our leading journalists
Already have an account? sign in
Join our new commenting forum
Join thought-provoking conversations, follow other Independent readers and see their replies