Palestinian leader Mahmoud Abbas 'admits Donald Trump yelled at him' in West Bank talks
US president allegedly angered over 'out of context' videos in which Mr Abbas appears to say Palestinians 'incite' hatred towards Israelis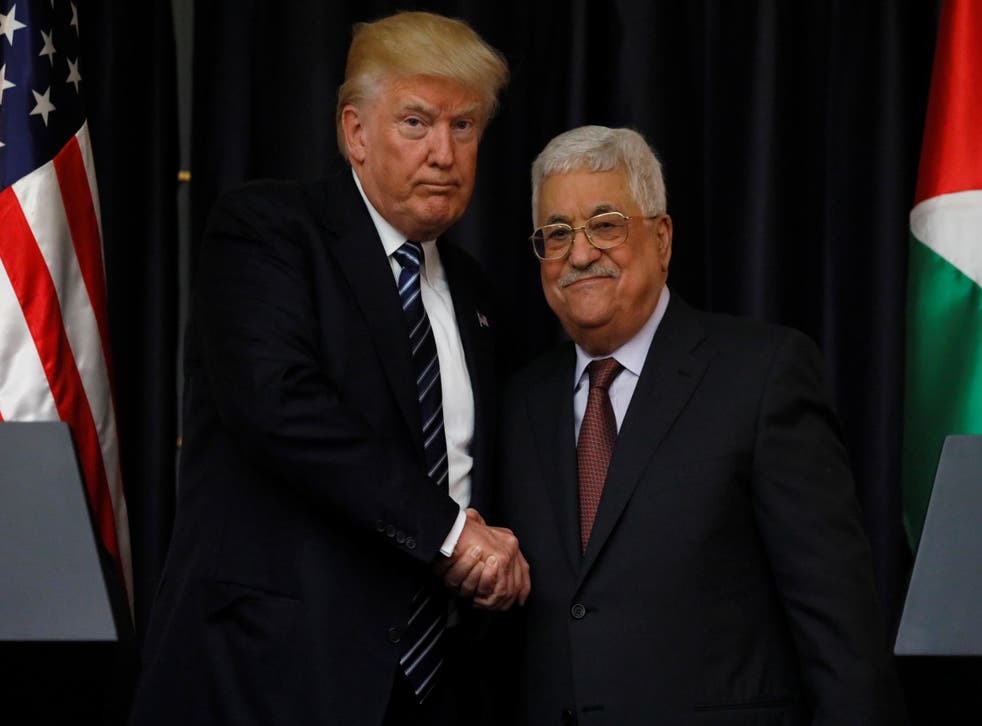 Palestinian Authority (PA) President Mahmoud Abbas has allegedly confirmed reports that US President Donald Trump shouted at him during the US' leader's visit to the West Bank last month.
"You tricked me in [Washington] DC! You talked there about your commitment to peace, but the Israelis showed me your involvement in incitement [against Israel]," Mr Trump is alleged to have shouted at the Palestinian leader, an outburst that was followed by several minutes of shocked silence, Israel's Channel 2 claimed last week, citing an unnamed American official.
The rest of the meeting was reportedly tense and took a while to get back on track.
Trump: Israelis and Palestinians are 'reaching for peace'
The PA has repeatedly denied the report, saying that the 23 May meeting went well.
However, London-based pan-Arab newspaper al-Araby al-Jadeed claimed on Wednesday that Mr Abbas himself had appeared to confirm the story, quoting the Palestinian leader as saying that Mr Trump had "expressed anger" with him and that the encounter had been "uncomfortable."
The US president allegedly showed his Palestinian counterpart videos in which Mr Abbas was recorded as saying, "We incite and the Israelis incite."
In an effort to calm Mr Trump, Mr Abbas said he told the president, "You have the CIA, ask them to analyse the film clips and you'll discover that that they were taken out of context or fabricated with the aim of inciting against the Palestinians."
Israel: From independence to intifada

Show all 7
Mr Abbas' remarks were supposedly made at a high-level Palestinian Liberation Organisation (PLO) meeting on Tuesday.
Palestinian sources have again denied the reports.
The allegations certainly don't match up with the warm words exchanged between the two leaders during a televised media conference after the meeting in Bethlehem on 23 May.
"Meeting you in the White House earlier this month given us hope… and optimism of the possibility to make the long-standing dream of lasting peace come true," Mr Abbas said, emphasising the Palestinian leadership's desire for a two-state solution.
Mr Trump and Mr Abbas met in person for the first time at the White House on 3 May, when the US president boldly stated his desire to do "whatever is necessary" to achieve a lasting peace deal in the decades-long Israeli-Palestinian conflict.
In the Washington meeting Mr Trump's administration called on the PA to do more to tackle violence against Israelis and end payments to the families of those killed or imprisoned by Israel.
Israel has long accused many sections of Palestinian society of fomenting hatred towards Israelis in everything from school textbooks to social media posts.
The Palestinians dismiss Israeli allegations that violence against Israeli citizens is caused by incitement, claiming instead is the result of nearly 50 years of Israeli military occupation and a lack of hope for gaining independence.
Register for free to continue reading
Registration is a free and easy way to support our truly independent journalism
By registering, you will also enjoy limited access to Premium articles, exclusive newsletters, commenting, and virtual events with our leading journalists
Already have an account? sign in
Register for free to continue reading
Registration is a free and easy way to support our truly independent journalism
By registering, you will also enjoy limited access to Premium articles, exclusive newsletters, commenting, and virtual events with our leading journalists
Already have an account? sign in
Join our new commenting forum
Join thought-provoking conversations, follow other Independent readers and see their replies