Saudi king tells Donald Trump Syrians 'brought destruction to their own country'
'Syria too used to be one of the most advanced countries,' King Salman tells President 
Alexandra Wilts
Washington DC
Saturday 20 May 2017 21:09 Comments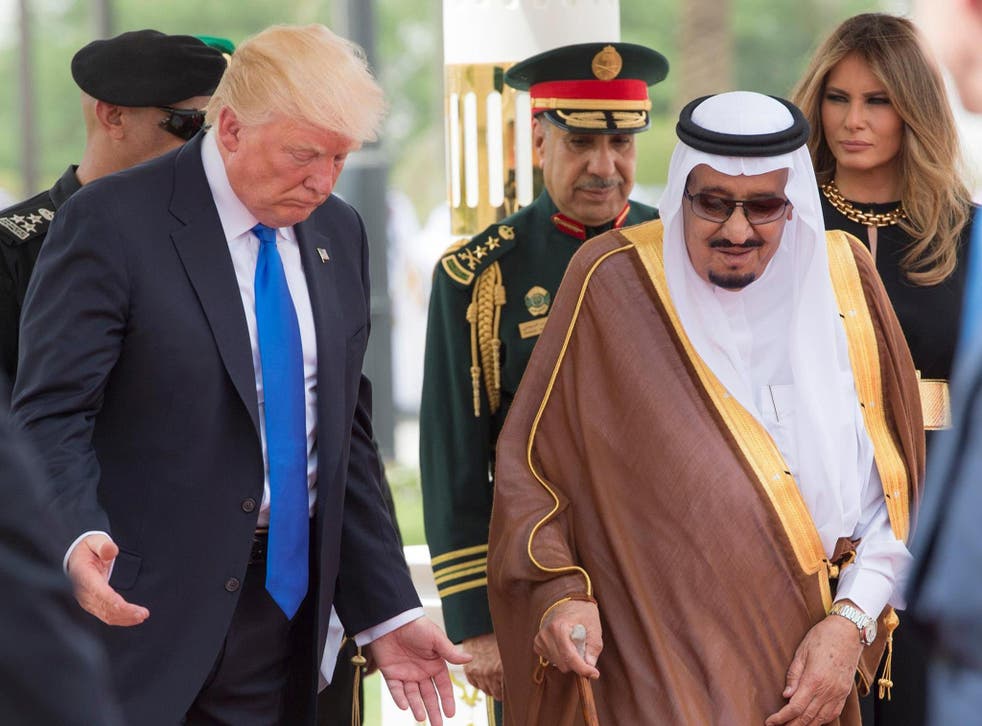 The king of Saudi Arabia, a major backer of rebel forces in Syria, appeared to lament the destruction caused by the civil war while meeting with Donald Trump in Riyadh.
"Syria too used to be one of the most advanced countries," King Salman told Mr Trump, according to a White House press pool report.
"We used to get our professors from Syria," the King continued. "They served our kingdom. Unfortunately, they too brought destruction to their own country. You can destroy a country in mere seconds, but it takes a lot of effort."
King Salman greeted Mr Trump in Riyadh with a warm welcome, meeting the President on the airport's tarmac, which he did not do when Mr Trump's predecessor Barack Obama visited Saudi Arabia last year.
The Saudi Arabian capital is the US leader's first stop on his nine-day, five-country tour abroad.
The civil war in Syria has been underway for more than six years, fought between Bashar al-Assad's forces, anti-government rebels, Isis and Islamist groups linked with al-Qaeda.
Donald Trump's first 100 days: in cartoons

Show all 33
Saudi Arabia provides significant military and financial assistance to several rebel groups.
Riyadh also criticised the Obama administration's decision to not intervene in Syria militarily after Western countries accused Assad's government of carrying out a chemical weapons attack.
In response to a sarin attack by pro-Assad forces that killed dozens of civilians, Mr Trump ordered air strikes against a Syrian airfield in April.
With the exception of that attack and another air strike in May, the US-led coalition in Syria is generally not fighting Assad's government and is instead focusing military efforts on driving Isis out of swathes of territory.
Register for free to continue reading
Registration is a free and easy way to support our truly independent journalism
By registering, you will also enjoy limited access to Premium articles, exclusive newsletters, commenting, and virtual events with our leading journalists
Already have an account? sign in
Join our new commenting forum
Join thought-provoking conversations, follow other Independent readers and see their replies