British man sentenced to three months in jail for touching man's hip in Dubai cleared
Electrician cleared of public indecency and told he is free to leave after intervention from Gulf city's ruler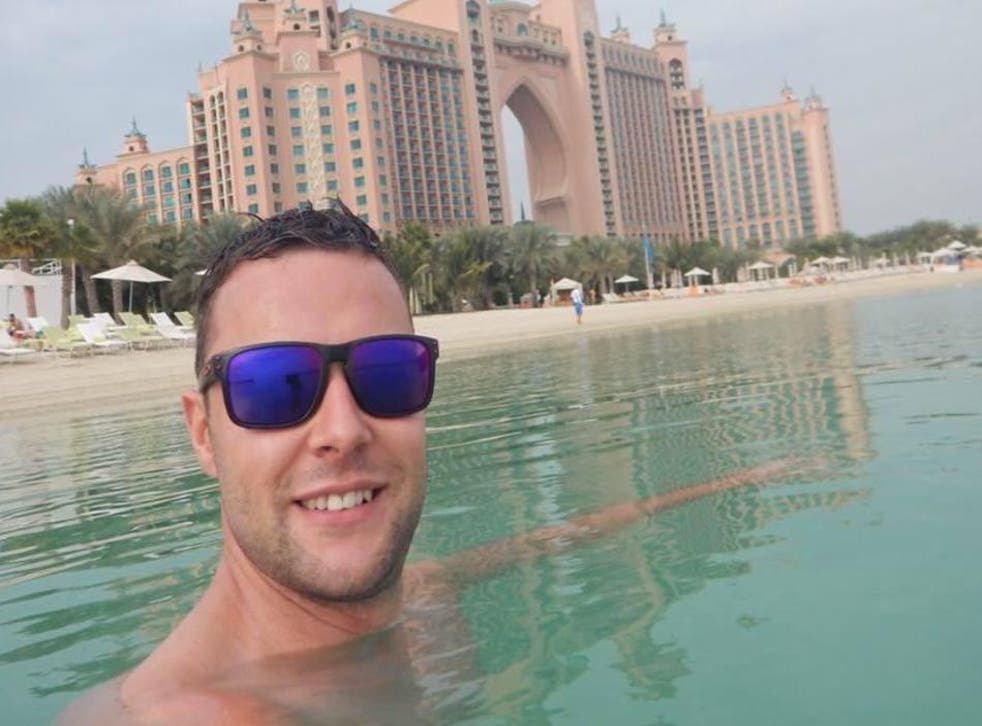 A British tourist who faced three months in prison after accidentally touching a man's hip in Dubai has been told he is free to leave following an intervention from the emirate's ruler. Campaigners said charges against Jamie Harron, 27, had been dismissed and his sentence overturned at the order of Sheikh Mohammed bin Rashid al-Maktoum.
The electrician, from Stirling, Scotland, was sentenced for public indecency on Sunday after being arrested in July. He is said to have touched a businessman on the hip to steady himself and avoid spilling a drink as he brushed past him in a crowded bar.
Campaign group Detained in Dubai, which has been supporting Mr Harron, said police called him on Monday morning and told him his case "has been dismissed and he can pick up his passport and is free to leave". Mr Harron later collected his passport and was making arrangements to return to the UK, the group added.
The electrician was arrested during a two-day stopover in the United Arab Emirates after working in Afghanistan. He since lost his job because of his detainment.
The Justice4Jamie campaign group wrote on Facebook: "Jamie was contacted by the police this morning, and was informed that the government had intervened in his case. Apparently the charges have been dismissed and the sentence against him nullified. He was told to come to the police station to collect his passport."
Campaigners were initially fearful Mr Harron, who had vowed to appeal the sentencing, might be lured into "a trap" and detained again by police as he collected his passport.
Radha Stirling, chief executive of Detained in Dubai, said: "He was understandably nervous as similar calls from the police in other cases were merely tactics to lure individuals into police custody. But when Jamie arrived at the police station, his passport was returned, and he was told that he was free to go. The charges were dropped, the sentence annulled, and he faces no order for deportation. This came by direct order from Sheikh Mohammed."
World news in pictures

Show all 50
She added: "We wish to express our deepest gratitude to Sheikh Mohammed for his personal intervention in this case, and for exonerating Jamie at long last. It has now been established that the allegations against Jamie were entirely unwarranted, defamatory, and meritless, to such an extent that the ruler of the country found it necessary to step in and correct the wrongful action of the public prosecutor and to quash the judgment of the court.
"Of course, a fully functional legal system would not require outside intervention, and a case like Jamie's would never proceed in the first place. But we are enormously grateful to Sheikh Mohammed for stepping in and vindicating Jamie after months of hardship."
Ms Stirling said Mr Harron was considering civil action against the businessman who accused him and his employers. He has spent more than £30,000 in legal fees and expenses in Dubai, where he has been stranded for three months after police confiscated his passport.
Mr Harron was also sentenced, in his absence, to 30 days in prison for allegedly making a rude gesture and drinking alcohol during the same incident.
He spoke earlier this month of the toll the case had taken on him. "I've lost my job, I'm in debt now, I may be going to prison and all this for a two-day stopover," he said. "The whole thing is like a horrible dream and I just don't know when it is going to end. I thought it would be over by now but it feels like it will never be."
Detained in Dubai said the case "highlights the urgent need for judicial reform" in the country but said Mr Harron's exoneration was "a hopeful sign that the UAE's leadership possesses the will and vision to pursue such reforms in the future".
The International Campaign for Freedom in the UAE said it welcomed the Briton's release but urged the UK government to "do more to inform its citizens about the real risks and dangers" of travelling to the Gulf state.
"We urgently call upon the UAE authorities to institute a judicial system that is in line with internationally recognised legal standards," said spokesman Joe Odell. He added: "Since the Arab Spring of 2011, repression has been rapidly stepped up by the UAE authorities which has seen both emiratis and non-emiratis arbitrarily detained, forcefully disappeared, and in many cases tortured on the most frivolous of charges.
"It is imperative that Jamie's case be understood within this wider climate of repression inside the UAE."
Last month a British father was arrested during a family holiday in Dubai after unknowingly handing over a counterfeit £20 note at a currency exchange shop.
A spokeswoman for the UK Foreign Office said: "We have been in contact with a British man following his arrest in Dubai in July. We are providing consular assistance."
Join our new commenting forum
Join thought-provoking conversations, follow other Independent readers and see their replies