Egyptian TV show tricks woman into thinking she's been kidnapped by terrorist group
Stunt features men in militant dress barking orders, explosions and gunfire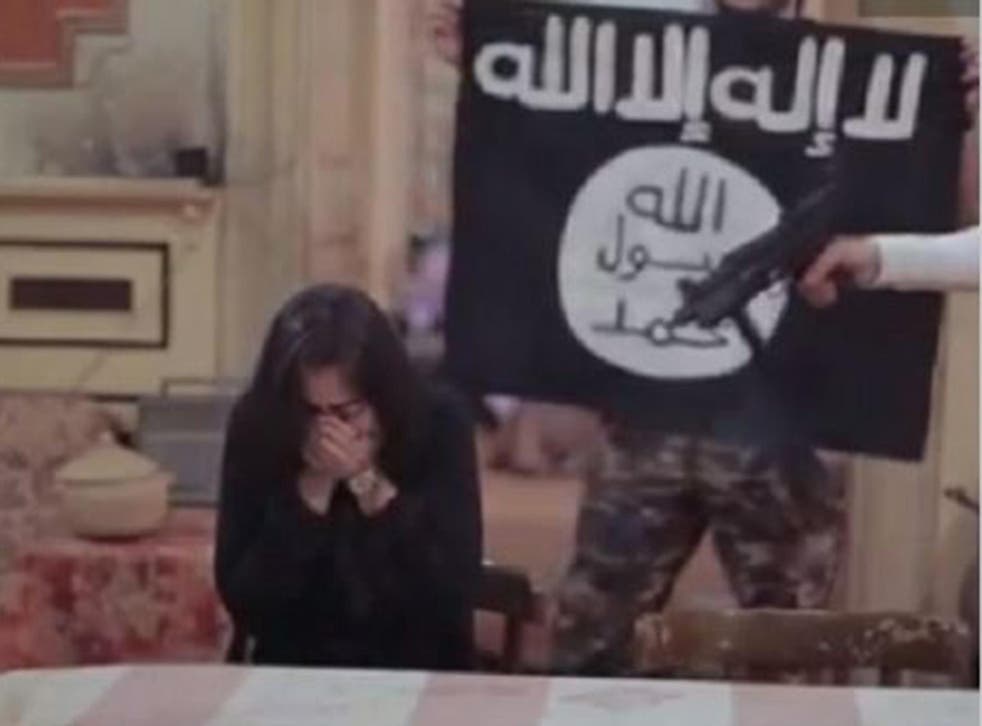 A woman was reduced to tears when an Egyptian prank TV show tricked her into thinking she had been kidnapped by Isis militants.
Actress Heba Magdi begged for her life as men dressed as members of the terrorist group pointed guns at her and tried to put a fake suicide vest over her shoulders.
Al Nahar TV broadcast the video, part of a series called "Mini Daesh", showing fake explosions and the evidently traumtised woman screaming on the couch in a locked room.
The clip shows Ms Magdi being ordered to have her picture taken in front of an Isis flag by a balaclava-wearing member of the group, while hidden cameras filmed her ordeal.
She was seen cowering in terror, sobbing uncontrollably and covering her face with her hands in the prank video, according to AhlulBayt News Agency.
At one point she attempted to make a break for freedom before hearing police sirens outside the room, with officers apparently coming to save her.
The video ended with one of the pranksters coming to reassure her it was all fake, but Ms Magdi remained visibly shaken by the experience.
An old man and younger man were two other victims of the prank, clips of which were also posted online.
The older man was seen calmly cooperating with the militants' demands, while the young man wrestled one of the fake terrorists.
It is not known what happened in the aftermath of the prank.
World news in pictures

Show all 50
Last year Al Nahar TV broadcast the moment an Egyptian groom surprised his wife with an Isis-themed wedding.
The video of the wedding became hugely popular online, showing men wearing balaclavas, the Isis flag and the militant group's anthem playing in the background.
Join our new commenting forum
Join thought-provoking conversations, follow other Independent readers and see their replies