Gaza crisis: Israel's Prime Minister promises to 'increase the assault' on Hamas until it stops firing rockets
The Gaza conflict intensifies as 47 people are killed and militants fire long-range rocket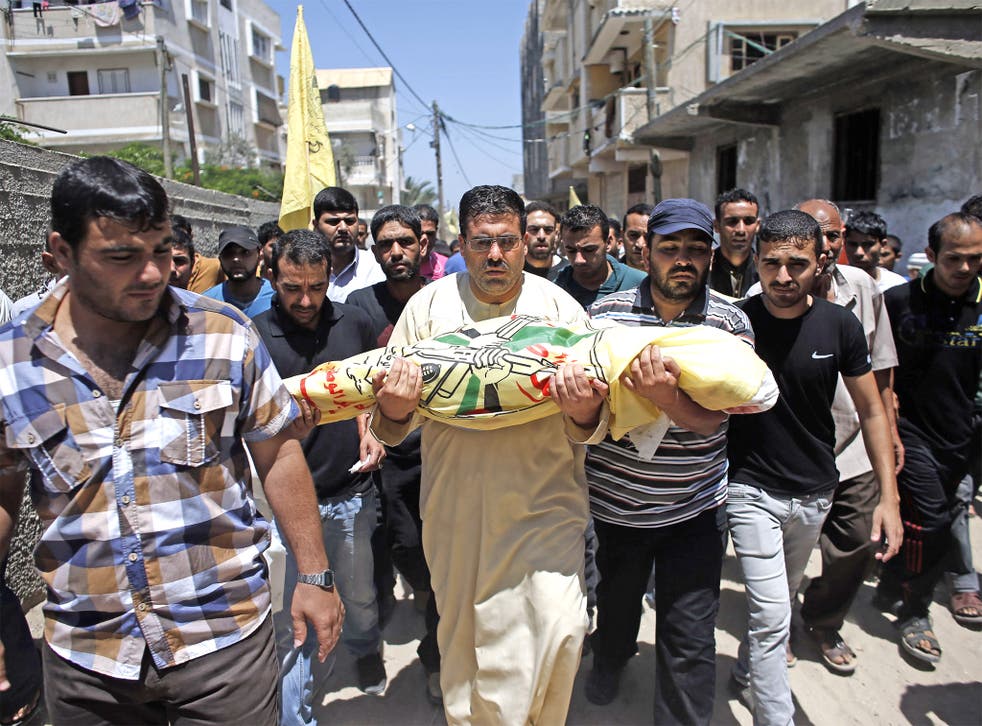 Israel has intensified its aerial bombardments of targets in the Gaza Strip while the Prime Minister, Benjamin Netanyahu, promised to "further increase the assault" on Hamas until it desists from firing rockets at Israeli cities and communities.
That did not appear likely to happen soon as the militant group targeted the area of Ben-Gurion airport near Tel Aviv and fired its longest-range rocket yet, striking the area of Zichron Yaakov, near Haifa, 115km from Gaza. Three rockets were also fired at the Dimona nuclear plant with the Israeli army shooting down one and two others causing no damage.
A total of at least 93 rockets were fired at Israel today, according to the army, which said it had struck 550 Hamas sites since Tuesday, including 11 homes of senior Hamas members.
According to Palestinian medical staff, at least 47 Gazans have been killed since Tuesday, when Israel launched "Operation Protective Edge", including 41 civilians of whom at least 12 are children. One child was just 18 months old, according to Gazan human rights groups. Israel says it is doing its best to avoid civilian casualties.
The heavy toll is likely to fuel a further escalation in rocket attacks as Hamas seeks to project itself as the protector of the population, something that will in turn produce even more devastating Israeli action.
In pictures: Israel launches further air strikes on Gaza

Show all 105
"This is snowballing," said Mahmoud Abu Rahme, from al-Mezan Centre for Human Rights in Gaza City. He said the Israeli aerial bombardments from 2.30am to 4.30am were "the most intensive I have ever seen".
Israeli analysts believe that if the rocket fire does not stop, Mr Netanyahu will opt for a ground operation in Gaza. But it is unclear whether this would be limited to border areas or involve a reoccupation of Gaza urban centres, as some of his ministers have been advocating.
"The Israel Defence Force is prepared for all possibilities," Mr Netanyahu said after security consultations. "Hamas will pay a heavy price for its firing at Israel's citizens. The operation will be expanded and will continue until the firing at our communities stops and quiet is restored."
In Gaza, 18-month-old Mohamed Malkiyeh and his mother were killed in an air strike on the Zeitoun neighbourhood in the south of Gaza City, al-Mezan reported. Another civilian, Naifeh Farjalla, 80, was killed in an air strike on Muhraqa, south-west of Gaza City. In northern Gaza, a military leader of the Islamic Jihad group and five family members were killed in an air strike, the interior ministry said. In the northern town of Beit Hanoun, the 14-year-old Mohamed Masri was killed along with his mother, Sahar Hamdan, when a missile landed adjacent to their house.
The Israeli Strategic Affairs Minister, Yuval Steinitz, spoke of an additional goal to the military activity besides restoring calm. "The additional goal, to hit Hamas hard, is no less important. It can also be to eliminate the terror army equipped with thousands of rockets. It could be that the moment is approaching where, despite the fact that it is difficult, complicated and has costs, we will have to take control of Gaza for a few weeks to cut the process of the establishment of this terror army."
The Hamas political chief Khaled Meshaal said in Qatar that Hamas is interested in calm and not anxious for escalation. He said Mr Netanyahu is the one imposing aggression on the Palestinians and he must halt it and change his policy. He accused Israel of "pushing the Palestinian people against the wall, thinking there would not be a response".
In the West Bank, the Palestinian President Mahmoud Abbas condemned the Israeli campaign and was reported to be planning discussions on whether the Palestinians should apply to join the International Criminal Court, a move he has shunned in the past for fear of Israeli and US reactions. "What is happening in Gaza is a war crime and it is the right of the leadership of the Palestinians to defend the people of Gaza with all the diplomatic and legal means at its disposal," he told reporters. "This war is not against Hamas or any faction, but against the Palestinian people." Speaking from Beit Hanoun, the Mayor Mohamed Kafarneh told The Independent: "I tell the residents to be patient and God willing this will end soon. We hope the nations of the world will intervene to stop the killing of women and children.''
An Israeli army spokesman, Lt-Col Peter Lerner, said the military was doing its best to avoid civilian casualties. He said he could not confirm the Palestinian reports of civilian deaths. "We do something that I believe no military in the world does, we make warning calls to the targeted house, telling residents to evacuate. Then we have a second-level warning in which munitions with no explosives are dropped on the roof. Only after that do we carry out the strike."
In the Israeli border town of Sderot, municipality summer camps and schools equipped with safe rooms stayed open despite Hamas rocket fire at Israel's south. "We explain that it's an emergency situation. The children know it's dangerous but they become heroes. We offer psychological help and art classes and our approach is stick to routine," said Miriam Sasi, the head of the Sderot education department.
Israeli political analysts believe Mr Netanyahu will opt for some form of ground action because the rocket fire will continue. "It's very hard to put a stop to it unless you go in," said Galia Golan, who teaches at the Interdisciplinary Centre in Herzliya, near Tel Aviv. "He may have no choice."
Menachem Klein, who teaches at Bar Ilan University, near Tel Aviv, said Mr Netanyahu would want to keep ground forces out of major cities. He said: "Ground forces in urban areas can immediately cause heavy civilian casualties. With this, Israel may lose the sympathy of the international community.''
Join our new commenting forum
Join thought-provoking conversations, follow other Independent readers and see their replies