Gaza Strip left in darkness due to escalating Palestinian electric power crisis
Hamas cracks down on rare protests as the worst power shortages in 10 years hit the Palestinian enclave
Wednesday 18 January 2017 14:16 Comments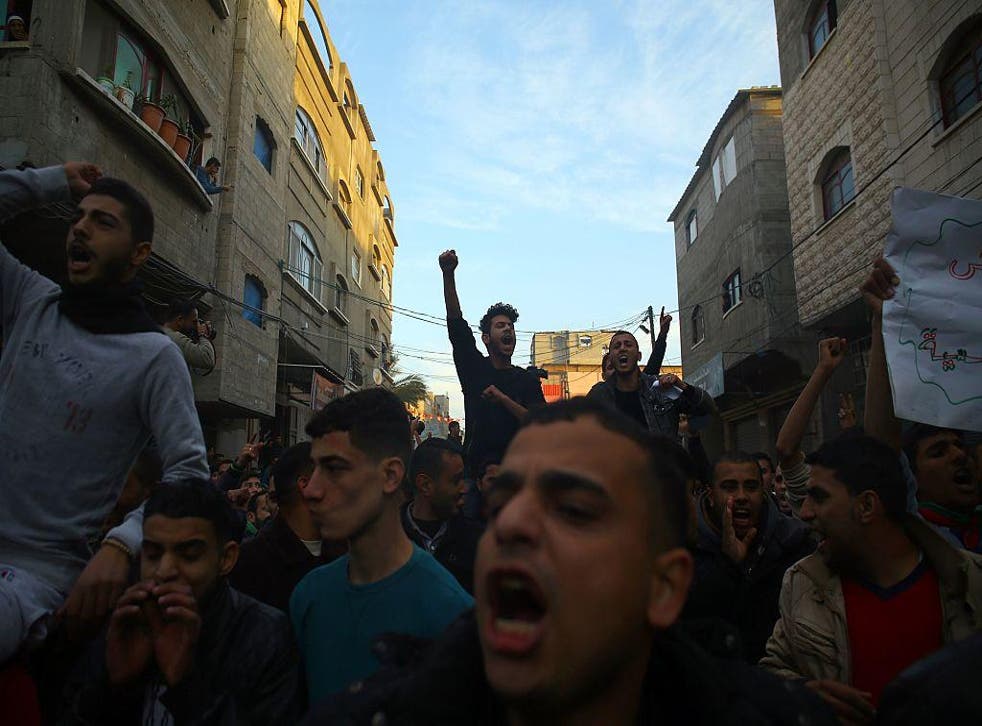 The Gaza Strip is suffering through winter with just three hours of electricity a day in some places thanks to the worst power outages in a decade.
While the area has always had to contend with unreliable power, in recent weeks the issue has reached crisis levels, with hospitals warning that the frequent cuts endanger patients' lives, and the rest of Gaza's two million inhabitants dealing with the cold and dark of winter conditions. Some have resorted to burning coal and scrap wood indoors or using old, unreliable kerosene heaters.
Since the water supply to many households relies on electric pumps, many people are also having difficulty washing, showering, cooking and doing laundry.
The outages are affecting businesses, too, since the extra fuel costs of generators are cutting into profits. "It eats up your capital… My money is being burned," restaurant owner Abdulsalam al-Sheikh told the Associated Press.
Thousands of people took to the streets last week in rare unauthorised protests against Hamas, the militant Islamist group that runs the area, demanding the group's leaders take action.
The current cuts are the worst to hit the Gaza Strip since Hamas seized power 10 years ago. While the group's wealthy ally Qatar sent a grant on Tuesday which should allow three turbines at Gaza's only power plant to run, giving two eight-hour periods of power in every 24, the aid is a temporary fix.
The girl who became the only fisherwoman in Gaza

Show all 2
Gaza's residents are already used to being without electricity for eight hours a day, usually in the evenings.
The plant currently produces 50 megawatts daily. Israel provides the area with 120 megawatts of power daily and Egypt an additional 30, but round the clock power would require 400 to 450 megawatts a day.
Hamas buys diesel to run it from Israel, but the group has accused the West Bank's Palestinian Authority, which coordinates delivery, of driving up prices through unfair taxation.
Register for free to continue reading
Registration is a free and easy way to support our truly independent journalism
By registering, you will also enjoy limited access to Premium articles, exclusive newsletters, commenting, and virtual events with our leading journalists
Already have an account? sign in
Join our new commenting forum
Join thought-provoking conversations, follow other Independent readers and see their replies