Three years after the last Israel-Gaza War, Palestinians struggle to rebuild their lives
Nineteen-year-old Doha is now engaged and planning on attending university - but mourns the loss of her parents, who will never share in her joy 
Thursday 24 August 2017 18:22 BST
Comments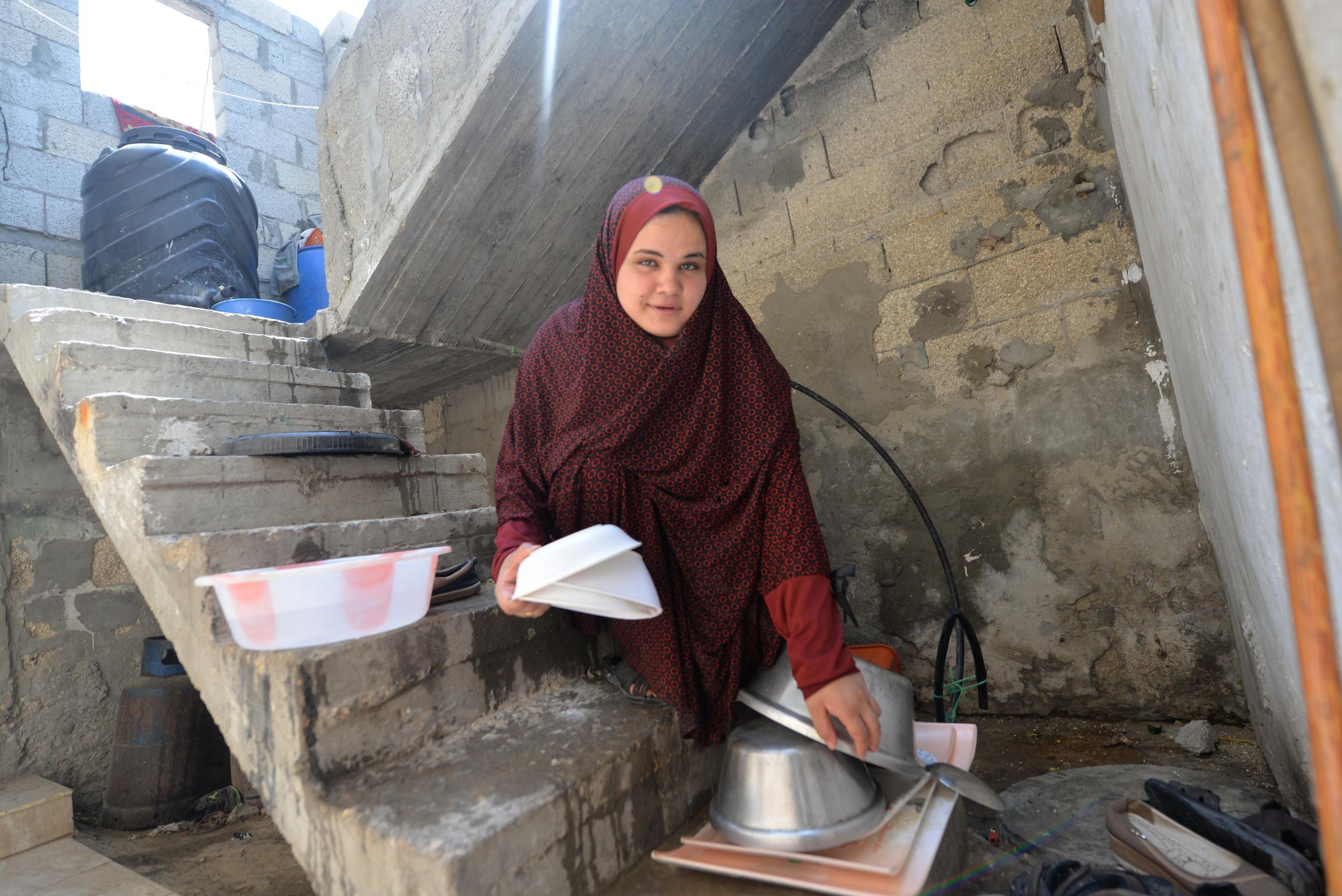 In the scorching summer of 2014, 16-year-old Doha's parents were desperate. The Israeli bombing campaign across the Gaza Strip - Operation Protective Edge - had knocked out electricity, water and other infrastructure across the coastal enclave.
One day, they ventured out to find water for Doha and her little brother Mohammed. Struck by an Israeli shell, they never came back.
Doha, now 19, has managed to rebuild her life. She is engaged - and so excited about it she can't stop smiling - and is set to become the first in her family to go to university.
Gaza marks 10 years of Israeli blockade
"I'm happy now, but all my joys are incomplete," she said. "Nothing will alleviate the loss of my parents."
Saturday August 26 marks the three year anniversary of the end of the seven-week 2014 conflict, in which 2,200 Palestinians and 71 Israelis, among them four civilians, lost their lives.
While Doha's future holds promise, life in the Strip is still punishingly hard for its two million residents.
Over the last decade, living conditions for Gazans have greatly deteriorated thanks to Israeli sea and land blockades and sky-high unemployment rates. The economy has effectively collapsed and it is difficult for Palestinians to import cement mixture and other necessary building materials because of Israeli fears they could have a 'dual use' in creating tunnels used by militants.
The July 2014 war - which the UN estimates destroyed 17,000 homes - greatly exacerbated the situation. Much crucial infrastructure was not adequately rebuilt, if at all.
While Gaza has had to contend with unreliable power since militant group Hamas seized control of the area in 2006, in recent months the issue has reached crisis levels.
The rival Palestinian Authority (PA), based in the West Bank, has been waging a long term effort to weaken Hamas. By hiking fuel delivery prices, it has gradually strangled Gaza's access to electricity, which means the lights are often only on for three hours a day.
Hospitals in the Strip have warned that the frequent cuts endanger patients' lives and the sewage treatment system has broken down. Since the water supply to many households relies on electric pumps, many people are also having difficulty washing, cooking and doing laundry.
Gaza's water is not safe to drink. While Doha and her family have a water filter paid for by the Catholic aid agency Cafod and installed by Islamic Relief, it needs electricity to function.
During the searing 40 degree summer the family have been forced to buy water instead.
"We haven't had any [water] for six days," Doha told visiting CAFOD representatives, as the sound of flowing water started and she jumped up to fill a tank in order to wash clothes and dishes.
"I lose sleep every night, because I keep waking up to see if the water is running."
In April, Major General Yoav Mordechai, the Israel Defence Forces (IDF) coordinator of government activities in the Palestinian Territories, warned that Gaza faces an "impending humanitarian crisis".
The commander sent letters to several international bodies including the UN to say that urgent action is needed to prevent the situation for civilians from deteriorating.
"I am that girl": Huda Ali Ghalia, who was filmed after family was killed on Gaza beach, graduates
"Of all the issues we deal with - the peace process, Palestinian institution building, the region - this is the one issue that keeps me up at night," Nickolay Mladenov, the UN's special coordinator for the Middle East Peace Process, said recently.
"The effects of the crisis are devastating," he said. "And all of this, at the end of the day, will come back to Israel's doorstep."
The worsening conditions have already led to rare unauthorised protests against Hamas' rule.
Some are worried the deepening situation could lead to renewed violence between the Strip and Israel - which could ultimately destroy thousands of lives like Doha's all over again.
Join our commenting forum
Join thought-provoking conversations, follow other Independent readers and see their replies