Golan Heights: How Donald Trump's tweet saved Netanyahu's re-election
Analysis: Trump's recognition of Israeli sovereignty over disputed Golan Heights will hand Bibi fourth consecutive term in office, writes Bel Trew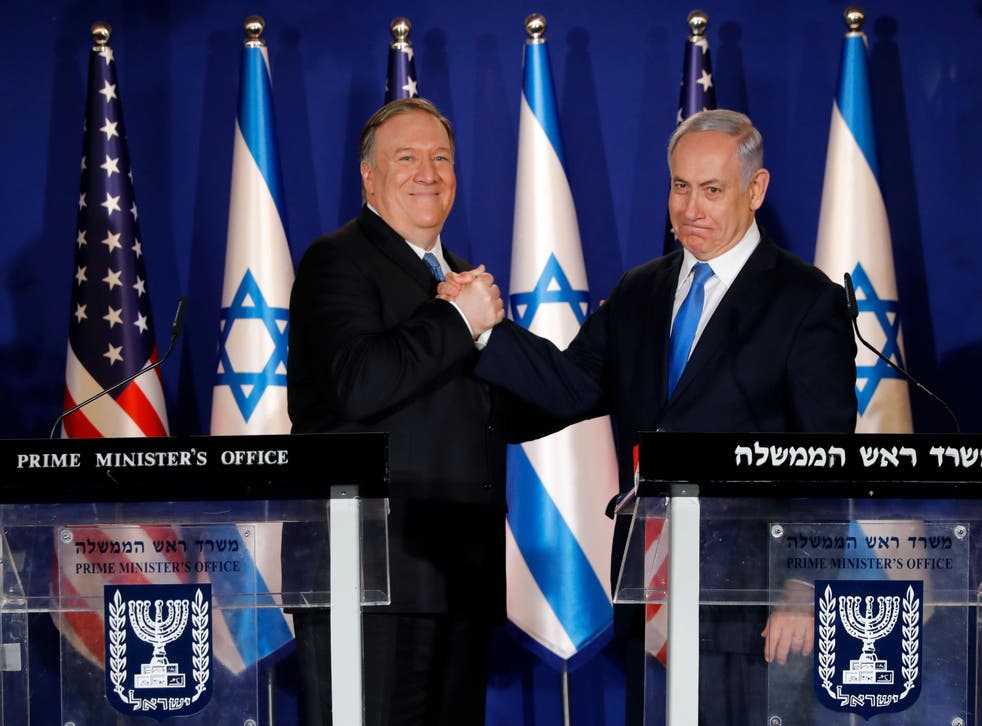 No matter what side of the political divide in Israel, everyone seemed to agree on one point: US president Donald Trump's decision to recognise Israeli sovereignty over the Golan Heights just weeks before the election was handing Benjamin Netanyahu his fourth consecutive term in office.
The embattled Israeli prime minister has navigated rough seas ahead of the 9 April elections.
Every poll has consistently shown his ruling Likud party losing to the Blue and White Party, a new centrist alliance spearheaded by popular ex-army chief Benny Gantz.
Campaigning under the shadow of possible incitement in multiple corruption cases, Mr Netanyahu has shrilly defended his qualifications as premier.
While trying to secure history book recognition for being Israel's longest-ever serving prime minister, he was fast heading for the ignoble accolade of being the country's first leader to be indicted while in office.
Trump backs Israel's annexation of Golan Heights

Show all 7
Normally known for launching wars ahead of elections to ensure the security vote, Mr Netanyahu was also batting off stinging criticism from all sides for not ordering a full military operation in Gaza.
But just when it appeared that Lt Gen Gantz, and his band of former generals, could unseat the Likud, Mr Trump's seemingly spontaneous tweet, sent out during Israeli prime-time TV, shifted everything.
And it landed just days ahead of Mr Netanyahu's scheduled four-day visit to the US, where he is expected to meet twice with Mr Trump.
"After 52 years it is time for the United States to fully recognise Israel's Sovereignty over the Golan Heights, which is of critical strategic and security importance to the State of Israel and Regional Stability!" the American leader wrote.
In just one tweet, he parted with decades of US foreign policy, as well as international consensus on Israel's 1967 seizure and later de facto occupation of the Golan Heights.
Israel's annexation of the Golan Heights has repeatedly been declared illegal by the United Nations, and the international community considers it Syrian territory.
Nonetheless in Israel, the media and social media exploded.
Allies of Mr Netanyahu were quick to attribute it to his prowess.
Gilad Erdan, Israel's minister of public security and strategic affairs, called it "another tremendous achievement for the state of Israel, the Likud Party and the prime minister".
Moshe Kahlon, head of the Kulanu Party, which could be an important coalition partner for Mr Netanyahu, said it was "an important accomplishment".
Supporters, including local right-wing media, dubbed it a "substantial" elections present of "impeccable timing".
"All of a sudden the submarines and Blue and White Party allegations that Netanyahu illicitly profited from the deal seem like toy boats in a bathtub," Herb Keinon of The Jerusalem Post wrote.
It was "the elections gift Netanyahu dreamed of", he added.
Critics opted for the term electioneering.
"No one is even trying to pretend any longer that Donald Trump isn't intervening in Israel's election on Prime Minister Benjamin Netanyahu's behalf," Anshel Pfeffer wrote in a Haaretz front page column.
Facing more ugly revelations about corruption charges swirling around a $4.3m submarine deal, Mr Pfeffer concluded that the Golan Heights tweet was the perfect distraction.
Arab-Israeli lawmakers came to a similar conclusion.
Aida Touma-Sliman, an Arab member of the Knesset for the leftist Hadash party, told The Times of Israel the American president was trying to "save Netanyahu from his desperate situation and return him to power".
Hadash's leader Ayman Odeh meanwhile said the move was a "cheap and cynical provocation".
It has also forced Mr Netanyahu's rivals into an embarrassing position.
There was nothing Mr Gantz's party could do other than thank and praise Trump for helping Mr Netanyahu to his fourth term in office – otherwise they would appear at best petty, and at worst, anti-Israel.
Attempts to steal a bit of the limelight fell painfully flat.
Yair Lapid, Mr Gantz's partner in the Blue and White Party, was quick to point out their coalition had started a campaign for recognition of the Golan Heights a year before.
He hastily shared a video montage of all the times he had mentioned Israeli sovereignty over the disputed area.
The replies to his tweet, which was only shared a few dozen times, says it all. "Send flowers to Netanyahu," wrote one user.
"Stealing someone's copyright" posted another. "This is thanks to our dear prime minister not you" wrote a third.
Meanwhile Mr Gantz, looking tired and noticeably less steely, shared a video reminding his followers he would be flying to the US in a few days to meet with American Jewish leadership at a policy conference of the powerful pro-Israeli lobby group AIPAC.
There, he will no doubt have to confront renewed adoration for Mr Netanyahu, who is also due to speak and will likely take every opportunity to milk the Golan Heights recognition.
"It will be a great opportunity to thank President Trump," Mr Gantz says, looking uncomfortable.
That said, Mr Netanyahu's path to the throne is not yet set.
Shortly after expressing joy over the news, Naftali Bennett, Mr Netanyahu's right-wing education minister and a powerful coalition partner, was quick to shoot out a veiled warning.
The premier could and would lose his support base if the US recognition of the Golan Heights was a "pay off" or precursor to Israel's recognition of a Palestinian state – a major no-no for Israel's far right.
People close to Mr Bennett told The Independent he feared Golan Heights recognition was tied to Mr Trump's long-awaited and mysterious peace plan.
In short, the prime minister is not out of the woods just yet.
Register for free to continue reading
Registration is a free and easy way to support our truly independent journalism
By registering, you will also enjoy limited access to Premium articles, exclusive newsletters, commenting, and virtual events with our leading journalists
Already have an account? sign in
Join our new commenting forum
Join thought-provoking conversations, follow other Independent readers and see their replies