The guns have fallen silent in Homs - but the fear remains
The city brutalised by Assad is calm. But this is no easy peace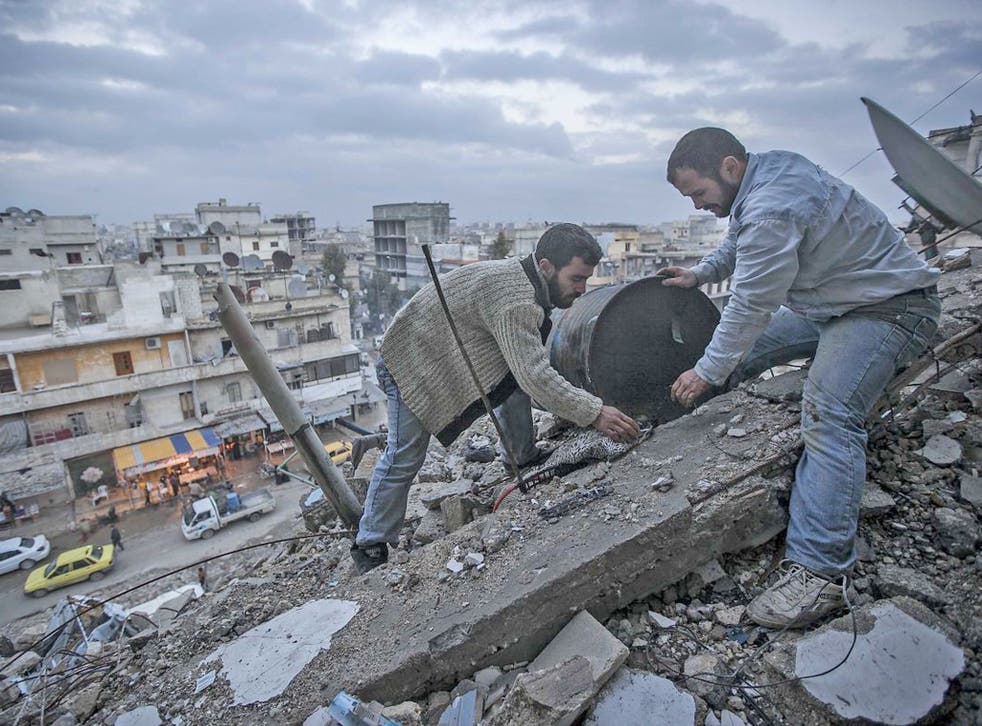 The city of Homs, once the heart of the Syrian uprising, is very much back under government control. The only substantial area still held by the rebels is the Old City, under siege by the Syrian army, which exchanges sniper fire and mortar bombs with the rest of the city.
Homs, the third largest city in Syria with a pre-civil war population of 2.3 million, was the scene of heavy fighting and a ferocious bombardment earlier in the year. Some districts still look devastated, though the rubble has been cleared away. But there was no sound of shooting today and most of the city shops and markets were open and traffic was flowing freely. There are many checkpoints, but the soldiers manning them looked relaxed.
But not everything is normal. In a district named after the Armenians who first settled it, several missiles –allegedly fired from the Old City –struck two houses on Sunday, collapsing a four storey apartment building in which at least five people were killed and 37 injured. Ebtessam, a middle aged woman who had been taking her daughter to school, said there were "no military buildings nearby." This appeared to be the case. She complained that rebel snipers "made some streets unsafe, so I have to take a long way round to reach my house." Maher, a 12-year-old boy in blue school uniform, said his own district of al-Mohajren was also unsafe because of snipers.
The worst fighting earlier in the year was concentrated in the Bab al-Amar district, which was pounded by artillery. The main road still looks devastated, buildings burned out and walls toppled or scarred by shrapnel. It is a measure of the strength of government control that officials feel safe to go there with foreign visitors. There were almost no cars and few pedestrians though there are more people living in the side streets which are not badly damaged.
Several people refused to talk or spoke guardedly, but one elderly man in a blue coat and embroidered skill cap, who said his name was Mohammed al-Rahmoun, came up to me and said he was trying to find his 30-year-old son Osama who was arrested five months ago and had not been heard of since. "I ask in many places but nobody knows what happened to him," said his father, who added that his other son, Anas, had been killed by a bullet during the fighting earlier in the year.
Life in most of Homs looks normal. There are queues outside shops where people with ration chits get bottled gas for domestic cooking. Petrol is also rationed. Most schools and colleges were open. On the road from Damascus there were a number of minibuses and small trucks with large bundles of household possessions on the roof bringing back people who had fled to the capital earlier in the year. One driver said "Homs is now safer than Damascus." Other displaced people in Homs are crowded into public buildings according to aid officials.
Calm though it appears to be Homs can still be a dangerous place. In the office of the governor of Homs an official produced a bullet that had been fired at chest height from a stadium facing the back of the building the previous day. They showed the hole made in the wall and another hole where two weeks ago another sniper had wounded somebody sitting in a chair.
The governor of Homs, Ahmad Munir Mohand, a general who had become a lawyer before taking up his post four months ago, blamed the troubles of Homs and Syria on al-Qa'ida, the Gulf States and the US. He denounced the rebels as sectarian saying their slogan was "Alawites to their coffins and Christians to Beirut." He said that the government had discovered that a consignment of missiles had recently reached the rebels in the Old City though he did not explain how this could have happened if the place is besieged. He says he wished the European Union "would send medical supplies instead of threatening to send weapons."
How safe was the 160km-long road linking Homs to Damascus along which we had just driven? "I would say it was 99 per cent safe," said the governor. "The dangerous places near he road are at Yabrud and Qara, because Lebanon is close and armed men from al-Qa'ida, Saudi Arabia and Libya come across."
This was less than reassuring, but fitted with our experience on the way to Homs. We had faced no problems until we reached close to Yabrud, three kilometres from the main road, where there was a government armoured vehicle blocking the road ahead and we had to wait for half an hour. The impression that Yabrud is not a place to linger was reinforced on our return journey when a distant gunman fired a shot in our general direction as we sped by.
Join our new commenting forum
Join thought-provoking conversations, follow other Independent readers and see their replies