Rouhani blames protests for 'tempting' Trump to ditch nuclear deal as he is called before parliament over economy
Iranian MPs reject president's answers about ailing economy, piling pressure on him as he vows to fight 'US plot'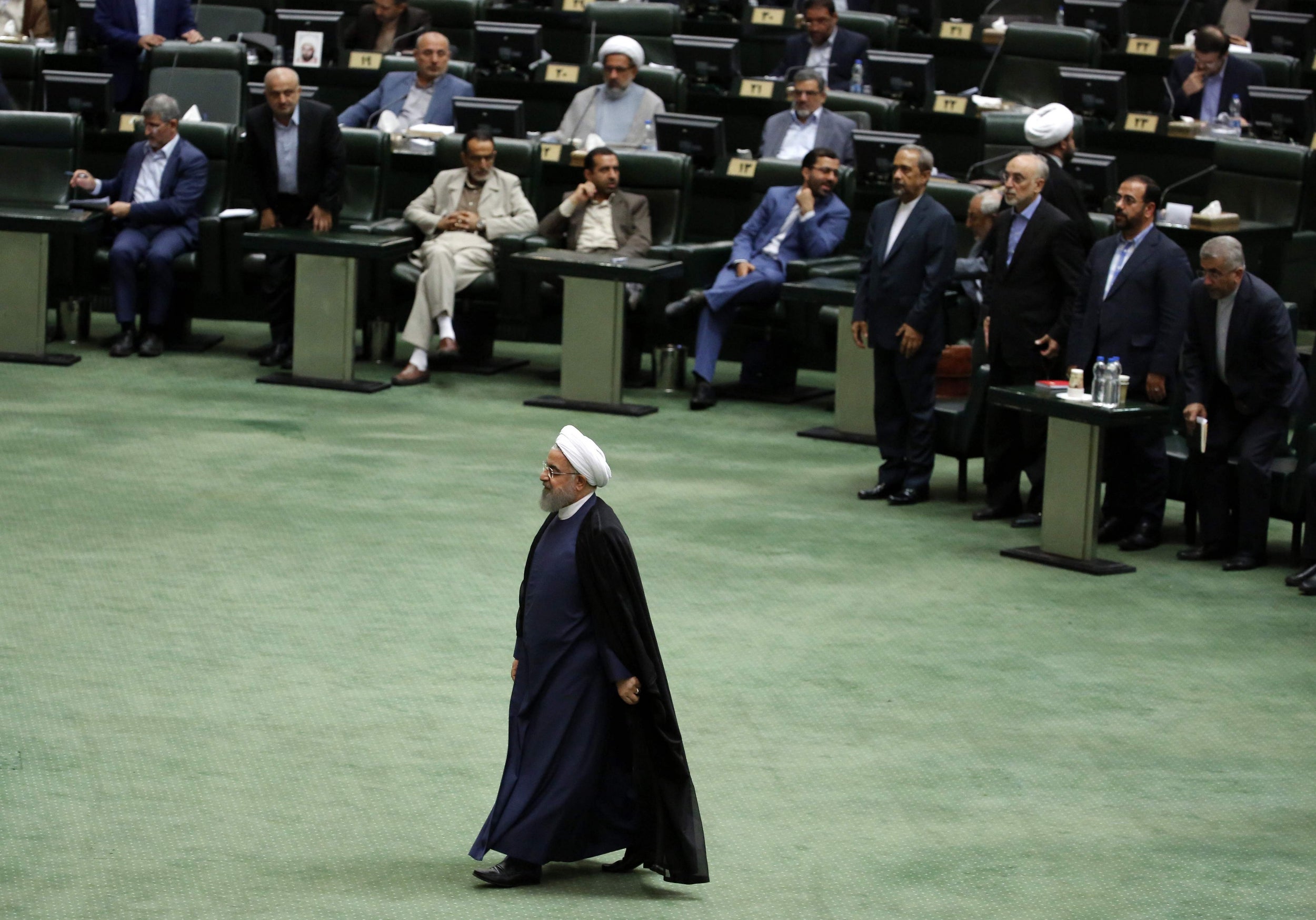 Iran's President Hassan Rouhani has vowed to fight crippling US sanctions on the country while defending his cabinet's performance after he was summoned by the Iranian parliament for the first time to explain the country's worsening economic crisis.
Mr Rouhani, a relative moderate and pragmatist, is under pressure to reshuffle his government amid soaring prices and rising unemployment that sparked a wave of unrest in the country.
He was ordered by the legislative body to attend Tuesday's session to answer questions. However, MPs were unconvinced with his answers and have referred the case to the judiciary, according to local news agencies.
The country's economic woes worsened after US President Donald Trump ordered in May that sanctions be reimposed when he pulled out of a 2015 nuclear agreement with Iran and other western powers.
This month, Washington's new measures have impacted Iran's trade in gold and other precious metals, its purchases of US dollars and its car industry. It will only get worse in November when fresh sanctions are expected to target Iranian oil sales.
Speaking on Tuesday, Mr Rouhani promised his government would defeat any "US plot" against the Islamic Republic.
He attempted to deflect blame, saying a sweep of anti-government protests which started in December "tempted" Mr Trump to ditch the nuclear deal, exacerbating the crisis.
"I want to assure the Iranian nation that we will not allow the US plot against the Islamic Republic to succeed," he said in a televised speech during the session.
"We will not let this bunch of anti-Iranians in the White House be able to plot against us. We are not afraid of America or the economic problems. We will overcome the troubles," he added.
While admitting that the country's economic woes were critical, he blamed anti-government rallies for encouraging the US measures. He urged MPs to support his cabinet and not add to anti-government sentiment.
"The protests tempted Trump to withdraw from the nuclear deal," he said.
"Be aware that sabotage creates destruction. Be aware that painting a bleak picture of people's lives will lead to further darkness."
Mr Rouhani's administration has faced mounting pressure to fix Iran's economy, which has been dogged by high unemployment and the collapse of the country's currency, the rial, which has lost half of its value since April.
However, the president's speech on Tuesday did little to assuage fears.
MPs did not find his answers satisfying and they voted to refer the matter to the judiciary, Iran's Tasnim news agency reported. Mr Rouhani was apparently quizzed on five issues, including failing to curb smuggling, the continuation of sanctions on Iran's banks, the worsening unemployment rate, and the economic recession.
President Rouhani summoned to Iran parliament for first time
Show all 12
The move came just a day after scuffles broke out in parliament when it voted to sack the country's economic and finance minister Masoud Karbasian.
Supporters and opponents of the embattled minister fought as they debated his possible impeachment, according to the European Pressphoto Agency.
He was removed from office after a narrow parliamentary vote of 137 to 121.
Mr Karbasian's departure follows the demise of Iran's labour minister Ali Rabiei who was also relieved of his responsibilities earlier this month. Mr Rouhani had earlier removed the head of the central bank in July.
Clashes break out after Iran parliament impeaches economy minister
Show all 10
Britain, Russia, China and France are trying to salvage the 2015 nuclear deal to which they are signatories. Under the Joint Comprehensive Plan of Action, sanctions against Iran were lifted in exchange for curbs on its nuclear programme.
But their companies now face the risk of US penalties if they continue to do business with Iran.
Washington has defended its decision to ditch the deal, maintaining that Tehran is still working to create nuclear weapons while supporting armed groups against US allies in Syria, Iraq and Yemen.
Join our commenting forum
Join thought-provoking conversations, follow other Independent readers and see their replies