Herat attack: Father of Afghan girl robotics team captain killed by Isis suicide bombing Herat mosque
14-year-old Fatemah Qaderyan's father killed in horrific suicide bombing of mosque just 10 days after schoolgirls return from US to Afghanistan to heroes' welcome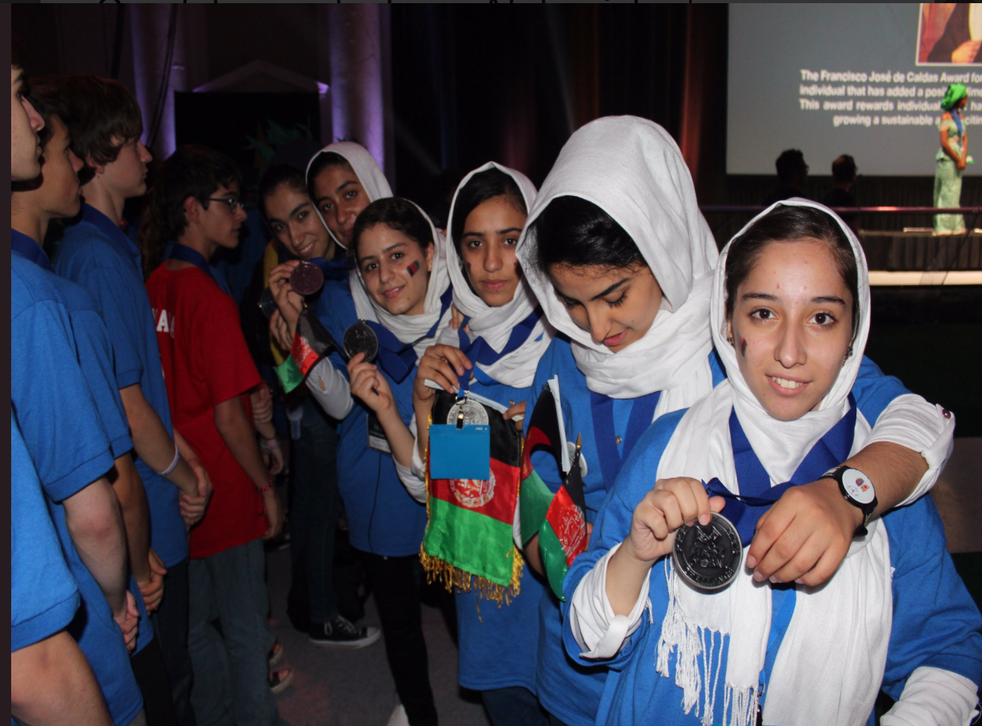 14-year-old Fatemah Qaderyan arrived home in Herat two weeks ago to a heroes' welcome.
As the captain of an all-girl robotics team, she and her classmates had defied the odds not just to make it to an international competition in the US, but to triumphantly come home with a silver medal.
During an interview at the First Global Challenge international robotics contest in Washington DC in July, Fatemah told reporters that her father had been her greatest support as the team travelled 800 kilometres (500 miles) to Kabul twice, only to have their visas rejected under Donald Trump's new travel restrictions.
They were finally granted permission to enter the US just a week before the competition, where judges praised their "can-do" attitude and "courageous achievement".
Just 10 days later, 54-year-old Mohammed Qaderyan was killed in the latest Isis atrocity in Afghanistan when a suicide attacker opened fire and then detonated explosives during evening prayers at a Shia mosque.
Roya Mahboob, a prominent tech-focussed entrepreneur from Herat who helped get the girls to the US, confirmed the news of Mr Qaderyan's death on Twitter, offering her condolences to the family.
A spokesperson for the governor of Herat's office also confirmed he was among the dead.
US drops 'Mother Of All Bombs' on Islamic State cave system in Afghanistan
"[Fatemah] is very angry and is not eating or speaking to anyone, she is going through a very difficult time," team director Ali Reza Mehrban told al Jazeera, adding that the girl is "angry and grieving".
At least 37 people died and more than 60 were injured in the attack in the normally peaceful eastern city on Tuesday night after an Isis gunman killed the guards at a Shia mosque in Herat before entering inside and detonating a suicide vest in the midst of hundreds of worshippers.
The attack was claimed the next day by the Sunni militant group - which had recently threatened an increase in attacks on Shia Muslims.
This week has been yet another bloody one in Afghanistan; as well as the Herat attack, on Wednesday, a Taliban attack in Kandahar killed two US soldiers, and violence killed civilians in both Helmand and Paktia provinces.
Two Isis fighters attempted to storm the Iraqi embassy in Kabul on Monday, killing two guards in a suicide bombing.
Afghanistan: Between Hope and Fear

Show all 16
At least 1,700 people have been killed in attacks carried out by either the Taliban or Isis in the first six months of 2017.
Although the Taliban lost control of Afghanistan following the 2001 US invasion, it has steadily regained ground since the majority of US and allied troops left in 2014, and is now in control of some 40 per cent of the country.
The chaos has also allowed Isis to gain a foothold in eastern provinces.
The unrelenting violence has left many angry with the weak and divided government of President Ashraf Ghani, whom they say is not doing enough to protect the people from extremist violence.
Hundreds attended a protests calling on the president and other high ranking ministers to either combat the violence or resign in Herat on Wednesday night, and more are expected across the country on Thursday, including in the capital Kabul.
In July US President Donald Trump bowed to pressure from the Pentagon to allow the military to set its own troop levels to prevent the precarious security situation from deteriorating further.
A total of 13,000 US and Nato soldiers are currently in the country. While it is expected that 4,000 extra troops will be deployed, there is still no coherent strategy from the Trump administration on the US's future involvement.
Join our new commenting forum
Join thought-provoking conversations, follow other Independent readers and see their replies