US announces multimillion dollar reward for Hezbollah operatives over 'homeland threat'
First bounties in a decade for senior members of Lebanese militant group viewed as part of hardening White House stance against Iran and its allies 
Wednesday 11 October 2017 18:38 Comments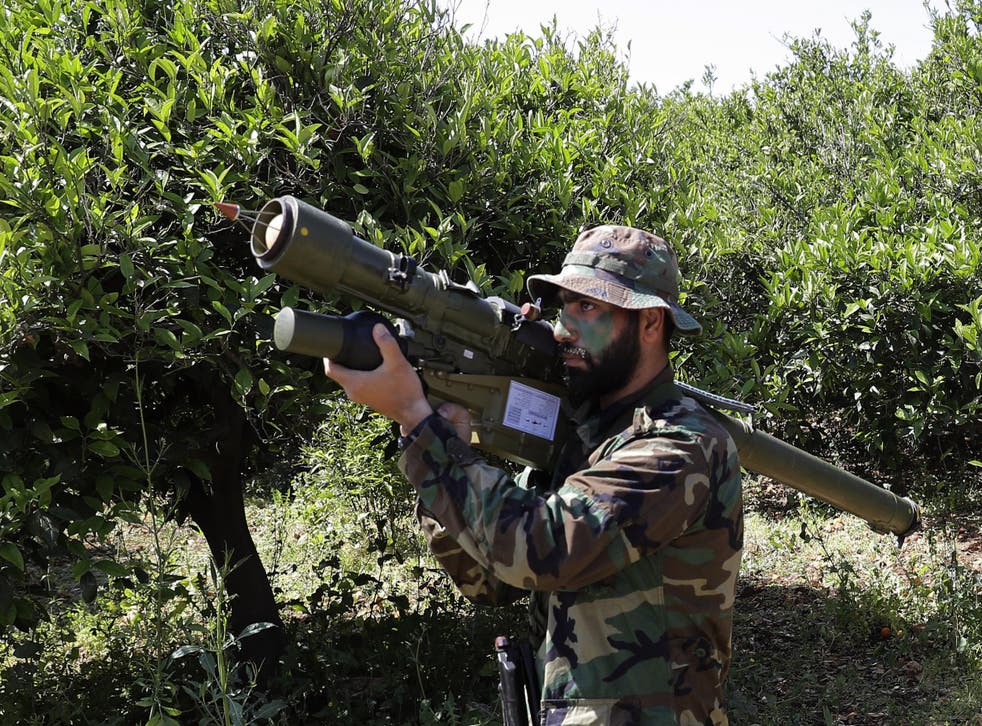 Donald Trump's administration is offering millions of dollars in rewards for two senior Hezbollah operatives because of growing fears of a "homeland" threat to the US, the State Department has announced.
A total of $12 million (£9 million) is on offer for information leading to the arrest of Talal Hamiyah and Fuad Shukr, National Counterterrorism Centre Director Nicholas Rasmussen told reporters in Washington DC on Tuesday - the first such bounties on the heads of Hezbollah leaders in more than a decade.
"While I'm not here today to speak publicly about any specific, or credible, or imminent threat to the homeland," Mr Rasmussen told reporters, "We in the intelligence community do in fact see continued activity on behalf of Hezbollah here inside the homeland.
Donald Trump hails Lebanon in their fight against Hezbollah during press conference
"It's our assessment that Hezbollah is determined to give itself a potential homeland option as a critical component of its terrorism playbook and that is something that those of us in the counter-terrorism community take very, very seriously."
Two men were arrested in New York and Michigan in June on charges of "providing material support" to the Lebanon-based Shia militant organisation.
The armed wing of Hezbollah - which was formed in response to the Israeli invasion of Lebanon in 1982 - is listed as a terrorist organisation by the US and most other countries. It is rare for the group, which is allied to regional power Iran, to engage in violence outside the Middle East.
It has been pointed out that the new rewards come at a time of heightened tensions between the US and Tehran as President Trump prepares to scrap the 2015 nuclear deal.
The new measures against the two Hezbollah operatives are widely viewed as part of the administration's broader aim of pressuring Iran and its proxies.
A Hezbollah official told the AP on Tuesday that the move, and recent sanctions, are "part of the continuous efforts to demonize Hezbollah."
Top Hezbollah commander Mustafa Badreddine killed in Syria – group confirms
"They are false accusations that will not have any effect on the operational activities of Hezbollah," the official said, speaking on condition of anonymity in line with party regulations.
There is a $7 million (£5.3 million) reward for information about Talal Hamiyah, who the State Department believes has orchestrated attacks, hijackings and kidnappings targeting US citizens.
Another $5 million (£3.8 million) is being offered for Fuad Shukr, who runs Hezbollah's military operations in the south of the country, on the border with Israel, and is believed to play a key role in Hezbollah's operations in the Syrian civil war on the behalf of Syrian President Bashar al Assad.
Register for free to continue reading
Registration is a free and easy way to support our truly independent journalism
By registering, you will also enjoy limited access to Premium articles, exclusive newsletters, commenting, and virtual events with our leading journalists
Already have an account? sign in
Join our new commenting forum
Join thought-provoking conversations, follow other Independent readers and see their replies