Horror of Kobani: Headless corpses left in the street and victims with their eyes 'cut out', the savagery of Isis laid bare
Refugees in Suruc, Turkey, have spoken of the atrocities witnessed in Kobani
James Rush
Monday 13 October 2014 12:49 Comments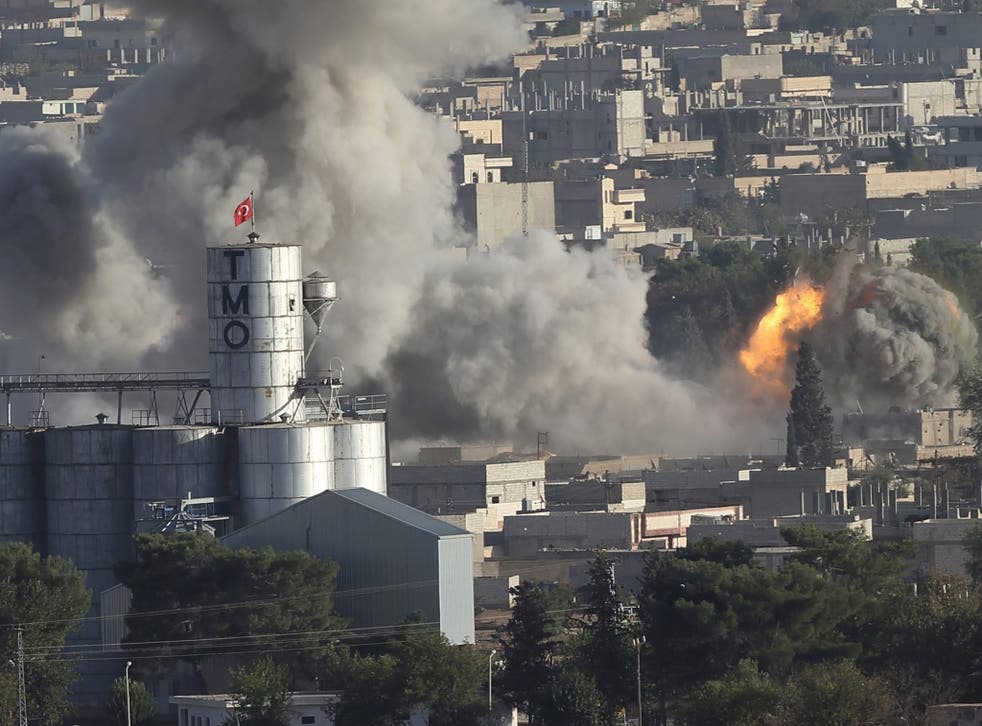 Survivors of the fighting in Kobani have spoken of the horrors they witnessed as Isis militants took control of parts of the town from Kurdish forces.
Refugees in Suruc, Tukey, have told The Daily Mail how relatives and neighbours were beheaded by the militants, while another spoke of how he had seen "hundreds" of decapitated corpses in the besieged town.
On Friday, the UN Syria envoy warned the hundreds still trapped in Kobani will be "massacred" by militants if the town falls, where only a small corridor remains open for people to flee.
More than 200,000 have already escaped across the border to Turkey but up to 700 remain inside the town.
The battle for the Syrian town has also sparked major protests in Turkey against its perceived inaction. Kurdish protesters have repeatedly clashed with security forces, leaving at least 31 people, including two police officers, dead.
Amin Fajar, 38, a father-of-four who left Kobani and made it across the border and into Suruc, told The Daily Mail: "I have seen tens, maybe hundreds, of bodies with their heads cut off.
"Others with just their hands or legs missing. I have seen faces with their eyes or tongues cut out – I can never forget it for as long as I live."
Isis militants have laid siege to the town of Kobani for nearly four weeks and fought their way into it in recent days.
They have reportedly taken control of almost half of the town.
Belal Shahin, another Kobani refugee in Suruc, told MSNBC: "Isis came into the villages. They beheaded people as well as animals. They took animals and girls; they left nothing. Even animals don't do what Isis are doing. They are doing these things and it's not acceptable.
"But the whole world has blocked their ears in order not to hear. And they've become dumb. There's nothing to stop them."
As night fell on Sunday, the town centre of Kobani was under heavy artillery and mortar fire, Ocalan Iso, deputy head of the Kobani defence council, told Reuters.
Heavy clashes were under way in the east and southeast, he said, with neither side gaining ground.
Idris Nassan, deputy foreign minister in the Kurdish administration for the Kobani district, said heavy fighting had begun around nightfall in the streets.
Kurdish fighters had caught attackers in an ambush, he said.
After days of advances by Isis, the Syrian Observatory for Human Rights monitoring group said Kobani's Kurdish defenders had managed to hold their ground.
The Observatory said 36 Islamic State fighters, all foreigners, were killed the previous day, while eight Kurdish fighters had died. The figures could not be independently verified.
The news comes as a video emerged over the weekend apparently showing fighting in the streets of Kobani.
The Independent has not been able to independently verify the video, but Isis expert Shiraz Maher, a senior research fellow at the International Centre for the Study of Radicalisation at King's College London, said it appeared to have been made for "propaganda purposes, ostensibly demonstrating the group's strength and prowess."
A Turkish official today said there was no new agreement with the United States on using an air base in southern Turkey for operations against the Islamic State group.
Turkey and the US are still talking about the Incirlik air base as well as Turkish demands for the creation of a no-fly zone and a safe haven for refugees, the government official told the Associated Press.
On Sunday, United States defence officials said Turkey would let US and coalition forces use its bases against Islamic State militants.
Additional reporting by Reuters and Associated Press
Register for free to continue reading
Registration is a free and easy way to support our truly independent journalism
By registering, you will also enjoy limited access to Premium articles, exclusive newsletters, commenting, and virtual events with our leading journalists
Already have an account? sign in
Join our new commenting forum
Join thought-provoking conversations, follow other Independent readers and see their replies