Houthi cargo plane left burning on Sanaa runway as Saudi-led coalition targets Yemen's airports - video
On Sunday a Saudi-led air campaign destroyed landing strips
Jack Simpson
Tuesday 05 May 2015 12:35 Comments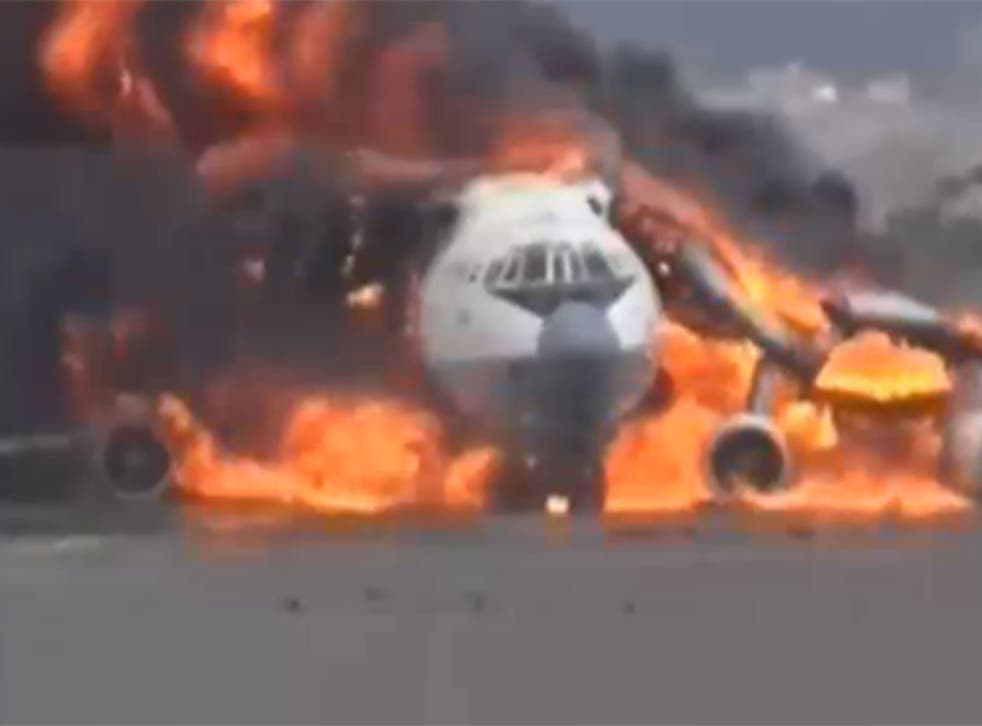 A Houthi military cargo aircraft was left burning on the runway of Sanaa International Airport as aircraft from the Saudi-led coalition targeted the Yemeni capital on Monday.
Footage released today, captured the flames engulfing the cargo plane used to carry food and supplies by the Houthi forces that currently hold control much of Yemen.
A thick cloud of black smoke hung above the airport as local fire crews did their best to put out the massive fire.
It came on a day of heavy bombardment across Yemen, which saw the Saudi-led coalition planes target several airports across the Middle East's poorest country.
Since 25 March, the coalition has carried out a massive bombing campaign in response to what they saw as a "coup d'état" by Houthi rebels after they toppled the government of former president Abd Rabbuh Mansur Hadi in September 2014.
Reports on Tuesday suggested that officials from both sides were considering a ceasefire to allow crucial aid into Yemen after the UN announced that the humanitarian situation had become "desperate" after weeks of bombing.
Register for free to continue reading
Registration is a free and easy way to support our truly independent journalism
By registering, you will also enjoy limited access to Premium articles, exclusive newsletters, commenting, and virtual events with our leading journalists
Already have an account? sign in
Join our new commenting forum
Join thought-provoking conversations, follow other Independent readers and see their replies