Human remains 'fall from the sky' in Saudi Arabia
Police unable to confirm if incident is related to emergency landing of Saudi flight suffering landing gear malfunction on same day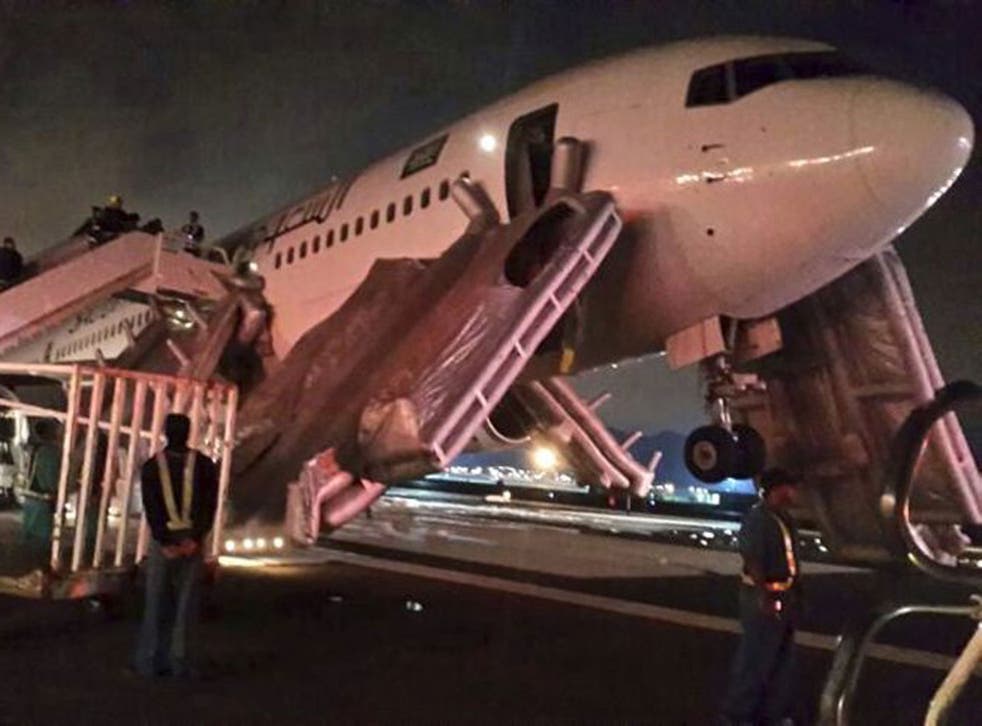 Human remains have reportedly fallen from the sky in the Saudi city of Jeddah, landing on the tarmac of a normally busy intersection at around 2.30am on Sunday.
Police say they received a call from someone who saw the body fall, spokesman Nawaf bin Naser Al-Bouq told the AFP news agency.
While investigations are ongoing, Mr Bouq said initial indications suggested the remains "fell from a plane's landing gear".
The incident occurred on the same morning that a Saudi Arabian Airlines flight was forced to make an emergency landing in the city of Medina after suffering a landing gear failure.
Police would not say if the body parts that were found had anything to do with that plane, AFP reported.
At least 29 people were injured when the Boeing 767-300 was forced to land because of the malfunction, in what the airline described as a "minor accident".
Attempts to stow away in the landing gear of planes are not entirely uncommon, though with the freezing and oxygen-starved conditions once the aircraft reaches altitude, the majority are unsuccessful.
Last year the remains of a stowaway were found in the landing gear of a plane at Heathrow Airport, on board a plane that arrived at Terminal 5 from Istanbul, Turkey.
In 2012, The Independent reported on the tragic story of a stowaway from Mozambique who fell to earth in Mortlake, near Heathrow.
Register for free to continue reading
Registration is a free and easy way to support our truly independent journalism
By registering, you will also enjoy limited access to Premium articles, exclusive newsletters, commenting, and virtual events with our leading journalists
Already have an account? sign in
Register for free to continue reading
Registration is a free and easy way to support our truly independent journalism
By registering, you will also enjoy limited access to Premium articles, exclusive newsletters, commenting, and virtual events with our leading journalists
Already have an account? sign in
Join our new commenting forum
Join thought-provoking conversations, follow other Independent readers and see their replies