Humans of New York: Photographic blog partners with UN for dispatches from Iraq
Brandon Stanton is at the start of a 50-day world tour, which will see him photograph Kenya, Vietnam and the tribes in the Amazon, among others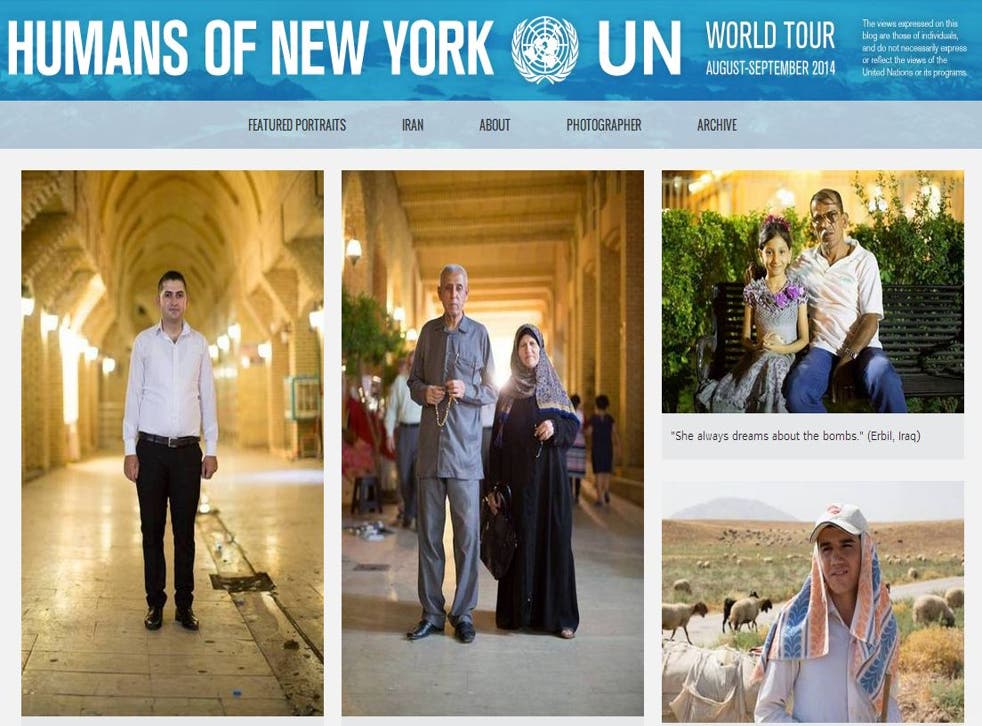 The photographer behind blog Humans of New York (Hony) has taken his social documenting to another level by partnering with the United Nations to shine a light on untold stories from various nooks of the world and his first stop? Iraq.
Hony's founder and sole photographer Brandon Stanton touched down last week, just as Islamist militants advanced in the north of the Middle Eastern country, as they seized towns and became the target of US air strikes following the persecution of the Christian and Yazidi populations.
But as the United States deliberated over the implications of arming Kurdish fighters against the progressing Isis assault, Stanton was out, armed with just his camera, photographing civilians caught up in the raging violence.
He is at the start of a 50-day tour of the world, "gathering portraits and stories [with the purpose of raising] awareness for the [UN's] Millennium Development Goals," he said.
Stanton – who usually takes pictures of unwitting New Yorkers, asking them deeply personal questions about their regrets or aspirations (resulting in oft-poetic responses) – first visited Erbil, the capital city of Iraq's semi-autonomous Kurdish region, which is at the centre of concern that Isis could eventually claim it.
The recent developments in Iraq have been a surprise to the organisers of the long-planned trip, and threw up challenges for the photographer, who in collaboration with the UN had intended to capture the lives of the Iraqi people removed from the war-torn environs many people in the West associate them with.
Stanton told The Independent that it provided him with "probably the most tragic stories I've ever encountered."
A man in a wheelchair said his favourite moments are when he sees his mother happy. He said that the happiest she had ever been was: "when I was a child, some German doctors told us that I could have a surgery in Italy, and my legs would work again. She was so happy she started crying. But I never had the money to go."
He then showed Stanton a picture of his head photoshopped on a healthy body to "see what I would like".
But the prevailing and all-consuming situation of war has rendered Stanton's usual "what's been the saddest moment in your life" type of question difficult in Iraq.
Register for free to continue reading
Registration is a free and easy way to support our truly independent journalism
By registering, you will also enjoy limited access to Premium articles, exclusive newsletters, commenting, and virtual events with our leading journalists
Already have an account? sign in