Iran nuclear deal: Saudi Arabia 'satisfied' with Obama's reassurances that deal will bring stability to region
The president and King Salman also agreed on the need for a functioning government in Yemen and to address the food and shelter crisis there
Jess Staufenberg
Saturday 05 September 2015 10:20 Comments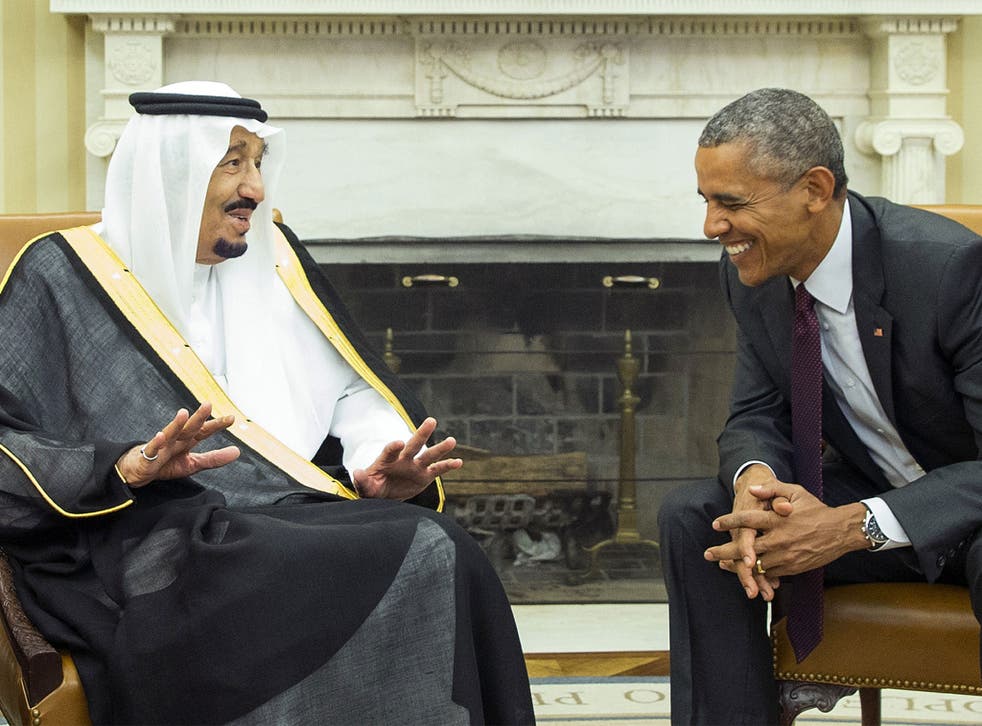 Saudi Arabia has expressed satisfaction at President Obama's reassurances over the recent Iran nuclear deal – agreeing that it could help bring stability and security to the region.
Following meetings in Washington between King Salman and Mr Obama, the Saudi government's foreign minister said he hoped Iran would use the deal for development at home.
Adel al-Jubeir said lifting international economic sanctions on Iran in return for a reduction in its nuclear programme would be one less problem for the region.
"The president explained and affirmed that the agreement prevents Iran from acquiring a nuclear weapon," Al Jazeera reported from a press conference on Friday.
"The Kingdom of Saudi Arabia is satisfied with these assurances after having spent the last two months consulting with its allies in Europe and other places."
This is a move on from Saudi Arabia's earlier concerns about the Iran deal, which the Sunni government has previously said could economically empower Shiite-run Iran to fund more military activities in the Middle East.
In May King Salman, who only took the throne in January, skipped a Gulf Arab summit at Camp David – a move widely seen as a diplomatic snub over Mr Obama's Iran strategy.
Yet Al Jazeera reported Jubeir to have said: "We hope that the Iranians will avail themselves of this opportunity in order to use the openness to the world and the additional income that they receive to fund domestic development."
Riyadh and Tehran are otherwise opposed on a number of issues. There is Iranian support for the Assad regime in Syria, versus criticism from the Saudi government. Saudia Arabia is also leading a coalition of forces alongside the US against Houthi rebels in Yemen backed by Iran.
Despite the promising rhetoric, the Saudi foreign minister said Obama's reassurances over the deal were "one less problem, for the time being, to deal with" in relation to Iran.
"We can now focus more intensely on the nefarious activities that Iran is engaged in in the region," ABC news reported him as saying.
This includes, from Riyadh's view, Tehran's backing of rebels in Yemen. The Saudi government is preparing to recapture the rebel-held capital of Sana'a, leading Mr Obama to urge that humanitarian assistance also be high up on the King's agenda.
Mr Obama and King Salman agreed on the need for a functioning government in Yemen and to address the food and shelter crisis there which has caused thousands to flee their home country, the BBC reported.
Register for free to continue reading
Registration is a free and easy way to support our truly independent journalism
By registering, you will also enjoy limited access to Premium articles, exclusive newsletters, commenting, and virtual events with our leading journalists
Already have an account? sign in
Join our new commenting forum
Join thought-provoking conversations, follow other Independent readers and see their replies