Iran nuclear talks: Tehran tells UN - lift ballistic missile embargo or there will be no deal
Talks over a deal to curb Iran's nuclear programme run into trouble as officials lay down last-minute conditions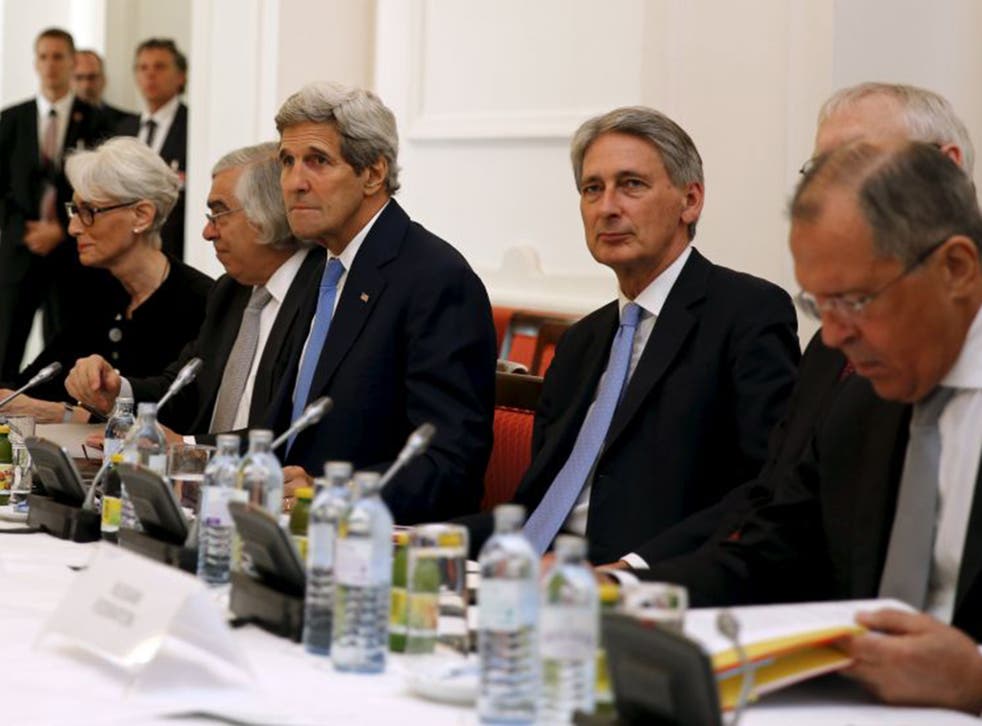 As the clock ticked down towards the deadline for a momentous deal to rein in Iran's nuclear programme, with scant sign of breakthrough, Tehran has thrown another last-minute complication into the mix. It has demanded a parallel agreement to lift the United Nations' arms embargo and its sanctions on Iran's ballistic missile development.
Lifting the 2007 embargo was "one of the important issues" under discussion with the six world powers led by the US, said an Iranian official in Vienna, where the talks are taking place to resolve the 12-year stand-off over the programme which the West believes is aimed at producing nuclear weapons.
But – barring evidence of a fundamental change in Tehran's policies over the Middle East – an end to the embargo is unlikely. Russia and China may be sympathetic, but the US and its European allies argue that such a step would only increase Iran's ability to cause trouble, whether through its support for President Bashar al-Assad in Syria, for the Houthi rebels in Yemen, or for Hezbollah in Lebanon and Hamas in Gaza, the latter both radical groups that are sworn foes of Israel.
In pictures: Iran

Show all 5
As for its work on ballistic missiles, Iran insists that the issue has nothing to do with its nuclear activities – a claim which the Western powers disbelieve. But, officials from Tehran maintain, Iran is merely "insisting on its rights… that all the sanctions, including on the ballistic missiles, should be lifted when the arms embargo is lifted".
This sudden introduction of new elements into talks may be a repeat of a familiar Iranian negotiating ploy, of 11th-hour demands. But even before this twist, and even as foreign ministers from the US's five partners – Britain, France, Germany, Russia and China – were arriving in Vienna, there were grave doubts whether they could strike a deal before their self-imposed deadline of midnight on Tuesday.
That cut-off point could be extended. However, further delay will only add to the problems facing the Obama administration and Secretary of State John Kerry, who has had countless rounds of talks with Iranian foreign minister Javad Zarif.
A quick agreement could be sent to a sceptical Congress in Washington by the end of this week. However that would only increase the suspicion of opponents to an accord, who include not only Republicans but also some Democrats. These opponents believe that, in its quest for a crowning "legacy" achievement, the Obama administration is capitulating to Iranian demands, and failing to ensure watertight curbs on Iran's enrichment activities.
Without a deal this week the administration would have to choose between hoping for agreement later in the summer – which would trigger even more intense scrutiny by Congress – or simply walking away, causing the 18-month talks to collapse.
The outcome "could go either way", Mr Kerry warned late on Sunday. "If hard choices get made in the next couple of days, we could get an agreement this week. But if they are not made, we will not," he said. To every outward appearance, that remains the case.
The issues still unresolved include a precise timetable for the lifting of economic sanctions once a deal has been struck, details of Iran's earliest nuclear activities, the right of the UN to conduct "anywhere, any time" inspections of Iranian nuclear sites, and what limits are placed on new centrifuges after the first 10 years of a deal.
"We're not going to shave at the margins in order just to get an agreement," Mr Kerry declared. Publicly, the Iran side was striking a similar note. "If we reach an agreement that respects our red lines, then there will be a deal," Abbas Araghchi, a senior Iranian negotiator, has said. "Otherwise we prefer to return home empty-handed."
Complicating matters further are the mysteries of Iranian domestic politics – in particular how much negotiating leash the supreme leader Ayatollah Ali Khamenei will allow Hassan Rouhani, the country's more reform-minded President. Analysts say successful conclusion of a deal could boost Mr Rouhani's popularity ahead of next year's parliamentary elections, and ultimately threaten the authority of Ayatollah Khamenei himself.
Join our new commenting forum
Join thought-provoking conversations, follow other Independent readers and see their replies