Female politician disqualified from entering Iran's parliament over photos 'showing her not wearing headscarf'
Minoo Khaleghi said the photos were faked as part of a malicious campaign against her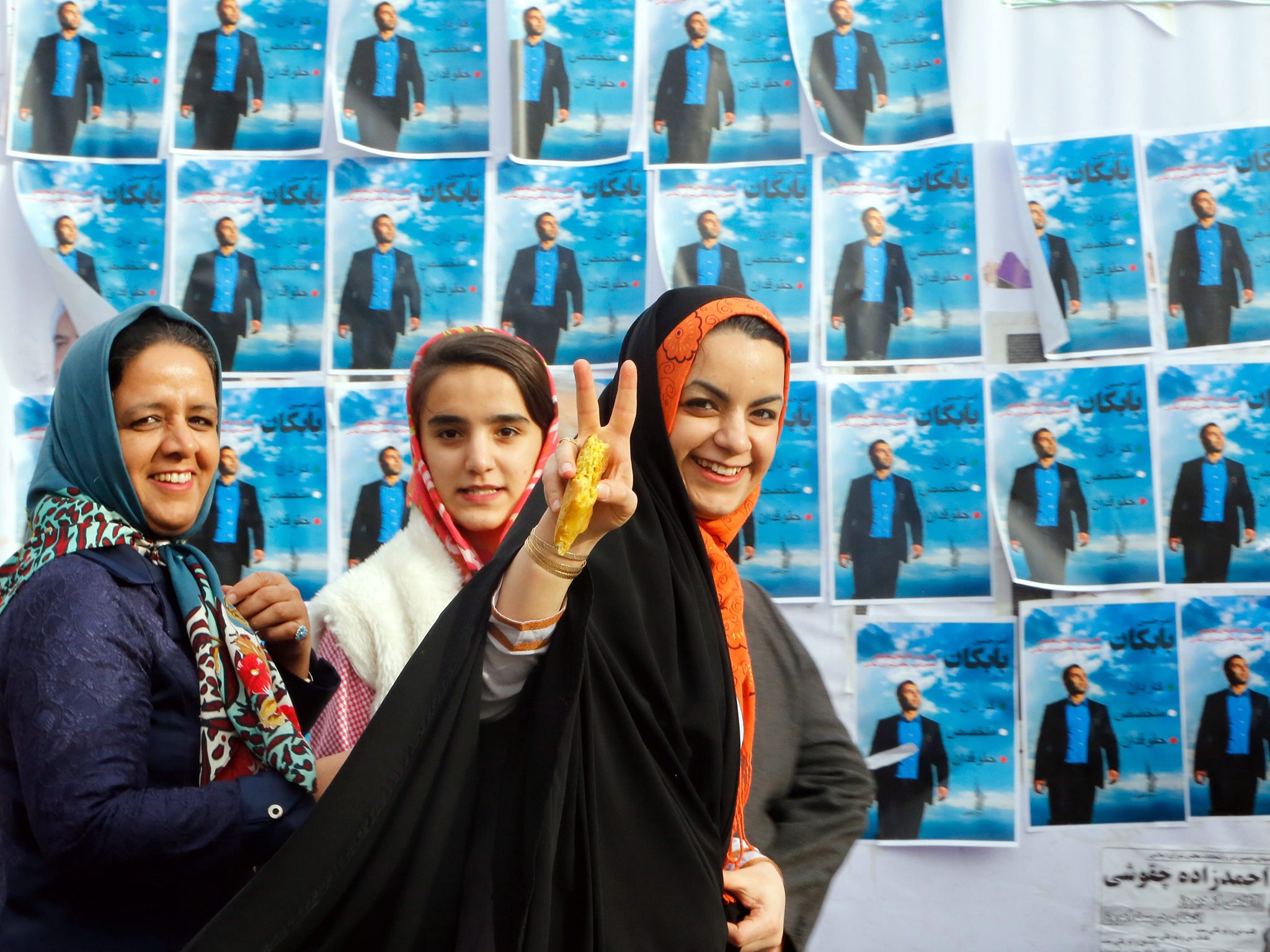 An Iranian judicial body has ruled that a woman elected to parliament cannot be sworn into office after photos emerged claiming to show her in public without a headscarf.
Minoo Khaleghi, who won a seat in the city of Isfahan in February, said the images circulated online were fake and said those sharing them were driven by "political greed".
But the Dispute Settlement Committee of Branches claimed evidence against her meant she could not take office in a hearing on Wednesday, the New York Times reported.
The photos claim to show Ms Khaleghi in Europe and China without a head covering, which is compulsory in public in Iran, where thousands of undercover agents and "morality police" patrol the streets to check for violations.
A man has been arrested on suspicion of publishing the images using the Telegram app after the Iranian interior minister ordered an investigation into the furore.
Iran's Guardian Council, a body of Islamic clerics and jurists, previously nullified Ms Khaleghi's 193,399 votes for unspecified reasons.
Defending its decision, the council's conservative leader Ahmad Jannati said it was qualified to supervise elections "at every stage".
It also vets prospective candidates before they can stand for election. Ms Khaleghi was approved in that round of scrutiny, when around half of the 12,000 hopefuls registered were disqualified, including many moderates.
Ms Khaleghi ran for the reformist List of Hope coalition, winning the third-largest share of votes in Isfahan, and has dismissed the headscarf scandal as motivated by "political greed".
"I am a Muslim woman, adhering to the principles of Islam," she said in a statement condemning "anonymous and self-interested individuals".
The politician previously said she had not violated campaign rules or done anything that would bar her from taking office
"There has been every kind of rumour and immoral talk surrounding me," Ms Khaleghi said. "These actions are all aimed at questioning my reputation as a Muslim and as such are punishable according to Sharia law."
Hassan Rouhani, the President of Iran, showed his support for her election in a tweet praising the success of a record 18 female candidates.
Speaking after Ms Khaleghi's disqualification, Majid Ansari, the Vice President for Parliamentary Affairs, said: "For the president 18 female MPs are not 18 minus one…according to the constitution candidates approved by the Guardian Council are authorised to take part in elections and the people can vote them into parliament."
Campaigners with the International Campaign for Human Rights in Iran said the scandal was part of alleged moves by hardliners to quell growing numbers of reformist MPs.
The countries with anti-women laws
Show all 5
"What hardliners couldn't achieve through the ballot box, they're trying to achieve through post-election manoeuvring," said Hadi Ghaemi, the group's executive director.
"The Guardian Council abused their power to vet candidates by disqualifying the vast majority of reformist candidates.
"And when reformists still scored impressive gains, they abuse it again by negating those gains after the fact."
Iran's restrictive dress codes for women have come under growing scrutiny as tourism increases following the country's nuclear deal.
Campaigners have been urging foreign women to show solidarity with Iranians by taking photos of themselves without a hijab in public as part of the "My Stealthy Freedom" campaign.
Its founder, Masih Alinejad, said: "Iran is a beautiful country but let's not kid ourselves, it's not heaven for women."

Join our commenting forum
Join thought-provoking conversations, follow other Independent readers and see their replies