Iranian soldier who lost a leg saving dog from minefield praised as hero
Young Sunni soldier makes headlines Shia-majority country and is inundated by wellwishers flocking to see him in hospital
Friday 06 January 2017 12:40 Comments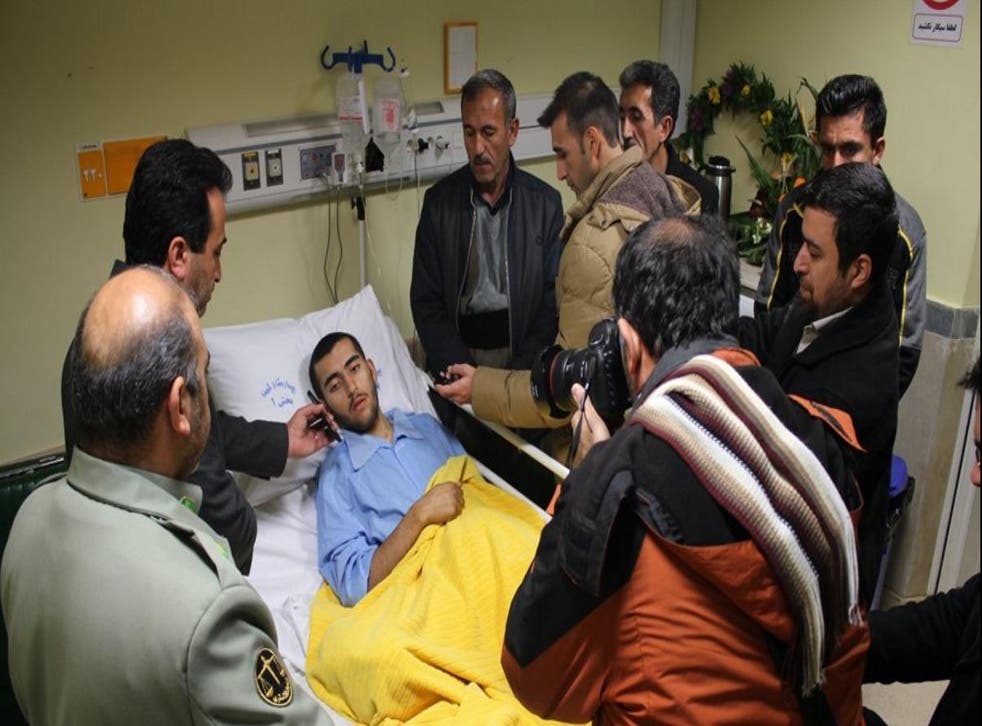 A teenage soldier from Iran has become something of a national hero after risking his life to save a stray dog that was trapped in a minefield.
Nineteen-year-old Mohammad Bakhtar, from the northwestern city of Tabriz, was at his post at a military base last month when he noticed a dog had got caught in barbed wire surrounding the adjacent minefield.
He couldn't bear the animal's moans of pain, and in freeing it accidentally put his foot over the wrong side of the fence.
As soon as the dog ran away, a mine exploded, tearing off his right leg. Despite doctors' best efforts, they could not reattach it.
As he was recuperating in hospital, Mr Bakhtar's story was picked up on Telegram and other social media platforms, and then national media.
Both Shia and Sunni locals as well as elected officials queued up to see him in hospital, and thousands more holding banners and pictures stood outside the hospital to wish him a speedy recovery.
"I salute this young soldier as the symbol of honour and bravery, and wish the Middle East had many like him as a panacea for long-existing problems," al-Jazeera reported one woman from Tehran as tweeting.
Despite the pain of losing his leg, Mr Bakhtar told al-Jazeera he would do exactly the same thing a second time if he saw an animal in distress.
"I love animals. I love nature," he said, mentioning that he grew up in the countryside with cattle and a dog, which he missed after moving to the city.
On his release to his hometown of Marivan last week, Mr Bakhtar was greeted by a crowd bearing flowers, wreaths and banners reading "Welcome back, brave soldier" and "messenger of peace."
One man cycled 190 miles (300 kilometres) in the winter weather to show his respect for the soldier, whom he said was "the symbol of love for God's creatures."
Iran cashing in on medical tourism
Many are calling for Mr Bakhtar to receive compensation for the accident and be given a new job. He was halfway through his compulsory 24-month military service when the incident occurred.
He reportedly received a phone call from Vice President of the Environmental Protection Organisation (EPO) Masoumeh Ebtekar who offering the soldier a job "working with nature."
Mr Ebtekar publicly praised the wounded man as a "a source of honour and pride for every Iranian".
Register for free to continue reading
Registration is a free and easy way to support our truly independent journalism
By registering, you will also enjoy limited access to Premium articles, exclusive newsletters, commenting, and virtual events with our leading journalists
Already have an account? sign in
Join our new commenting forum
Join thought-provoking conversations, follow other Independent readers and see their replies