Iran's Supreme Leader claims gender equality is 'Zionist plot' aiming to corrupt role of women in society
Ayatollah Khamenei claims West makes women an 'object of gratification'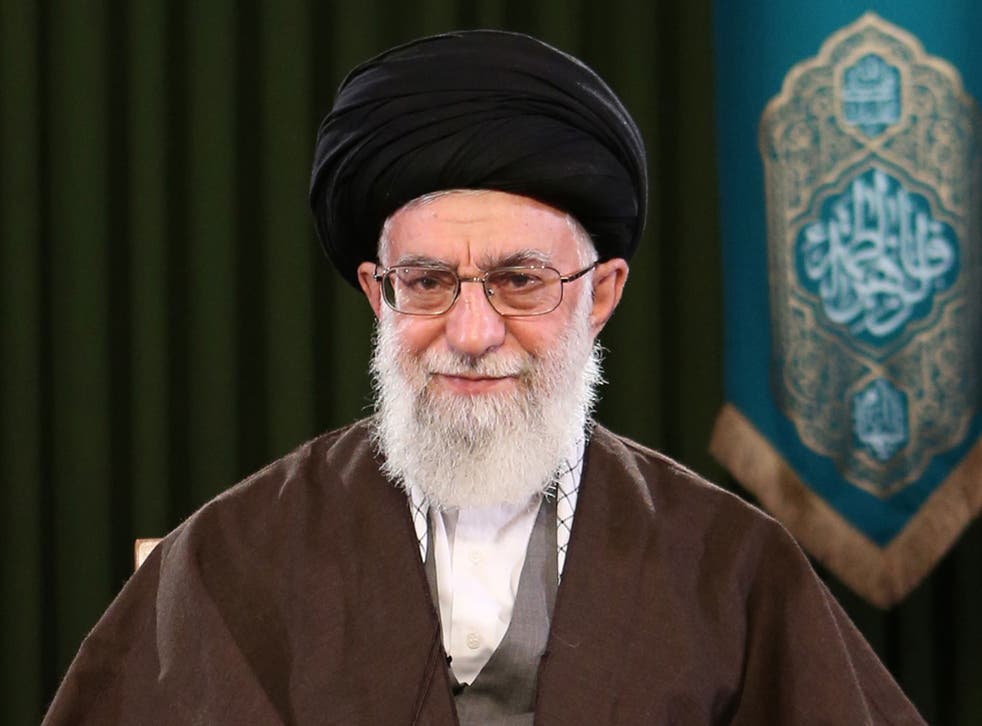 Iran's Supreme Leader has claimed gender equality is a "Zionist plot" aiming to corrupt the role of women in society.
Ayatollah Ali Khamenei told a meeting of religious speakers that Iranians should resist feminist ideas and instead hold the Prophet Mohamed's daughter Fatimah as their ideal.
"Making women a commodity and an object of gratification in the Western world is most likely among Zionist plots aiming to destroy the society," he said, according to a translation on the Shia Muslim leader's official website.
Iranian station crudely Photoshop clothes on Charlize Theron at Oscars
"Today, Western thinkers and those who pursue issues such as gender equality regret the corruption which it has brought about."
Khamenei claimed that men and women are equal in the "ascendance of spiritual positions, the power of leadership, and the capability to lead humankind", but that some tasks for women "collapse and humiliate" their primary roles as housewives and mothers.
A report by the government-controlled Mehr news agency said the Supreme Leader "expressed hope that views of those who raised similar [gender equality] issues inside Iran were not based on the Western misconception".
Iranian women are heavily restricted in their personal and public lives, including with state-enforced dress codes, curbs on higher education courses, jobs and sporting activities open to them, and freedom of movement under controls requiring a husband's signature to leave the country.
Many have been rallying round movements like My Stealthy Freedom, which combats the compulsory hijab, but women found to have broken "morality" laws have been arrested and forced into public apologies.
Among them are women detained for breaking a fatwa issued by Khamenei to ban women cycling in public – claiming it "attracts the attention of men and…contravenes women's chastity" - as well as others arrested for posting "vulgar" photos without headscarves on Instagram.
The countries with anti-women laws

Show all 5
Iranian religious leaders frequently cast pushes towards gender equality as part of conspiracy by the West or enemy "Zionists" in Israel.
Earlier this month, Khamenei issued a speech warning that "cultural attacks by the enemy are more dangerous than military attacks", hitting out at human rights groups and think tanks.
Urging Iranians to resist using their "cultural wealth", he called for renewed holy war, adding: "What is cultural wealth? For example, willingness for and belief in jihad is an example of cultural wealth."
The Supreme Leader has recently engaged in a public dispute with Donald Trump, accusing the US President of disrespecting Iran and calling mass protests.
Mr Trump sparked anger in Tehran following a series of Twitter tirades following its test launch of a ballistic missile, after repeatedly attacking the landmark nuclear deal struck by his predecessor and calling the country "#1 in terror".
Iranian leaders claimed the launch, which sparked international concern, did not violate the terms of the agreement with world powers in 2015 to constrain its nuclear capabilities.

Join our new commenting forum
Join thought-provoking conversations, follow other Independent readers and see their replies