Iranian leader's website posts controversial image comparing Saudi Arabia to Isis
Ayatollah Ali Khamenei, Iran's supreme leader, has also said the executions in Saudi Arabia will 'haunt' its politicians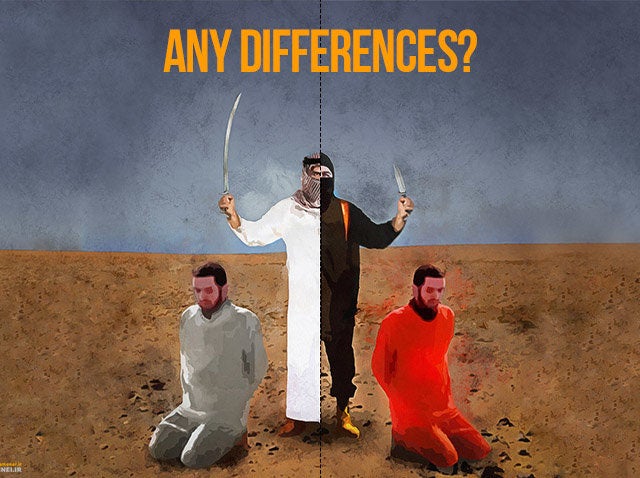 The Iranian supreme leader's website has posted a controversial image equating the executions in Saudi Arabia with the practices of the so-called Islamic State.
The contentious image posted on the website of Ayatollah Ali Khamenei depicts what appears to be an Isis fighter holding a knife above a hostage. A second image appears to show a Saudi executioner brandishing a sword with a prisoner in a grey jumpsuit kneeling before him. The question "any differences?" hangs above the two images.
The image comes as the Iranian supreme leader renewed his attack on Saudi Arabia over its execution of leading Shia cleric, Sheikh Nimr-al Nimr. He said that politicians in the kingdom would face the divine retribution for his death. Sheik Nimr was among 47 people who were executed on Saturday after being convicted of terrorism charges.
"The unjustly spilled blood of this oppressed martyr will no doubt soon show its effect and divine vengeance will befall Saudi politicians," state TV reported Khamenei as saying on Sunday. It said he described the execution of Sheikh Nimr al-Nimr as a "political error".
"God will not forgive... it will haunt the politicians of this regime," he said.
Mr Ali Khamenei added: "This oppressed cleric did not encourage people to join an armed movement, nor did he engage in secret plotting, and he only voiced public criticism ... based on religious fervour."
Juveniles on death row in Saudi Arabia
Show all 8
Iran's powerful Revolutionary Guard also shared the supreme leader's sentiments. The Guard, comparing the kingdom's execution of Sheikh Nimr to attacks carried out by Isis, said in a statement published on Sunday that Saudi Arabia's "medieval act of savagery" in putting the prominent cleric to death will lead to "downfall" of the monarchy.
Protesters in Iran, angered by Sheikh Nimr's execution, broke into the Saudi Embassy early Sunday, setting fires and throwing papers from the roof.
Others on social media have also pointed to the similiarities between the practices of the Saudi's regime and that of Isis. Peter Tatchell, the human rights campaigner, posted on Twitter: "Isis and Saudi share the same Islamist ideology & use same barbaric methods. Cut all ties with Saudis!"
Author and activist Harry Leslie Smith added: "On a moral level there isn't much that differentiates the House of Saud from Isis".
Additional reporting by Reuters
Join our commenting forum
Join thought-provoking conversations, follow other Independent readers and see their replies