Iraqi car bomb attack kills at least 24 people
No claim of responsibility made for deadly blast at marketplace in Tuz Khurmatu but such suicide bombings are usually the work of Isis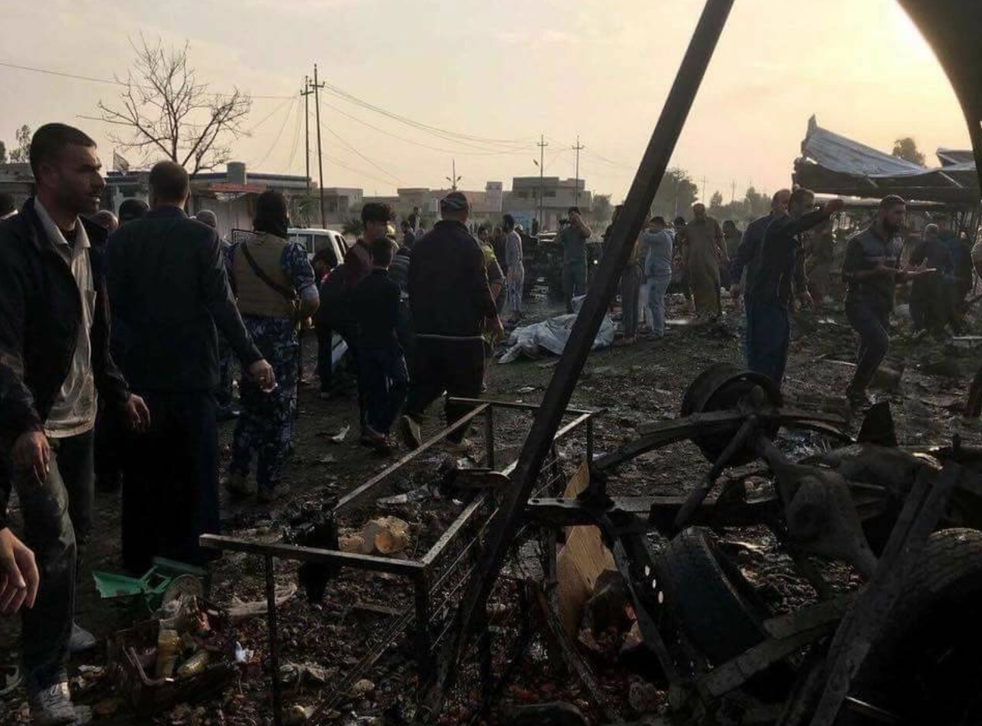 A suicide bomber has killed at least 24 people and wounded 40 more in the northern Iraqi town of Tuz Khurmatu, the interior ministry has said.
A truck laden with explosives was detonated in a crowded marketplace on Tuesday afternoon. Pictures and video taken in the aftermath of the blast show corpses laid out under white sheets and the wreckage of stalls and vehicles.
Most of the casualties are civilians and the death toll is expected to rise, police sources told Reuters news agency, while hospital officials told local media at least 70 people had been admitted with injuries.
Footage shows Isis schoolgirl Linda Wenzel being captured in Iraq
It was not immediately clear who was responsible for the attack - but suicide bombings in the area are usually the calling card of Isis militants.
The group has vowed to wage an insurgency in both Iraq and Syria as it has steadily lost most of its territory across the two countries over the last year.
In an interview with The Independent last week, Iraq's Interior Minister Qasim al-Araji said that a network of spies and informants was working to thwart such bombing attempts.
The attack came as Iraqi Prime Minister Haider al-Abadi told the country in his weekly televised news briefing that Isis had been defeated from a military perspective - and the organisation would soon be routed from its last desert hideouts.
"God willing we will announce very soon after the end of the purification operations victory over Isis in Iraq," he said.
The final Isis-held town, Rawa, was recaptured by Iraqi forces last week. Military officials say only the desert border with Syria remains to be secured, signalling the complete collapse of the jihadists' so-called caliphate.
Iraqi forces enter Kirkuk

Show all 8
Tuz Khurmatu, south of Kirkuk city, is home to a diverse Arab, Kurdish and Turkmen population. Initial reports suggest it was mainly Turkmen who were affected by the blast.
Oil-rich Kirkuk province was seized by troops loyal to Iraq's central government last month, pushing out the Kurdish forces which had held the town against Isis since 2014.
Tuz Khurmatu saw several clashes in the aftermath of September's Kurdish referendum on breaking away from Baghdad.
Join our new commenting forum
Join thought-provoking conversations, follow other Independent readers and see their replies