Iraq crisis: Baghdad football fans defy dangers of Isis to watch World Cup
Video: Cafés report booming crowds of enthusiastic fans despite security challenges facing country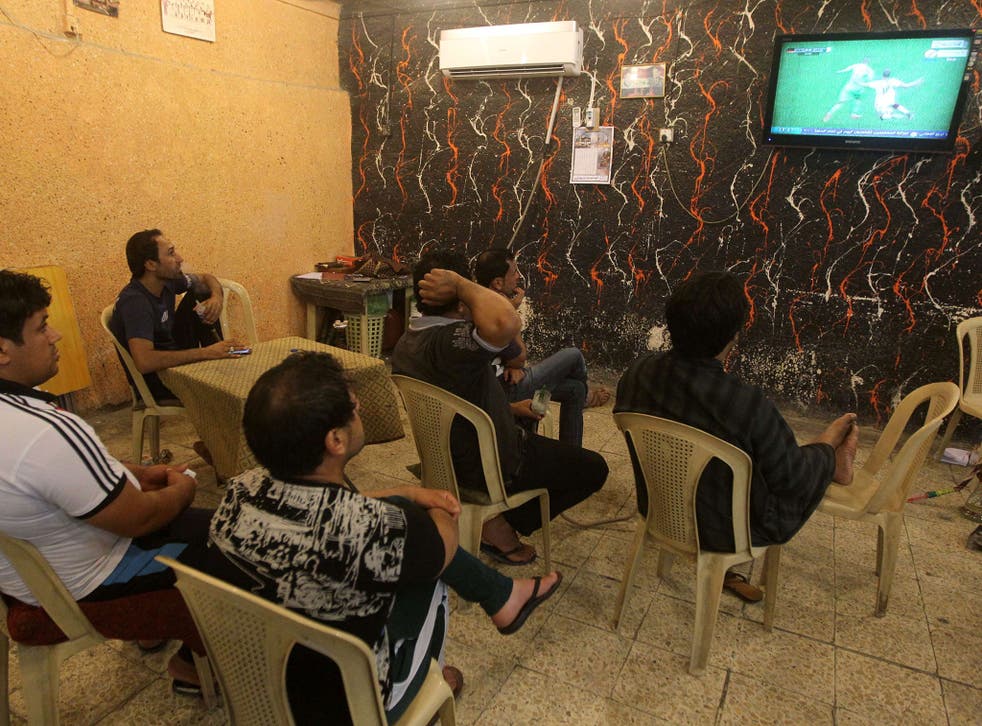 Iraqi football fans are continuing to gather and watch the World Cup together, in defiance of Sunni militants and the dangers facing a country rapidly descending into all-out war.
Fighters for the Islamic State of Iraq and the Levant (Isis) have taken over large areas of western and northern Iraq and their raids have come within an hour's drive of Baghdad - but this has not deterred many from going to local cafés to watch the matches.
One fan, Raad Abdulhussein, told AFP that he has been going to the capital's "Facebook Café" every day with his friends to watch the matches, even though there are clearly risks.
Café owner Ali Hussein said that "a lot of clients" visit his establishment to watch the tournament, particularly for important matches, and that he regularly caters to a full house.
Although Iraq did not qualify for this year's tournament in Brazil, the national team has had previous successes. In 2007 they won the AFC Asian Cup and the 2009 UAE International Cup.
Mr Hussein said: "I remember in 2007 everyone was celebrating in the streets, and you wouldn't know who was Sunni and who was Shia."
Isis launched its military campaign last month, capturing Iraq's second-largest city of Mosul and effectively dissolving the border with Syria, before declaring a new Islamic state.
Join our new commenting forum
Join thought-provoking conversations, follow other Independent readers and see their replies