Iraq crisis: Helicopter gunships launch dawn air strikes on Isis-held Tikrit university campus
Iraqi troops have begun a military operation aimed at reclaiming the city
Heather Saul
Saturday 28 June 2014 16:19 Comments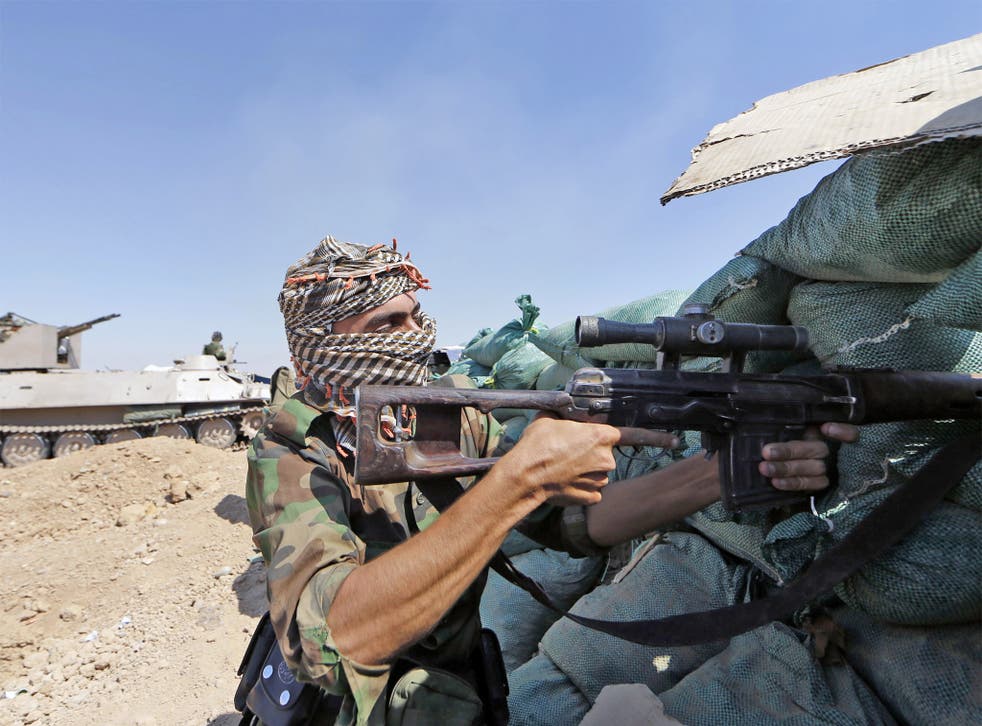 Iraqi helicopter gunships have conducted air strikes on the northern city of Tikrit on Saturday which has been overtaken by Sunni insurgents in recent weeks.
The operation to dislodge Isis-led fighters who seized the base includes commandos, tanks and helicopters, as well as pro-government Sunni fighters and Shiite volunteers, according to military officials.
Tikrit, the former hometown of Saddam Hussein, is one of two major urban centres seized by Isis in recent weeks in a dramatic blitz across the country.
The air strikes were conducted before dawn on insurgents who were attacking troops at a university campus on Tikrit's northern outskirts, Iraqi military spokesman Lt. Gen. Qassim al-Moussawi said. There was no immediate word on casualties.
The operation comes just after the US confirmed it is flying drones in the country to protect US personnel there.
Government troops established a bridgehead on the sprawling campus early on Friday after being ferried in by helicopter.
In pictures: Iraq crisis

Show all 98
A Tikrit resident confirmed that air raids took place at the University of Tikrit around dawn today. He reported clashes between rebels and Iraqi forces to the southeast as well, but said militants are still patrolling the city.
Another Tikrit resident, Muhanad Saif al-Din, said the city has emptied out in recent days as locals flee ahead of anticipated clashes, and claimed the city has been without water or power since Friday night.
It comes as Prime Minister Nouri al-Maliki continues to reject calls for an interim "national salvation government" that would seek to represent all Iraqi communities.
Mr Maliki is opposed by the Sunni, Kurds, several Shia parties, the US and the Grand Ayatollah Ali al-Sistani, the Shia spiritual leader. He has widely been accused of monopolising power and alienating Sunnis, who have long complained of being unfairly targeted by security forces.
Despite this, he appears keen to continue for a third term.
On Friday, Human Rights Watch (HRW) claimed analysis of photographs and satellite images of mass graves provided evidence that militants in Iraq massacred at least 160 captives in at least two locations in and around Tikrit between 11 June and 14 June.
HRW said that the death toll could be much higher but the difficulty of locating bodies and getting to the area had prevented a full investigation.
Additional reporting by agencies
Register for free to continue reading
Registration is a free and easy way to support our truly independent journalism
By registering, you will also enjoy limited access to Premium articles, exclusive newsletters, commenting, and virtual events with our leading journalists
Already have an account? sign in
Join our new commenting forum
Join thought-provoking conversations, follow other Independent readers and see their replies