Iraq crisis: Kurds pin hopes on an oil-rich future
Baghdad's turmoil is allowing the country's autonomous north to plan taking formal control of Kirkuk and other disputed areas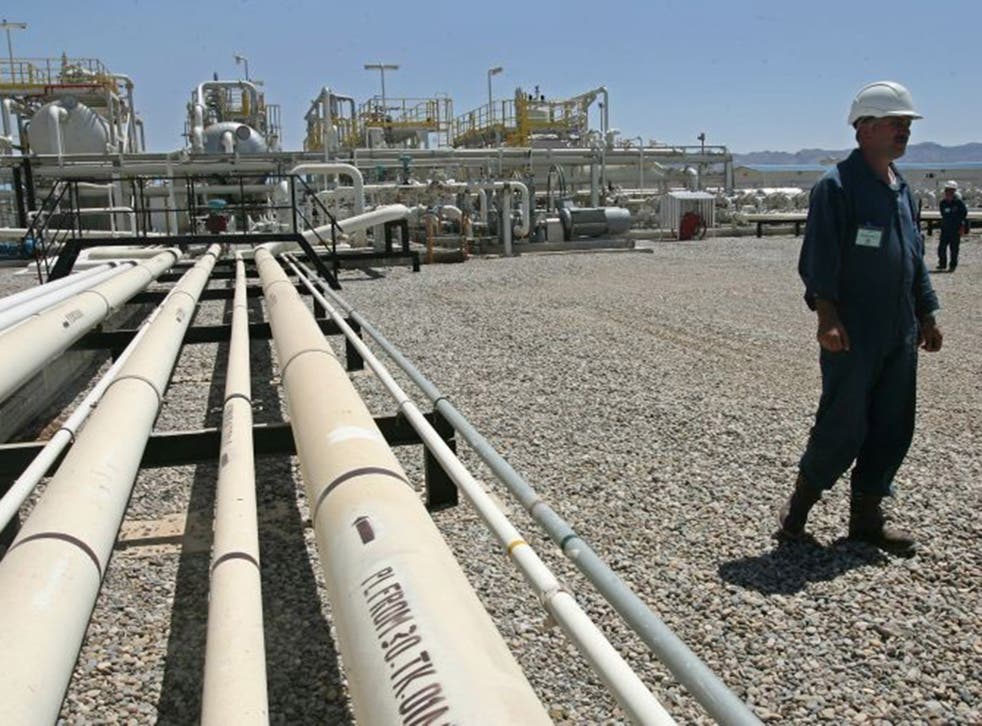 Iraqi Kurds have already governed their territory, a land of wheat fields and rugged mountains that extends from Iraq's northern and western border with Turkey to the Iranian border in the east, for more than two decades. They have overseen a construction boom, built an oil industry and maintained security, even as fresh turmoil has racked much of the rest of the country.
Yesterday, as Iraqi forces continued to try to oust insurgents from the Islamic State of Iraq and the Levant (Isis) out of Tikrit, part of the larger battle against the gains made by Isis in recent weeks, Kurds are also seeking to tighten their grip over the territory.
In the contested oil-rich region of Kirkuk, Iraq's Kurdish minority has been steadily consolidating control for weeks. On the southern edge of the province, in an area once secured by central government forces, Kurdish soldiers are reinforcing a shaky border separating them from their new southern neighbours, the Sunni militants of Isis.
Massoud Barzani, president of the largely autonomous Kurdistan regional government, has repeatedly suggested he will soon initiate a referendum on the region's independence, which would likely pass, local officials and analysts say. For many Kurds, the Iraqi region of Kurdistan could never be complete without Kirkuk. Under Saddam Hussein's brutal regime, many Kurds were forced to leave.
Mr Barzani told a closed-door meeting of the Kurdish parliament last week that he would pursue independence only after formalising Kurdish control of Kirkuk and other disputed areas, according to legislators.
A move to annex Kirkuk could ignite fighting with Baghdad, which is intent on holding on to the territory – particularly Kirkuk's resources. Washington has urged the country's factions to work together toward forging a new government that would lead to the country's Shia Prime Minister Nouri al-Maliki stepping aside. But Iraq's parliament has so far failed to reach agreement over the government's top posts.
In pictures: Iraq crisis

Show all 98
In a statement on Friday, Mr Maliki reminded Iraqis that his party holds the largest majority in parliament, and that it would not accept "conditions" set by opposition members, despite escalating pressure to step aside. "I will never give up my candidacy for the post of prime minister," he said.
In the Kurdish regions in particular, Iraqis of all ethnicities and religions talk increasingly of the emergence of three states. "The United States has to be realistic," said Najmiddin Karim, the Kurdish governor of Kirkuk. "This thing about 'sovereignty', this thing about the borders of Iraq, Iraq 'unity', I mean this is just an old story."
The Kurds have begun to establish an independent revenue stream to replace the money they have customarily received from Baghdad – about £580m a month – by building their own oil sector. In May, they began exporting through a new pipeline to Turkey, bypassing Baghdad's control – sales that have so far garnered £54m, according to Turkish energy minister Taner Yildiz.
But oil sales need to rise dramatically to replace the money from Baghdad. The enormous oil fields of Kirkuk, newly secured by the Kurds, can currently produce more oil than all the other fields in the Kurdistan region combined.
In the past, the federal government has exported Kirkuk's oil through a pipeline to Turkey, which is now inoperable because it runs through territory controlled by Isis.
The Kurds are building a new pipeline that will link Kirkuk with the Kurdistan region's independent pipeline to Turkey, according to both Kurdish leaders and technical officials from Iraq's federal North Oil Co, which has historically managed Kirkuk's oil. The project is at least three months from completion, North Oil Co officials said.
But getting the pipeline up and running is more about political will than technical capabilities. Kurdish leaders have negotiated with the federal oil ministry over how they might help to export Kirkuk oil, but they have not agreed on terms.
"Nobody wants a war with Baghdad, so this will have to be done carefully," a senior Kurdish official said, speaking on the condition of anonymity because of political sensitivities.
An independent Kurdistan would have to be effective at managing Kirkuk's ethnically and religiously diverse population – a microcosm of Iraq's larger divisions.
The province's Kurdish governor is widely popular, and Sunni Arabs and Turkmen residents of Kirkuk said in interviews that they were pleased with the new Kurdish hold on the city, citing better security than they had under Mr Maliki.
But some Arabs expressed concern that Kurdish political leaders could monopolise power should Kirkuk become part of a fully independent Kurdish state.
"People are safe but afraid," said Sami Najim, a Sunni Arab grocery store owner. "The only people who have benefited in the past are the Shias and the Kurds."
The Washington Post
Join our new commenting forum
Join thought-provoking conversations, follow other Independent readers and see their replies