Iraq crisis: British jihadist skipped university to fight for Isis
The Government is treating the growing threat from Isis with ever-greater seriousness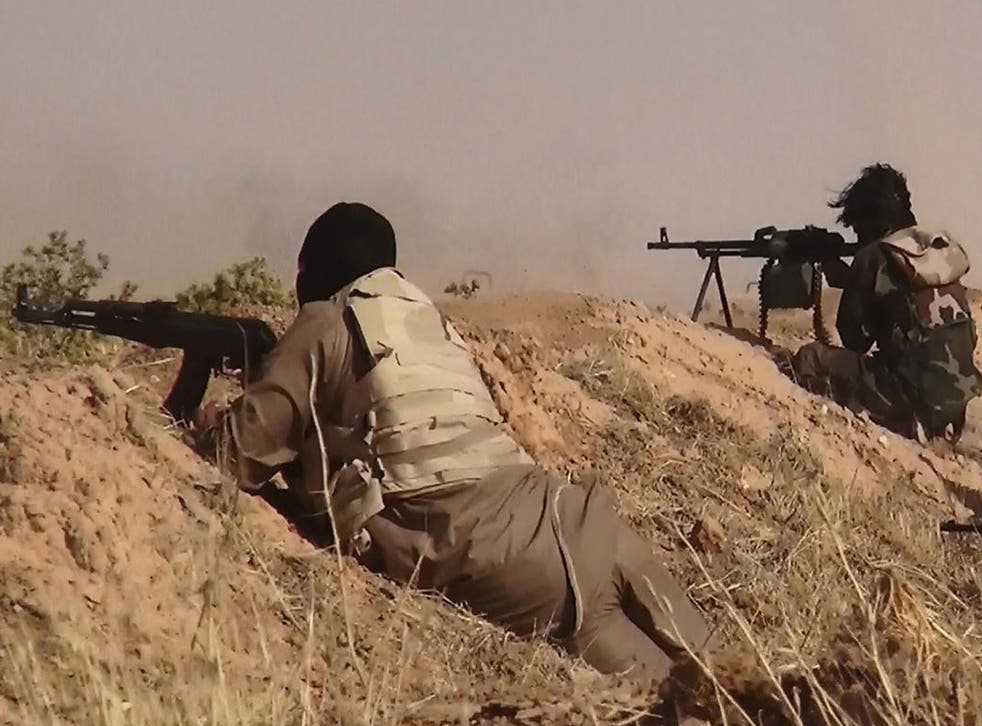 The Security Service (MI5) has made tracking British jihadists fighting in Syria its top priority, according to reports - after a video posted by extremist militant group Islamic State in Iraq and Syria (Isis) showed five men calling for Western Muslims to join insurgents in Syria and Iraq.
In the 13-minute video, entitled "There is No Life Without Jihad", the group – including three claimed Britons – explain their motivation for travelling to Iraq and Syria and seek to persuade British Muslims to give up "the fat job … the big car".
One of the British men in the film, which calls for their countrymen to "answer the call and fight for Allah", is a 20-year-old aspiring medical student from Cardiff.
Nasser Muthana, who goes by the name Abu Muthanna al-Yemeni, travelled to Syria with his 17-year-old brother Aseel Muthana after disappearing in November.
His father, Ahmed Muthana, told the Daily Telegraph that his elder son had been accepted at four universities to study medicine but did not go.
Instead he thinks Muthana, who went to Cathays High School, gained 11 GCSEs and enjoyed swimming and football, became "brainwashed" and radicalised in the UK.
In pictures: Iraq crisis

Show all 98
In the footage, Muthana claims that the rebel group has fighters from as far afield as Cambodia, Australia and the UK.
"We are a state who is implementing the Sharia in both Iraq and the Sham. And look at the soldiers, we understand no borders," he says.
"We have participated in battles in Sham and we will go to Iraq in a few days and we will fight there.
"We will even go to Lebanon and Jordan with no problems, wherever our Sheikh (Isis leader Abu Bakr al-Baghdadi) wants to send us."
Another alleged Briton, named as "Abu Bara al-Hindi", made it clear the group had in its sights disillusioned or vulnerable Muslims who could be persuaded to swap the trappings of Western life for a religious war. The man said: "Are you willing to sacrifice the fat job you've got? The big car you've got?" He added: "The cure for depression is jihad… Feel the honour we are feeling, feel the happiness we are feeling."
Mr Muthana told the Telegraph that the family had been informed a few weeks ago that his son was in Turkey, and said the views expressed in the video were not his son's real opinions.
Mr Muthana said: ""To be honest, I don't agree with him but I don't know what he has been taught in his mind."
He added: "Of course I fear he will be injured or die fighting but I can do nothing. They are conservative Muslim, they don't have girlfriends, they don't talk to girls.
"Of course they were influenced in the UK but to be honest I don't know. In the mosque, the people of the mosque won't tell me anything. Who will encourage them, someone on the street? No, it has to be the mosque, but which mosque, I don't know. They also spend a lot of time on their computer."
And he told told ITV News that watching the footage of his son had made him cry.
"I wish I could hold him, hold his hand, ask him to come back," he said. "As a father I give a message, not only to Nasser, to all the people that go from Britain to Syria to fight please stop. Come back home."
The Government is treating the growing threat from Isis with ever-greater seriousness.
On Thursday the terror group was added to a list of banned organisations, making it an offence to be a member. Four other Syria-linked terror groups were banned at the same time.
Prime Minister David Cameron has insisted "everything that can be done is being done" to stop Britons being radicalised overseas amid fears that 450 people have joined the ranks of the extremist group in Iraq.
The BBC reported that the Security Service, MI5, has made tracking British jihadists fighting in Syria its top priority.
Experts believe the method of appeal in the video mimicks that of Western charities and aid groups.
Joseph Carter, from the International Centre for the Study of Radicalisation at King's College London, told The Times: "There's no question that the purpose is to attract Western audiences and to convince them to come.
"Unlike other groups who put out attack videos or feature major leaders, Isis feature everyday soldiers, people's personal narratives."
The Home Office said: "We do not tolerate the existence of online terrorist and extremist propaganda, which directly influences people who are vulnerable to radicalisation.
"We already work closely with the internet industry to remove terrorist material hosted in the UK or overseas."
Additional reporting by agencies
Register for free to continue reading
Registration is a free and easy way to support our truly independent journalism
By registering, you will also enjoy limited access to Premium articles, exclusive newsletters, commenting, and virtual events with our leading journalists
Already have an account? sign in
Register for free to continue reading
Registration is a free and easy way to support our truly independent journalism
By registering, you will also enjoy limited access to Premium articles, exclusive newsletters, commenting, and virtual events with our leading journalists
Already have an account? sign in
Join our new commenting forum
Join thought-provoking conversations, follow other Independent readers and see their replies