Iraq parliament building stormed by hundreds of Shia protesters demanding government reform
A state of emergency was declared in Baghdad as the unrest continued on Saturday
Lizzie Dearden
Saturday 30 April 2016 14:32 Comments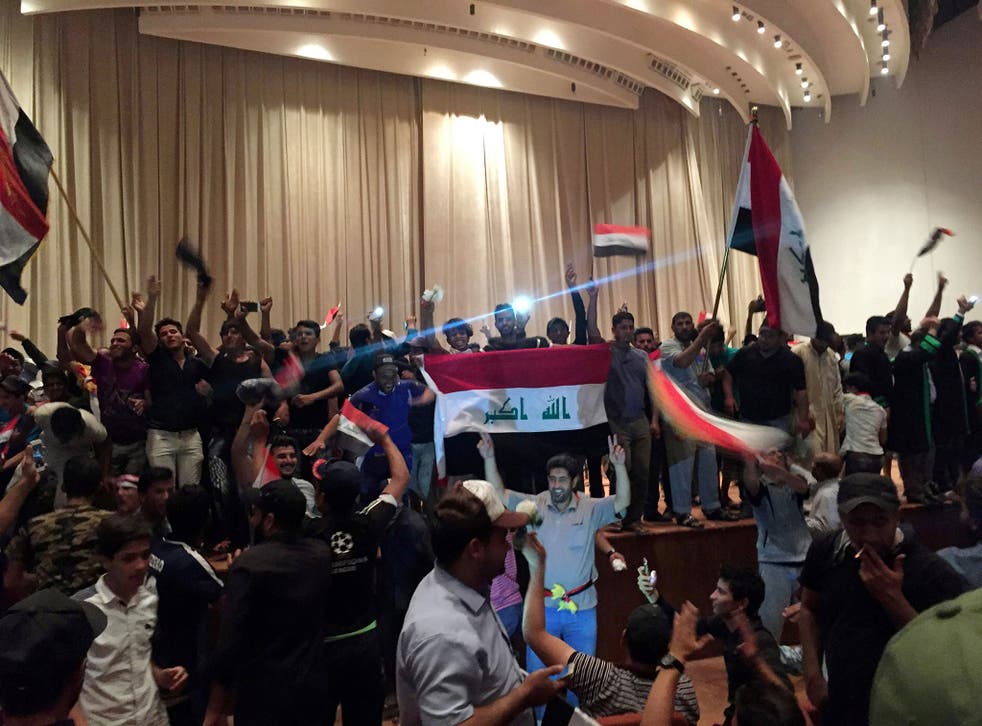 Hundreds of protesters have stormed Iraq's parliament building, waving flags and taking selfies, in a demonstration against a government deadlock.
Supporters of the Shia cleric Muqtada al-Sadr broke through gates of the protected Green Zone in Baghdad after politicians failed to convene to vote in a new cabinet.
A state of emergency was declared in the capital as the unrest continued on Saturday afternoon; security officials said entrances to the city had been shut as a "precautionary measure".
Witnesses said the protesters gathered outside the heavily fortified district housing government buildings and foreign embassies before crossing a bridge over the Tigris River chanting "the cowards ran away" in apparent reference to departing MPs.
There were no immediate reports of clashes with security forces, but special forces personnel were dispatched with armoured vehicles to protect sensitive sites, security officials said.
Some compounds used by United Nations staff and Western diplomats were reportedly locked down as the unrest continued.
A spokesperson for the Foreign and Commonwealth Office told The Independent that it was following the situation closely and working with local authorities.
All British Embassy staff in the Green Zone were understood to be safe and there were no evacuations underway.
One video posted online showed protesters attacking an armoured SUV with sticks and other objects, while other footage showed a man believed to be an MP being beaten.
Inside the building, some protesters were reportedly jumping on tables and chairs, while others were heard shouting at them not to break anything.
A Kurdish Peshmerga guard at a checkpoint told the Reuters news agency that crowds surged in after security forces pulled back from an external checkpoint in an unsuccessful effort to secure the parliament building.
Local television broadcast footage from inside the parliament building showed hundreds of protesters dancing, waving Iraqi flags and chanting pro-Sadr slogans.
Some appeared to be breaking furniture and ransacking the building, while others took videos and selfies in the main chamber, where politicians had been meeting minutes earlier.
Thousands more protesters remained at the gates of the district chanting, "peaceful, peaceful".
Police and troops guarding the area appeared to be taking no action, and a spokesperson for Iraq's elite counter-terrorism forces, who have previously been called on to reinforce security in the capital, said they were standing down.
"We still view this as a demonstration (rather than a terrorist incident)," spokesperson Sabah al-Numan said, adding that the unit may be forced to intervene to "protect the legitimacy of the government".
The United Nations Assistance Mission for Iraq (UNAMI) urged "calm, restraint and respect for Iraq's constitutional institutions at this crucial juncture" in a statement expressing concern, but said it continued to operate from inside the Green Zone.
Supporters of Mr Sadr, whose fighters once controlled swathes of Baghdad and helped defend the capital from Isis, have been demonstrating in Baghdad for weeks in response to their leader's call to put pressure on Prime Minister Haider al-Abadi to follow through on promises of reform.
There were rumours that Mr Abadi had fled Baghdad after the storming of parliament, but television footage showed him walking inside the Green Zone with dozens of armed guards, discrediting the reports.
Iraq parliament fails to approve new cabinet again
Mr Sadr threatened to storm the Green Zone with supporters earlier this month, calling for the removal of the parliamentary speaker, Salim al-Jabouri, and held a political sit-in calling for a new cabinet to be appointed.
Shortly before Saturday's breach, he made a speech from the holy city of Najaf, saying: "Either corrupt (officials) and quotas remain, or the entire government will be brought down and no one will be exempt from that."
Political parties have resisted efforts to replace some ministers – chosen to balance Iraq's divisions along party, ethnic and sectarian lines – with technocrats in order to combat corruption.
Advocates warned that any delay to the vote could hamper the war against Isis, which controls vast swathes of northern and western Iraq.
The terrorist group claimed responsibility for a bombing that killed at least 21 people and wounded many more in an attack targeting Shia pilgrims on Satruday morning.
Additional reporting by Reuters
Register for free to continue reading
Registration is a free and easy way to support our truly independent journalism
By registering, you will also enjoy limited access to Premium articles, exclusive newsletters, commenting, and virtual events with our leading journalists
Already have an account? sign in
Join our new commenting forum
Join thought-provoking conversations, follow other Independent readers and see their replies