Iraq's female cycling champions: Dealing with the war with Isis and their countrymen's conservative outlook
While the war with Isis rages just 25 miles away and the threat of kidnap is all too real, Iraq's gold medal-winning female cycling team continues to ride its own race. Cathy Otten hits the road with them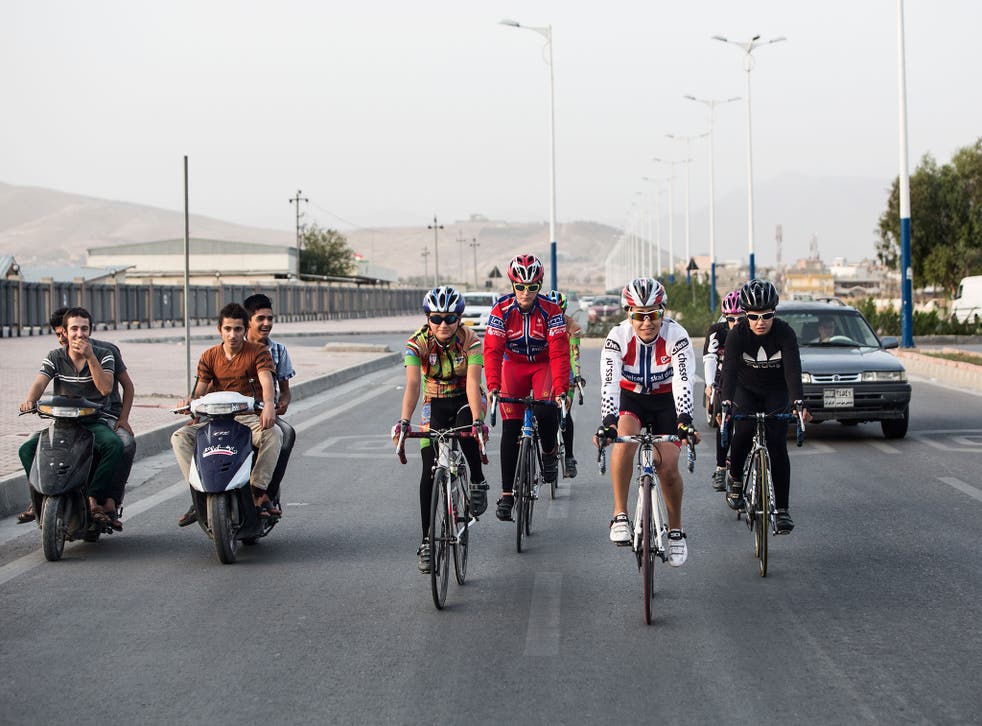 The sun dips as the cyclists from Iraq's national team move effortlessly around a bend in the road. They climb the hill by the sprawling university and shake off a group of men trying to outrace them on scooters.
Leaving the men behind, they climb higher above the city of Sulaimaniyah in the Kurdish north of the country. A group of labourers, wearing broad straw hats to block out the sun, watches in stunned amazement as the six young women ride by in a blur of pink helmets and green, red and blue jerseys.
Sirwan Sami, the team's coach, looks out from the window of his van and sounds a pealing siren to warn off a lorry driver veering too close to the racers on the broad highway.
Iraq's female national cycling champions

Show all 9
Traffic hums and insects crawl around them in the hot evening air. The team makes a synchronised turn while laughing and gesturing to one another before spreading out on a quiet, tree-lined street.
Among them, wearing a matching white, blue and red jersey and shorts, is Sozi Dilshad, who, before the ride began, had looked into the wing mirror of Sami's car and pushed her long hair up into a bun below her helmet. Dilshad is one of Iraq's top female cyclists and has represented her country in the Arab and Asian championships, bringing home a cluster of medals already, by the age of 18.
This evening she is training with the Newroz cycling club, one of a handful of organisations across Iraq nurturing young women to become competitive cyclists, despite all the challenges they face: cycling is not part of the culture in Iraq and the roads are some of the worst in the world for fatalities; there is no infrastructure for cycle training; and women in general are not encouraged to take part in sports out of the home.
While news from Iraq is dominated by the brutal Isis takeover of parts of the north and west of the country and not on the daily lives of its inhabitants, in Sulaimaniyah, part of the relatively safe Kurdistan region, life continues almost as normal – albeit with the heightened economic and security pressures of war.
Dilshad shares her bedroom with her sister on the top floor of their family's home on a quiet street in the city. Alongside stuffed toys, her bedroom is graced by trophies and medals from competitions around the world. Her pink nails, today matching her lipstick, are chipped.
"When I ride my bike I feel like I'm in a different world," she tells me with calm composure. "In a race, the only thing I am thinking about is getting to the finish line. We have to really focus, which requires energy, and we get very tired – but at the same time, the focus means I am not thinking about problems in my own life."
I first met Dilshad a year ago when she began training for the 2014 Arab Cycling Championships in Algeria, where the team won a gold medal. At that time, Isis had just pushed towards the Kurdistan region. The team was training in the city of Erbil, around 25 miles from the frontline on congested roads. In the city of Mosul, 50 miles from where we met that day, Isis had just declared its caliphate and instructed women to cover themselves top to toe.
Zryan Atar, 21, has been cycling for six years. Last year she won a bronze medal in an individual scratch race in Algeria, as well as silver and gold medals in team road and track races. Now, as she trains for this year's competition in Egypt, which begins on 18 October, she looks more glamorous. She has grown her hair long and dreams of becoming a model as well as a cyclist. Zryan speaks about her admiration for French female cyclist Pauline Ferrand-Prévot, last year's UCI Road Race World Champion. "I adore her, especially her style; what she wears and the way she races," she says.
Many young Iraqis are joining the exodus to Europe, spurred on by war, the implosion of their country and the perceived possibility of asylum in Europe. Atar is one of her country's brightest stars and has won medals for Iraq abroad but she, too, is thinking of leaving. "The future of Iraq is nothing, so how can a person have a future here?" she tells me as we sit in her coach's living room. She is thinking about marrying a relative in Germany to get residency, or crossing via the dangerous smuggling routes, which in the end may actually allow her more freedom and the ability to carry on cycling as a single woman.
Iraq's first female cycling clubs sprang up in the 1980s. A little over a decade later, at the age of four, Dilshad was given her first bike by her father. She rode it every day on the street by the family's home, says her mother, Shoneum Hamraza, before she met a team of cyclists in secondary school and began to train with them.
"Her father tried to stop her from going to practice. He said she should study rather than cycle, but her older brother supported her," says Hamraza. When she was a teenager, the neighbours criticised her for cycling. "But in our family," continues Hamraza, "we all agreed it's not a shameful thing to be a cyclist. By that time we knew she was doing well in the team, always coming first or second. I supported her along with her brother, but her dad always wanted her to study and not cycle."
Dilshad wants to be a world cycling champion, but also wants to stay in Kurdistan and study law. She worries about balancing these dreams, as well as about the war with Isis and the lack of jobs. "Medals and years of experience mean nothing without a degree," she says. "As a female cyclist, the best thing is to have a degree and then you can be a representative for your country, go abroad and have an impact."
Her mother's upbringing was very different to Dilshad's own: she hadn't been able to study past the age of nine, as her father had objected to the co-educational schooling that was on offer, and the Iran-Iraq war meant that the family had to flee; she had her first child as a teenager. "We didn't have these opportunities," she says now, smiling at her daughter, "we just had school, which was hard to finish because of the situation. I am really proud of what she is doing."
In Erbil, I meet with Mahmoud Aziz, head of the Iraqi Cycling Federation. He says that, historically, women's cycling never took off in Iraq as families didn't support their daughter's involvement; officials prioritised men's clubs and, when the Iran-Iraq war began in 1980, "it almost brought down the level of Iraqi sports to zero".
In 2004, female cyclists began travelling abroad under the Iraqi national flag, but these gains were marred by the increasing danger the nation's athletes faced beyond the Kurdistan region. Civilians were targeted because of their sect, and professionals were targeted as a way of sowing terror. Mahmoud Ahmed Fulayih, the k coach of the Iraq men's cycling team, was kidnapped and killed near Baghdad in 2006.
Zyadin Abas, 60, who coaches a male cycling team in Baghdad, takes his team to train in safer cities in the north or south of the country to avoid checkpoints and congested roads – not to mention that Isis is only 25 miles from Baghdad.
Aziz blames the religious political parties that began dominating local politics after the 2003 Iraq war, when dictator Saddam Hussein was deposed, for blocking women's involvement in sport. "If a female wants to train in the south [of Iraq] they have to cover up and wear long pants, so it is not possible to cycle there," he says.
One cyclist from Baghdad, Zahraa Mohammed, 24, competed with the gold medal-winning Iraq team in Algeria. While preparing for the competition, she told me that she would train indoors in Baghdad, and said the near-daily violence was having a psychological effect. "It shows itself as a fear. Our parents are afraid of kidnapping. If a friend is kidnapped then the parents don't want their children to go out." Kurdistan is safer for female athletes, but Baghdad is her home. "I love it there," she said.
On the surface, women in the Kurdistan region seem to have more freedom, but the advantages are slim, and women's rights are not fully practised in reality. Though the usual reaction on the street is bemusement rather than hostility, the coach, Sirwan Sami, tells me that when girls join his team, their families usually ask him to protect the girls' honour above all else. "They say, 'That's the only thing we care about.' Sometimes they say if they fall over and die, it's God's will, but honour is more important."
Mozhda and Azez Rafeeq, 17- and 16-year-old sisters from Sulaimaniyah, have been cycling for just six months, but Mozhda is already on the Iraq team and will be competing in Egypt this month. "Their family are very conservative but open-minded," Sami tells me. "Some families pretend to be open-minded but won't let their girls cycle."
Mozhda and Azez have four other sisters and three brothers. Since they joined the Newroz team, two of their sisters have decided that they, too, want to learn to ride. "When I was a child, I wanted to have a bike at some point in my life. Now it's my passion," says Mozhda. She speaks with a quiet voice, but later, on two wheels, she is transformed. She darts across the smooth road, past palm trees, petrol stations and bemused onlookers. She is the youngest on the national team and even as the older athletes mull over leaving, her passion is intoxicating. "People stare a lot and sometimes they shout, 'Why are you cycling?'" she says. "How do I respond?" She laughs. "I say, 'It's none of your business!'"
Join our new commenting forum
Join thought-provoking conversations, follow other Independent readers and see their replies