Iraqi forces advance on remaining Isis fighters in Ramadi
Ahmed Rasheed
Baghdad
,
Saif Hameed
Tuesday 22 December 2015 19:13 Comments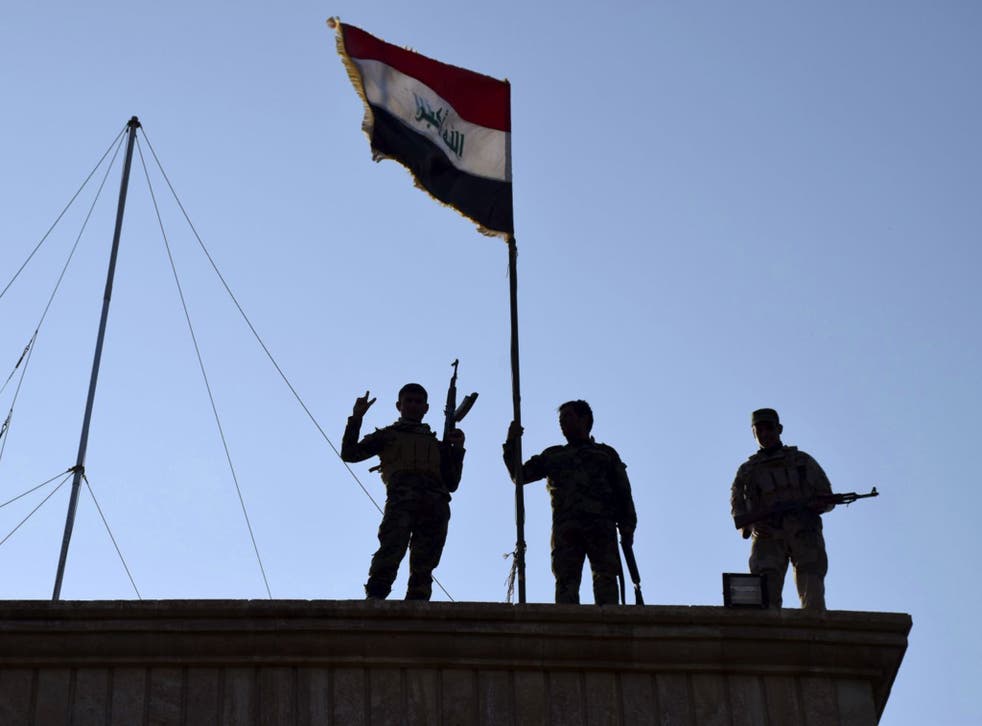 Iraq's armed forces claimed to have penetrated the centre of Ramadi today in an attempt to drive Isis fighters from their remaining stronghold in the city, which they first captured in May.
The operation to recapture the Sunni city on the Euphrates, 60 miles west of Baghdad, which began last month, had already resulted in Ramadi being almost entirely encircled by government forces, backed by limited air strikes.
Progress has been slow because the government wants to rely entirely on its own troops and not use Shia militias, in order to avoid rights abuses such as occurred after the recapture of the city of Tikrit from Isis in April. US officials have warned of the need to avoid fanning sectarian tensions.
"Our forces are advancing toward the government complex in the centre of Ramadi," the counter-terrorism units' spokesman Sabah al-Numani said. "The fighting is in the neighbourhoods around the complex, with support from the air force."
The Baghdad government has said it also wanted to spare civilians and give them the opportunity to leave the city, but there were reports that Isis had prevented Ramadi residents fleeing in order to use them as human shields.
In pictures: The rise of Isis

Show all 74
Iraqi intelligence estimates the number of Isis fighters entrenched in the centre of Ramadi, capital of Western Anbar province, at between 250 and 300.
The offensive to capture the city centre began at dawn when military units crossed the Euphrates river into the central districts using a bridge that had been destroyed by the militants and had to be repaired by army engineers, Mr Numani said.
"Crossing the river was the main difficulty," he said. "We're facing sniper fire and suicide bombers who are trying to slow our advance, we're dealing with them with air force support."
If the attack to capture Ramadi succeeds, it will be the second major city after Tikrit to be retaken from Isis in Iraq. The group still controls Mosul, Iraq's second largest city, and Falluja, which lies between Ramadi and Baghdad.
REUTERS
Register for free to continue reading
Registration is a free and easy way to support our truly independent journalism
By registering, you will also enjoy limited access to Premium articles, exclusive newsletters, commenting, and virtual events with our leading journalists
Already have an account? sign in
Join our new commenting forum
Join thought-provoking conversations, follow other Independent readers and see their replies