Iraqi soldier survives Isis mass execution by lying on floor - and pretending to be dead
Human Rights Watch say militants killed up to 770 men in June killings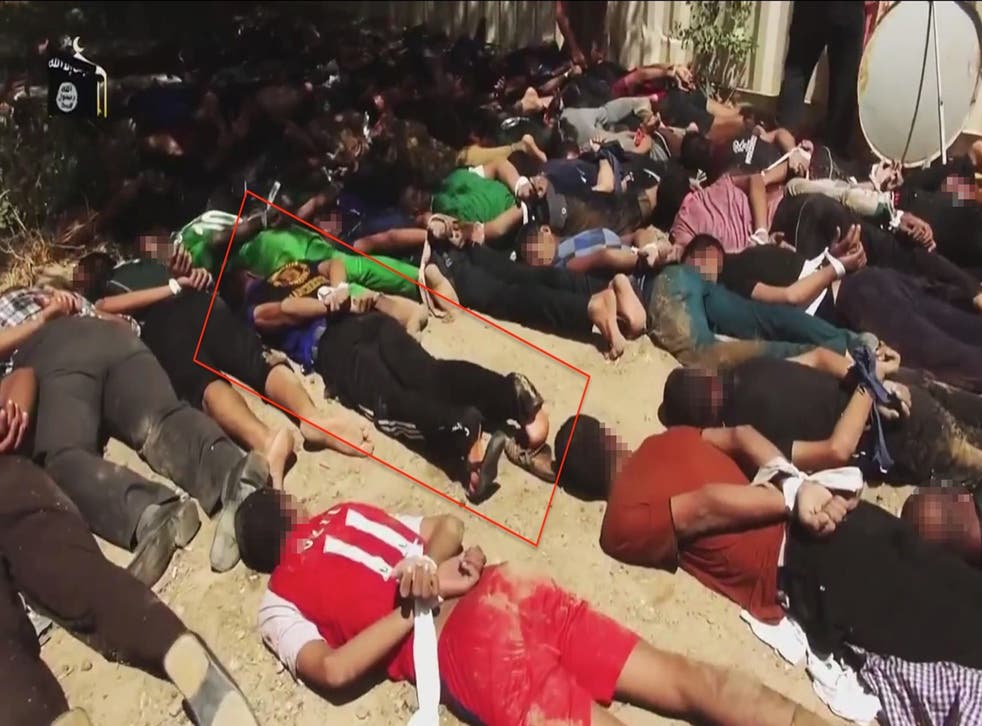 An Iraqi soldier survived a mass execution carried out by Islamic State militants (Isis) by dropping to the floor and pretending to be dead.
Islamic State (Isis) militants killed up to 770 men in mass executions at five locations in Tikrit after seizing the city in northern Iraq in June, Human Rights Watch has claimed.
Ali, a 23-year-old soldier who survived of one of the shootings, identified one of three newly discovered sites.
He was captured on 12 June with thousands of other men at 11am as they tried to flee along the main road from a military base.
Other soldiers and officers had advised him to wear civilian clothes to try to avoid detection by Isis fighters.
Ali said he was among prisoners held in a shipping container in a palace compound in the city before being taken out in a group of 10 at about 5pm, where the men were lined up to be shot with pistols one after another.
In pictures: The rise of Isis

Show all 74
He told HRW he survived by falling down and pretending to be dead when he was not hit by bullets. He then waited for hours before escaping under the cover of darkness.
A HRW spokesperson told The Independent he then hid in the reeds for days before he came into contact with the group. He is now out of Isis-held regions and is currently safe.
In June, Isis militants claimed to have executed 1,700 prisoners it said were Shia members of the army.
Photos later emerged on social media showing captives being loaded on to trucks and lying with hands bound in three shallow trenches.
In further graphic photos, gunmen could be seen firing at captives. At the time, HRW identified two trenches near the city's water palace where between 160 and 190 men were massacred.
HRW has now identified three new sites in total where it believes mass executions were carried out, bringing the number of deaths for which evidence is available to between 560 and 770.
The largest is a concrete slab within Tikrit's presidential palace compound, where video footage and satellite imagery indicate that between 250 and 400 men were killed on either 12 or 13 June.
Satellite images released days later showed no sign of dead bodies on the slab, but blood stains remained visible, along with signs that earth-moving equipment had been used in a neighbouring dirt field.
At least 25-30 men are believed to have been shot with pistols at a second site and their bodies dumped into the Tigris River, said HRW. Video footage of the incident, at a Water Police building near the river, suggests the death toll could be higher.
Speaking after the evidence was released, Peter Bouckaert, emergencies director at HRW said the "barbarity" of Isis "violates the law and grossly offends the conscience".
Join our new commenting forum
Join thought-provoking conversations, follow other Independent readers and see their replies