Iraqi troops face suicide bombers and stiff resistance from Isis as they push into Mosul
The city has been under Isis control since 2014
Saturday 19 November 2016 17:58
comments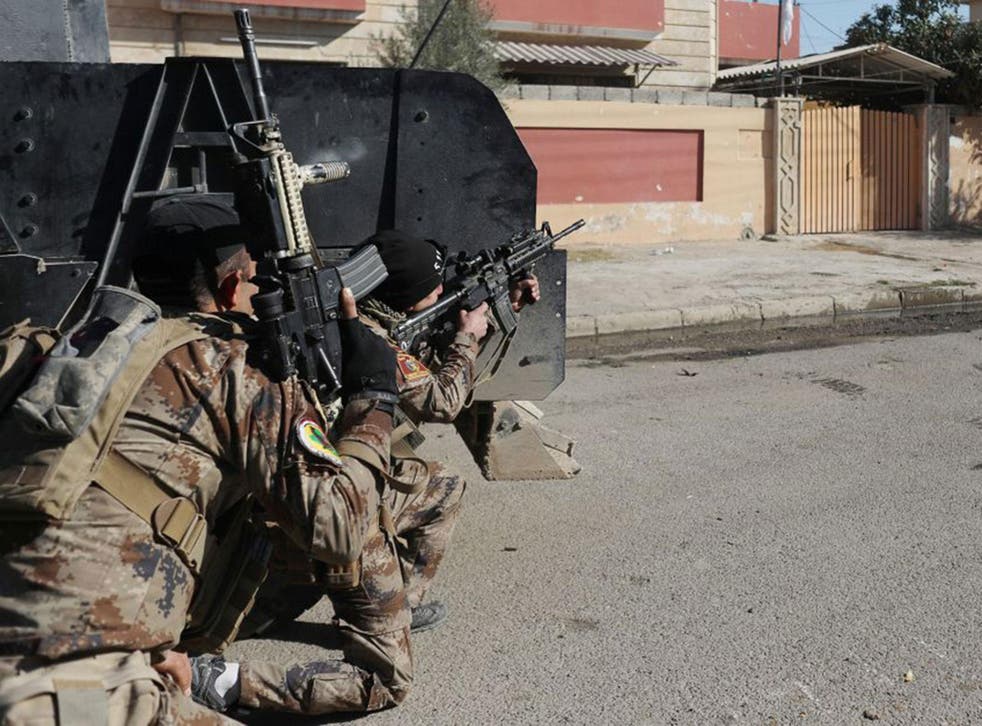 Iraqi troops faced stiff resistance from Isis fighters as they pushed deeper into the beleaguered city of Mosul on Saturday.
Coalition air support backed up the soldiers as they continued to fight for the city, which has been held by the Sunni extremist group since 2014.
Mosul is the last major city under Isis control in Iraq.
At dawn, troops moved into the Muharabeen and Ulama neighborhoods after fully liberating the adjacent Tahrir neighborhood on Friday, said Major General Sami al-Aridi of the Iraqi special forces.
General al-Aridi said Isis militants were fighting back with snipers, rocket-propelled grenades and mortar rounds.
Thick black columns of smoke were seen billowing from the two areas, while dozens of civilians fled to government-controlled areas.
Shortly before noon, a suicide bomber emerged from a house in the Tahrir neighborhood and attacked security forces, wounding four troops. Another suicide car bomber hit the troops in Aden neighborhood afternoon, killing a soldier and wounding three others.
Also on Saturday, Isis killed seven pro-government Sunni tribal fighters and five police officers in a town south of Mosul, according to local security sources.
The tribal fighters and police were gunned down at two fake checkpoints set up by the insurgents in Shirqat, a Sunni town between Mosul and Baghdad, the sources said.
In pictures: Mosul offensive

Show all 40
The offensive to retake Mosul, which was launched in October, is the biggest military operation in Iraq since American troops left in 2011. If successful, the capture of Mosul would be the strongest blow dealt to Isis' self-styled caliphate since it was established.
Shia militias are leading an assault to drive Isis from Tal Afar, which had a majority Shia population before it fell to Isis, and to cut Isis supply lines linking Mosul to Syria.
According to the United Nations, more than 56,000 civilians have been forced from their homes since the operation began out of nearly 1.5 million civilians living in and around Mosul.
AP/Reuters
Join our new commenting forum
Join thought-provoking conversations, follow other Independent readers and see their replies