Ishaq Badran: Sixteen-year-old Palestinian 'terrorist' killed after stabbing an Israeli in East Jerusalem
A Palestinian teenager was killed after stabbing an Israeli in East Jerusalem on Saturday. What drove him to it
Ben Lynfield
Sunday 11 October 2015 20:55 Comments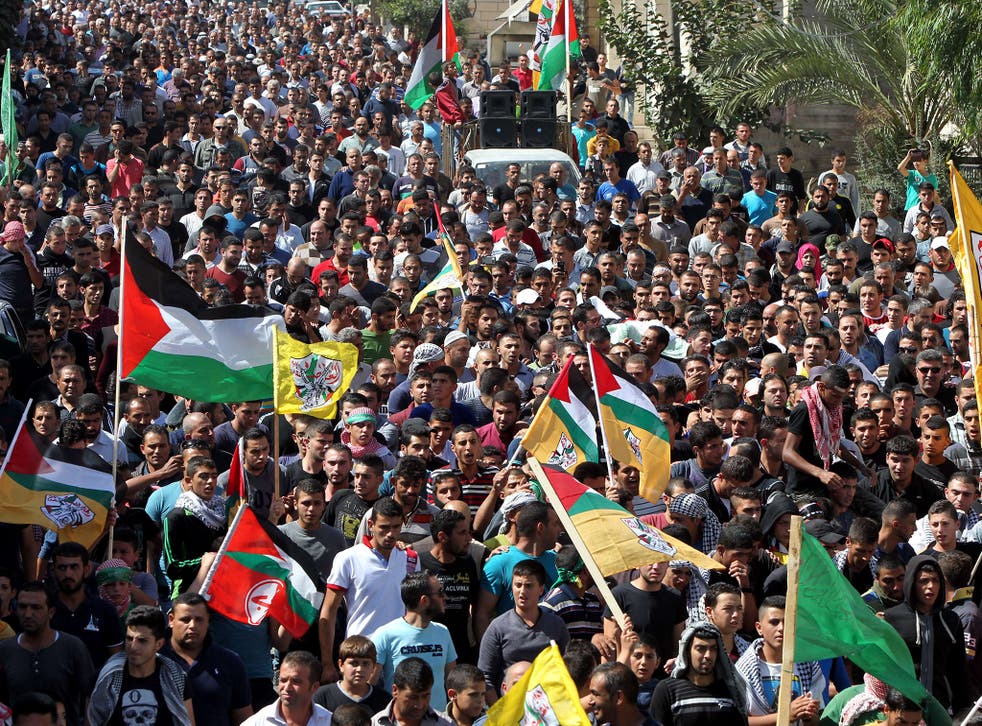 Ishaq Badran was described simply as a "terrorist" after stabbing an Israeli near the Damascus Gate in occupied East Jerusalem on Saturday.
But in the mourners' circle at his home in the city's Kufr Aqab area, a more complex picture emerged of the 16-year-old, and what has caused others to take part in a wave of stabbings that has shaken Israel and threatens to turn into an all-out Palestinian uprising.
Ishaq, a student at an Israeli vocational school who was shot dead by Israeli police, was lauded as a "hero" and "martyr" by the mourners. He was, said those gathered at his home, simply acting to defend Islam's third holiest site, the Aqsa mosque, situated on an area revered by Jews as the Temple Mount.
Much of the violence that has flared in Jerusalem and the West Bank is being triggered by a Palestinian perception that Israel is seeking to impose Jewish prayer on the site, something Israel denies. An Israeli air strike early in Gaza City, launched after two rockets were fired at Israel, killed a pregnant woman and her two-year-old daughter, further fuelling Palestinian anger.
As dates, a traditional mourning food, were passed around, Ishaq's close friends described him as an introverted, polite teen who liked weight-lifting and swimming. The oldest of six children, he prayed regularly and encouraged his friends to join him, friends said. He was not affiliated with any Palestinian faction or organisation, something he had in common with other Palestinians carrying out recent attacks seemingly of their own free will.
"I was surprised. I did not expect it," said his father, Qassim Badran. "My son always obeyed me. Every time I'd say don't go to any areas of trouble he would say: 'Yes.'"
Mr Badran said that his son had been deeply upset by reports that a settler had stripped the hijab off a Muslim woman in the Old City of Jerusalem last Wednesday. The reports, which could not be independently confirmed, soon spread on Palestinian social media. "He spoke to his mother about this and cried," Mr Badran told The Independent. "He was crying, saying: 'No one is defending these women'." The woman was shot as she tried to stab an Israeli man, according to Israeli police.
A friend of Ishaq's, aged 13, said he was "extremely upset" when he saw him on Thursday and Friday last week. "We were looking at pictures of martyrs. He said that Fadi Aloun was killed in cold blood," he said, referring to a Palestinian shot by Israeli police on 3 October for what Palestinians believe was no reason. Israeli police say he was killed after he stabbed an Israeli.
They also looked at phone pictures of Mohanad Halabi, a 19-year-old who killed two Israelis in a separate stabbing attack on 3 October. "Both of us were talking of what a heroic act Mohanad did. Ishaq mentioned what happened to the woman with the hijab and said that had we done this to a Jewish lady they would have killed us." He added that Ishaq told him: "If a Jew attacks a Muslim they would put him in jail only for a short period."
Despite his friend's anger, "he didn't tell me he would do anything", the 13-year-old said.
Kamal Dandis, who makes the call to prayer at the mosque where Ishaq prayed, said: "I was extremely surprised. He's very young." He linked the recent violence to the killing by Jewish extremists of a Palestinian toddler and his parents in the West Bank in July.
"The situation in Jerusalem and at al-Aqsa and in the villages of Palestine – this leads people, not just him, to reach a stage they never imagined they would actually reach."
Register for free to continue reading
Registration is a free and easy way to support our truly independent journalism
By registering, you will also enjoy limited access to Premium articles, exclusive newsletters, commenting, and virtual events with our leading journalists
Already have an account? sign in
Register for free to continue reading
Registration is a free and easy way to support our truly independent journalism
By registering, you will also enjoy limited access to Premium articles, exclusive newsletters, commenting, and virtual events with our leading journalists
Already have an account? sign in
Join our new commenting forum
Join thought-provoking conversations, follow other Independent readers and see their replies