Isis, a year of the caliphate: Nine battles that made the group what it is
The group's influence has spread rapidly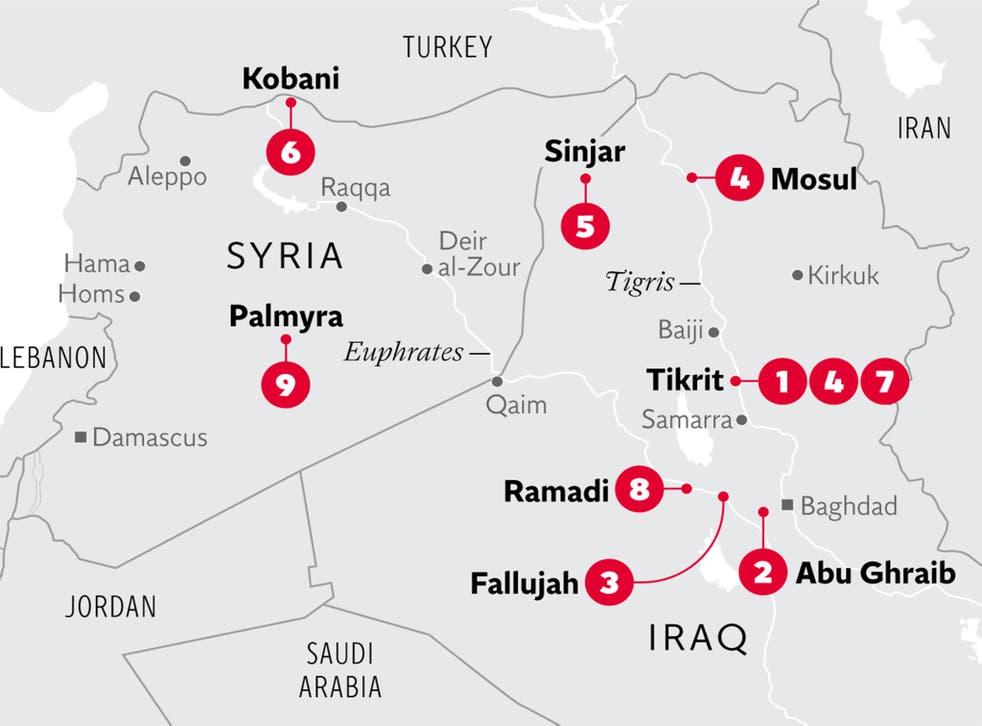 Since declaring a 'caliphate' in Syria and Iraq and demanding allegiance from Muslims across the world, the influence of Isis has spread across the Middle East.
Now, a year on from the beginning of their rapid expansion, the jihadist group occupies vast swathes of the region, while their propaganda has inspired recruits from as far afield as France, Germany and the UK.
Here are the nine battles that have made the so-called Islamic State what it is today:
1) 18 April, 2010: Abu Omar al-Baghdadi is killed by US and Iraqi forces
American and Iraqi forces killed Abu Omar al-Baghdadi and Abu Ayyub al-Masri, two of Islamic State in Iraq's top leaders, in a safe-house in Tikrit. A number of al-Qaeda leaders were also killed during a security operation in the Thar Thar region in Anbar. Abu Bakr al-Baghdadi was appointed the new leader a month later.
2) 22 July 2013: Abu Ghraib prison break
More than 500 inmates from Iraq's Abu Ghraib prison escaped after suicide bombers drove cars filled with explosives to the gates of the prison on the outskirts of Baghdad on a Sunday night. Militants shot at prison guards with rocket-propelled grenades. Ten policemen and four militants were killed during the battle. Most of the inmates who were broken out were convicted senior members of al-Qaeda awaiting execution. The attack killed dozens, including at least 25 members of Iraqi security forces
3) 30 January 2014: Capture of Fallujah by Isis led jihadis
The Iraqi government lost Fallujah to al-Qaeda-linked militants, after days of fighting when security forces removed an anti-government protest camp. A masked Isis fighter declared the establishment of an "Islamic emirate" in Fallujah. Over 100 people were killed during the battle in Ramadi and Fallujah, with the militants raising a flag and declaring an Islamic state.
4) 10 June 2014: Capture of Mosul and Tikrit by a few thousand Isis fighters
After three days of fighting, ISIS extremists roamed the streets of Mosul freely. Two divisions of Iraqi soldiers, about 30,000 troops, ran away from the ISIS fighting force of a few thousand.
Iraqi security sources estimate more than a thousand mainly Shi'ite troops were killed during the capture of Mosul while others deserted their army, complaining about their leadership's lack of training and equipment. Isis fighters then arrived in Tikrit unopposed taking control of the city.
"We have lost Mosul this morning," said a colonel at a local military command centre. "Army and police forces left their positions and ISIL terrorists are in full control."
5) 3 August 2014: Isis defeats Iraqi Kurds in Sinjar, US starts air strikes
At least 80 Yazidi men were massacred by Isis militants who refused to convert to Islam, after jihadists stormed a small village in Kojo in Northern Iraq. They also kidnapped 100 women and girls in northern Iraq. US drone air strikes then destroyed two armed vehicles in retaliation. Isis' push to the border sent 50,000 Yazidis fleeing for lives and hiding in the Sinjar mountains.
6) 13 September 2014: Isis launches the siege of Kobani
After beginning its siege in September, Isis had captured 350 villages by October, raising its first banner on the outskirts of Kobani. By April they had lost most of it due to heavy clashes and resistance from YPG (Kurdish People's Protection Unit) along with Peshmerga, the free Syrian Army and US-led coalition air strikes. After the siege, Kobani lay in ruins and thousands of refugees were unable to return.
7) March 2015: Capture of Tikrit by Iraqi army and Shia militias
Beginning on 2 March 2015 some 20,000 Shia militiamen surrounded the city with only 3,000 government soldiers, some special forces and 1,000 Sunni tribal fighters. The Iraqi government claimed victory after a month-long battle, announcing that Tikrit was Isis-free on 12 April 2015.
8) May 2015: Isis Captures Ramadi, Iraq
The Iraqi city of Ramadi fell to Isis after over five months of fighting. Five-hundred people were killed during the last days of fighting between 14 and 17 May, when all Iraqi security forces had fled.
9) 20 May 2015: Isis captures and takes control of the ancient city of Palmyra, Syria
After a seven-day battle against Bashar al-Assad's forces, Isis took control of the historic city of Palmyra, continuing the group's advancement west. The UN said one-third of Palmyra's 200,000-strong population had fled. Isis then executed over 250 residents and Syrian fighters.
Ancient monuments under Isis threat

Show all 8
Register for free to continue reading
Registration is a free and easy way to support our truly independent journalism
By registering, you will also enjoy limited access to Premium articles, exclusive newsletters, commenting, and virtual events with our leading journalists
Already have an account? sign in
Register for free to continue reading
Registration is a free and easy way to support our truly independent journalism
By registering, you will also enjoy limited access to Premium articles, exclusive newsletters, commenting, and virtual events with our leading journalists
Already have an account? sign in
Join our new commenting forum
Join thought-provoking conversations, follow other Independent readers and see their replies