Isis used 17 suicide car bombs 'to help leader Abu Bakr al-Baghdadi flee Mosul'
Endgames: Inside Iraq In a last dispatch from Iraq, Patrick Cockburn speaks to a Kurdish official who says Isis were jubilant to have their leader leave Mosul where the group faces defeat - but when the jihadis are gone there are fears about how the territory they once-held will be divided 
Patrick Cockburn
In Irbil
Monday 03 April 2017 21:56 Comments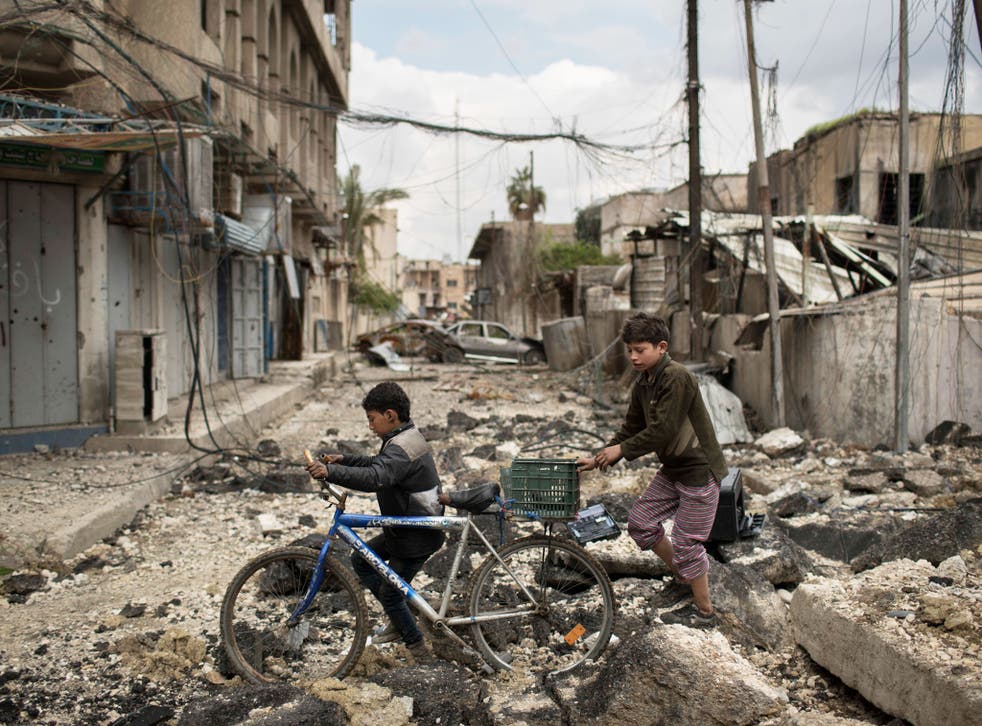 Abu Bakr al-Baghdadi, the leader of Isis and self-declared Caliph, escaped from the siege of Mosul two months ago when the road to the west was briefly re-opened by a fierce counter attack by Isis fighters, according to a senior Kurdish official.
"Isis used 17 suicide car bombs from Mosul and some of their units from Syria to clear the road leading out of Mosul for a few hours," said Fuad Hussein, chief of staff to Kurdish President Masoud Barzani, in an interview with The Independent. He says that he and other Kurdish leaders believe that Isis would only carry out such an elaborate operation, in which they suffered heavy casualties, in order to bring al-Baghdadi to safety.
The escape took place after the fall of east Mosul and before the Iraqi security forces began their final attack on Isis-held west Mosul on 19 February. Mr Hussein says that Isis "brought 300 of their fighters from Syria and it was a very fierce fight." The only possible escape route out of Mosul for Isis is to the west, through territory held by the Hashd al-Shaabi Shia militia who were forced to retreat, enabling Isis briefly to gain control of the road.
"I believe myself that they freed al-Baghdadi," says Mr Hussein saying that the Isis unit from Syria returned there immediately and monitoring of Isis radio traffic showed that they were jubilant that they had carried out a successful operation. Al-Baghdadi, who became leader of Isis in 2010, is the movement's iconic leader who led it to a series of spectacular victories including the seizure of Mosul in 2014. His death or capture would be a further body blow to the movement, which has lost much of its territory in Iraq and Syria.
Mr Hussein said that he expected Isis to survive after the fall of Mosul, where its fighters still hold the Old City which the UN says has a population of 400,000. "But I don't think they will survive as a state," he said. He expects Isis will revert to being a guerrilla-type organisation carrying out terror attacks but without its previous resources. Despite its current implosion, it still has sanctuaries in different parts of Iraq and Syria where it can try to regenerate itself.
A serious problem in Iraq is that there is no political plan for sharing power or running the regained territory after the fall of Mosul and the defeat of Isis. Mr Hussein said that Jared Kushner, President Donald Trump's son-in-law and senior adviser, is expected in Irbil on Tuesday to see the status of the anti-Isis campaign for himself. Mr Kushner arrived in Baghdad on Monday, accompanying the chairman of the US Joint Chiefs of Staff General Joseph Dunford, and saw the Iraqi Prime Minister Haider al-Abadi.
In pictures: Mosul offensive

Show all 40
When Mr Kushner does arrive in Irbil, he will find a situation which is bewilderingly complex even by the standards of Iraqi politics, and poses questions that may prove insoluble. When the offensive against Isis started on 17 October last year, it followed a military agreement between the Kurdistan Regional Government (KRG) and the Iraqi central government whereby the Kurdish Peshmerga would play only a limited military role, taking part of the Nineveh Plain east of Mosul. But there was no political agreement on how long term security can be provided to the mosaic of different parties, militias, sects and ethnic communities living in and around Mosul.
Mr Hussein says that there was no political plan for post-Isis Mosul put forward last year, because it would have raised divisive issues that might have prevented a military campaign against Isis. It is unclear who will hold power in Mosul in the long term or what will happen to Kurds and Christians who were forced out of the city. A short drive across the Nineveh Plain reveals political and sectarian rivalries and hatreds stopping any return to normality. There is not much sign of the Iraqi army and most checkpoints are manned by the Hashd al-Shaabi, often recruited from the Kurdish speaking Shia minority known as the Shabak.
The Sunni Arab population of Mosul has been traumatised by the six month siege, which is far from ended and is destroying a large part of the city. Mr Hussein says that it was a serious mistake in the planning of the Mosul operation to believe that Isis would be defeated quickly or the population might rise up against the jihadis. "There was an idea in Baghdad that there would be an uprising against Isis," says Mr Hussein. The optimistic conviction that this would happen, and over-confidence about how quickly Isis could be defeated, led to the government telling people in the city to stay in their houses, a miscalculation that is leading to heavy civilian loss of life.
Mr Hussein does not doubt that Isis will eventually be defeated in Mosul. But, unless there is an agreement about what to do next, he says the "logic of war" will take over and everybody will hold onto territory they have already taken. Driving around government-held east Mosul there is a noticeable lack of local police or any other security forces to replace elite military detachments. like the Counter-Terrorism Service, that have moved into west Mosul to fight Isis there.
In the plains around Mosul, insecurity is even greater with many towns and villages, recaptured from Isis last year, still deserted. The Christian town of Qaraqosh, for example, retaken from Isis at that time, remains empty and without electricity or fresh water. Yohanna Towaya, a local Christian leader, says the community "will not go back unless they are guaranteed protection by the KRG and the Baghdad government." He says that "two or three Christian families are leaving KRG each day for Lebanon or Australia." Everywhere there are predatory militias on the payroll of different masters staking their claim to power, money or land , something which exacerbates the deep distrust felt by all communities in northern Iraq towards each other.
Register for free to continue reading
Registration is a free and easy way to support our truly independent journalism
By registering, you will also enjoy limited access to Premium articles, exclusive newsletters, commenting, and virtual events with our leading journalists
Already have an account? sign in
Join our new commenting forum
Join thought-provoking conversations, follow other Independent readers and see their replies