Official total of civilians killed by US-led coalition air strikes against Isis in Syria and Iraq rises to 188
US Central Command says several strikes, including one that hit a hospital car park, remain under investigation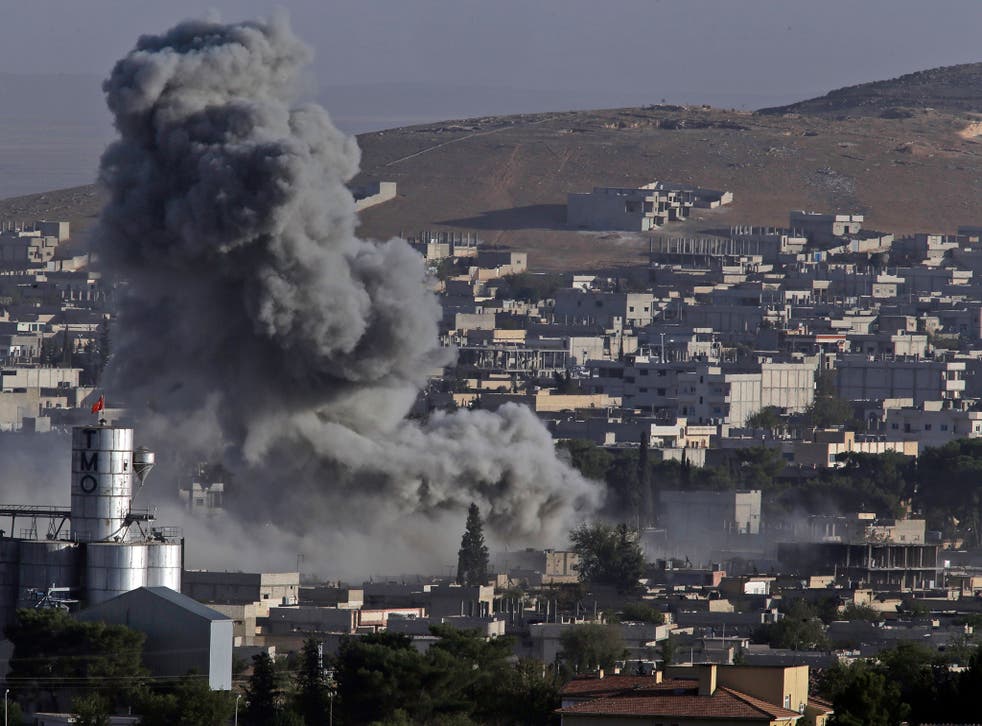 The US-led coalition has admitted killing at least 188 civilians in its bombing campaign in Syria and Iraq, with several reported massacres still under investigation.
The latest assessment carried out by Central Command (Centcom), which coordinates the anti-Isis Operation Inherent Resolve, confirmed 15 more civilian deaths in ground and air strikes.
A spokesperson said coalition members, including the UK and France, "take extraordinary efforts to strike military targets in a manner that minimises the risk of civilian casualties" but claimed that "in some incidents casualties are unavoidable".
The deadliest incident was on 6 November, when seven people in two stationary vehicles were "unintentionally killed" by a missile that hit an approaching car carrying Isis fighters in Shahid-Younis as-Sab, Iraq.
Another civilian died in a strike targeting Isis militants in a moving vehicle near Raqqa in Syria on 26 November, while two more were killed on the same day in a blast that hit jihadis near Mosul in Iraq.
On 21 November, two civilians were killed in near al-Salahiyah, Syria, in a strike on Isis-held buildings and on 29 November, three others died when they entered a missile's target area shortly before impact near Mosul.
"In each of the incidents, the investigation assessed that although all feasible precautions were taken and the decision to strike complied with the law of armed conflict, unintended civilian casualties unfortunately occurred," a spokesperson for Centcom said.
"We regret the unintentional loss of civilian lives resulting from Coalition efforts to defeat Isil [Isis] in Iraq and Syria and express our deepest sympathies to the families and others affected by these strikes."
The reports bring the total number of civilian deaths confirmed by the US-led coalition since August 2014 to 188, although observers and humanitarian groups including Amnesty International believe the real total is far higher.
Five incidents reported in November remain under investigation, from areas including the Isis strongholds of Mosul in Iraq and Raqqa in Syria, carried out between September 2015 and November 2016.
Centcom said it was also reviewing an air strike that reportedly killed civilians at a hospital near Mosul on 29 December.
Isis released footage appearing to show the bodies of men killed at the Ibn Athir Hospital via its Amaq propaganda agency, as well as damaged medical facilities around a destroyed van in the car park.
American officials said Isis militants had been firing an SPG-9 anti-tank gun from the vehicle, which had been struck in "what was later determined to be a hospital compound parking lot".
Airstrike on weapons facility in Mosul, Iraq
The US military has accused Isis of using hospitals, mosques and other civilian infrastructure including a pharmaceutical plant as weapons storage facilities, fighting positions and bases for its operations
Empty school buildings were struck in Mosul on 1 January because they were being used by Isis militants firing mortars at Iraqi forces fighting to drive militants out of their stronghold, Centcom said.
Officials said buildings protected from conflict under international law were increasingly being used by Isis as troops advance on the city, which is the terror group's last major stronghold in Iraq.
"While the Coalition takes extraordinary effort to protect civilians and strike appropriate military targets, we will continue to strike Isil [Isis] wherever and whenever our partner's lives are in danger in accordance with the law of armed conflict," a Centcom spokesperson said, adding that all strikes n Iraq were approved by the country's government.
Centcom found 13 reports of civilian casualties received in November to be "non-credible", meaning there was insufficient information available to confirm deaths from coalition bombing.
President Barack Obama and American commanders have repeatedly described the strikes as the "most precise air campaign in history" but the toll is likely to rise as investigations into other reported civilian casualties continue, with the results released on a monthly basis.
The US, Britain, France and other members of the coalition have conducted more than 16,000 strikes so far as part of the anti-Isis Operation Inherent Resolve, with about two-thirds taking place in Iraq and the rest in Syria.
British jets prepare for air strikes in Syria

Show all 10
A report by Amnesty International claimed that at least 300 civilians were killed in just 11 air strikes by the US-led coalition in Syria, with a report released in October finding adequate precautions were not always taken to minimise deaths and damage.
Lynn Maalouf, deputy director for research at the group's Beirut office, urged US authorities to "come clean" about the full extent of casualties.
"We fear the US-led coalition is significantly underestimating the harm caused to civilians in its operations in Syria," she added.
"Some of these attacks may constitute disproportionate or otherwise indiscriminate attacks."
With the vast majority of strikes hitting territory under Isis control, the true number of casualties and the victims' identities are difficult to verify.
Centcom admitted it was unable to "fully investigate all reports of possible civilian casualties using traditional investigative methods, such as interviewing witnesses and examining the site", saying it instead interviews pilots, reviews strike footage and analyses information from partner forces, governments, humanitarian groups, traditional and social media.
The Ministry of Defence said it carries out its own assessments of operations carried out by British planes and that none of the incidents detailed by Centcom involved UK assets.
"There is no evidence that any of our strikes have caused civilian casualties so far," a spokesperson told The Independent.
Join our new commenting forum
Join thought-provoking conversations, follow other Independent readers and see their replies