Civilian deaths are 'price you pay' to beat Isis, says British general in Iraq
Major-General Rupert Jones said it was impossible to target the 'evil' extremists holed up in packed cities in Iraq and Syria without the loss of innocent life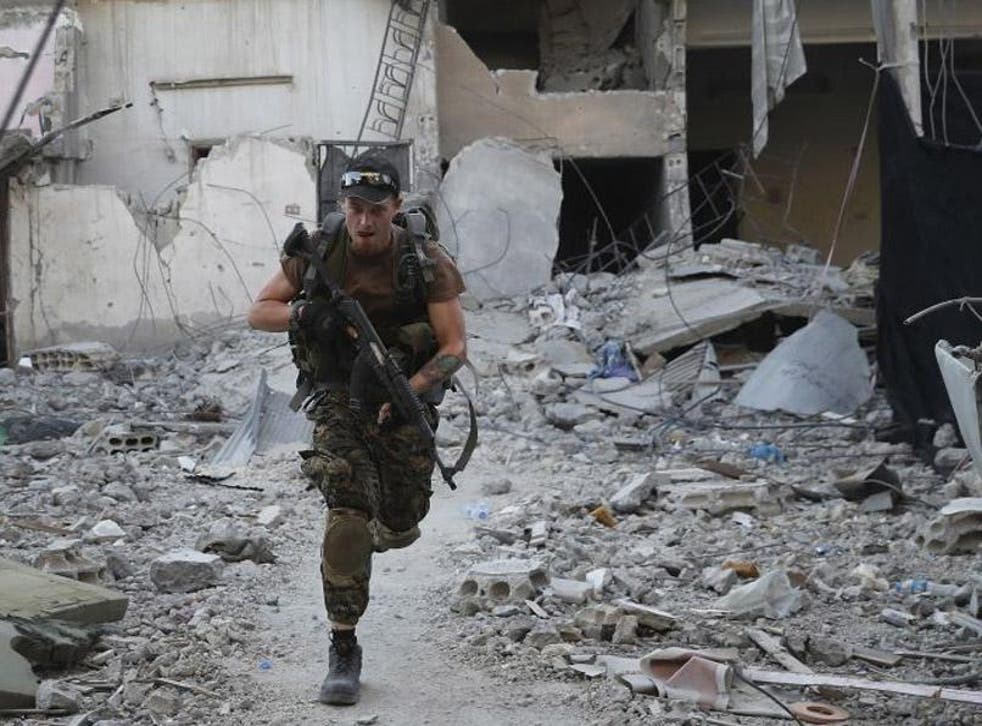 A British general in Iraq has said the deaths of innocent people caught up in coalition air strikes against Isis are the "price you pay" for defeating the extremists.
More than 5,000 civilians have been killed in attacks by the US-led mission against militant strongholds in Iraq and Syria, independent figures suggest. Officials put the number at about 700.
Major-General Rupert Jones said it was impossible to target the "evil" extremists, who are holed up in densely packed cities, without collateral impacts that included the loss of women and children.
RAF fighter planes and drones were deployed in the successful mission to wrest back control of Mosul in Iraq, with the last west Mosul neighbourhood liberated in July.
Kurdish intelligence officials previously told The Independent that as many as 40,000 died in the battle for Mosul alone, most from a combination of international air strikes and artillery strikes on the ground.
Amnesty International described the nine-month campaign that levelled whole neighbourhoods as a "civilian catastrophe".
It came as coalition forces battle on against some 2,000 Isis fighters in its former stronghold of Raqqa in Syria, in strikes that have turned swathes of the city into rubble.
Mr Jones said military chiefs go to the "greatest lengths possible" to minimise the loss of civilians in the missions, but added "there is a price you pay" for targeting extremists in cities.
He laid much of the blame for the death toll of innocent victims on the battle strategies used by the radicals ahead of an air strike.
"They herd people into buildings, lock them into buildings and then go and pop a single sniper on the roof," Mr Jones told The Sunday Times, "knowing that we will target him if we don't know there is a whole stack of civilians in there.
"But they know that we will use low-collateral weapons, which means we probably won't kill all the people inside the building.
"So what they do is wire the building with explosives, knowing that a low-collateral weapon might cause a detonation that kills everybody. That's the sort of enemy you're dealing with."
The coalition has said at least 685 civilians have been killed by its strikes in Iraq and Syria since it began its mission against the Isis strongholds there three years ago.
The independent monitoring group Airwars, which is based in the UK, estimated that 5,343 innocent people have been killed in the coalition attacks.
World news in pictures

Show all 50
Mr Jones explained the problems it encountered when targeting Isis in Mosul.
"There are a number of things. The first is: war's hell," he said. "Mosul is a city of 1.75 million held by one of the most brutal enemies to ever take the field of battle. They're evil.
"Can you defeat them in a city like Mosul? Tragically, without civilian casualties, no. Welcome to warfare. Is that squeamish, is that a bit unpleasant? Yes it is.
"Nobody feels that more keenly than the military, because it's the military who have to hold on their conscience if there are civilian casualties."
Allan Hogarth, Head of Advocacy at Amnesty International UK, hit out at what he called the coalition's "race to the bottom" to target Isis at all costs.
He told The Independent: "No one should underestimate the ruthlessness of the tactics of so-called Islamic State or the difficulty of mounting a military engagement with its fighters without endangering civilians, but that makes it even more important that measures are taken to protect women, men and children caught up in the fighting.
"Rather than engaging in a race to bottom, Major-General Rupert Jones' time would be better spent calling for adherence to the Geneva convention and talking about how more needs to be done to protect civilians."
More than 3,000 Isis militants have been killed in strikes against extremist targets in Iraq and Syria, figures showed.
There was "no credible evidence" that these strikes have killed civilians, the Ministry of Defence told The Sunday Times.
It added: "That isn't the same as saying we have not or will not do so."
Register for free to continue reading
Registration is a free and easy way to support our truly independent journalism
By registering, you will also enjoy limited access to Premium articles, exclusive newsletters, commenting, and virtual events with our leading journalists
Already have an account? sign in
Register for free to continue reading
Registration is a free and easy way to support our truly independent journalism
By registering, you will also enjoy limited access to Premium articles, exclusive newsletters, commenting, and virtual events with our leading journalists
Already have an account? sign in
Join our new commenting forum
Join thought-provoking conversations, follow other Independent readers and see their replies