Isis loses 'prophesied' town of Dabiq to Syrian rebels after short battle
The jihadists had claimed the town would be scene to a final 'apocalyptic' battle between Muslims and the 'infidel horde'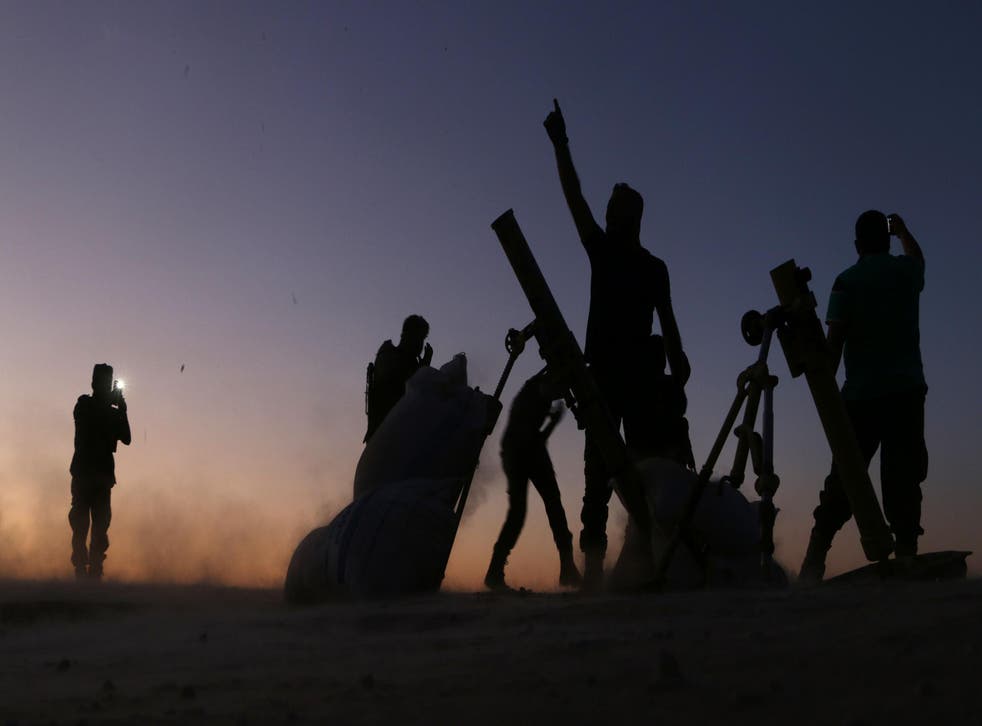 Isis has lost control of the symbolically important town of Dabiq to a group of Syrian rebels following a short battle.
Syrian opposition fighters backed by Turkey said they took the town after meeting with "minimal" resistance from the jihadists.
According to Isis propaganda, Dabiq was to be the scene of an apocalyptic final battle between Muslims and Christians, heralding the end of days. Isis named its English-language propaganda magazine after the town, and the looming fight had featured prominently in jihadist media outlets.
Located between Aleppo and the Turkish border, Dabiq holds little strategic significance. Isis is nonetheless reported to have stationed some 1,200 troops in the town since it took control in 2014, thanks in no small part to its prophesied importance.
The Syrian Observatory for Human Rights said Isis withdrew its forces. A commander of the Syrian opposition Hamza Brigade said they captured the town on Sunday morning, and that Isis had retreated towards the much larger town it still holds to the south-east, al-Bab.
Saif Abu Bakr said some 2,000 opposition fighters pushed into Dabiq with tank and artillery support from the Turkish Army.
Turkish military sources said the operation to take Dabiq started earlier this month, and that the town had been bombarded by Turkish fighter jets and artillery for 10 days.
International coalition warplanes were also involved in conducting air strikes on Dabiq and nearby Arshak, the Turkish state-run Anadolu news agency reported.
The town had existed in a pocket of resistance against the Turkish-backed Free Syrian Army's drive to expand its territory across northern Syria.
In pictures: The rise of Isis

Show all 74
Turkey says it is supporting the operation, which has been underway since 24 August, to create a "terrorist-free" or buffer zone along its border.
The Dabiq prophecy is based on a 1,300-year-old hadith or teaching of Abu Hurayrah, one of the Prophet Mohammed's companions.
It has been passed down in a number of different versions, but all describe a great battle between a Muslim army and a force of non-believers, generally translated as an "infidel horde".
The prophesy has become a fundamental part of Isis's ideological self-justification, and it is what has led international figures from David Cameron to Tony Abbott to describe Isis as an "apocalyptic death cult".
Experts say it is fair to assume the majority of Isis fighters believe the prophesy.
But in a recent edition of its al-Naba online publication, Isis appeared to step back from their suggestion the battle at Dabiq would herald the apocalypse. It said the imminent fight against Turkish-backed rebels was not the one in the prophesy.
Register for free to continue reading
Registration is a free and easy way to support our truly independent journalism
By registering, you will also enjoy limited access to Premium articles, exclusive newsletters, commenting, and virtual events with our leading journalists
Already have an account? sign in
Register for free to continue reading
Registration is a free and easy way to support our truly independent journalism
By registering, you will also enjoy limited access to Premium articles, exclusive newsletters, commenting, and virtual events with our leading journalists
Already have an account? sign in
Join our new commenting forum
Join thought-provoking conversations, follow other Independent readers and see their replies