New Isis video shows hostages divided into groups to be decapitated, blown up or drowned as execution methods get increasingly macabre
The show of brutality comes as the one-year anniversary of the 'Islamic State' approaches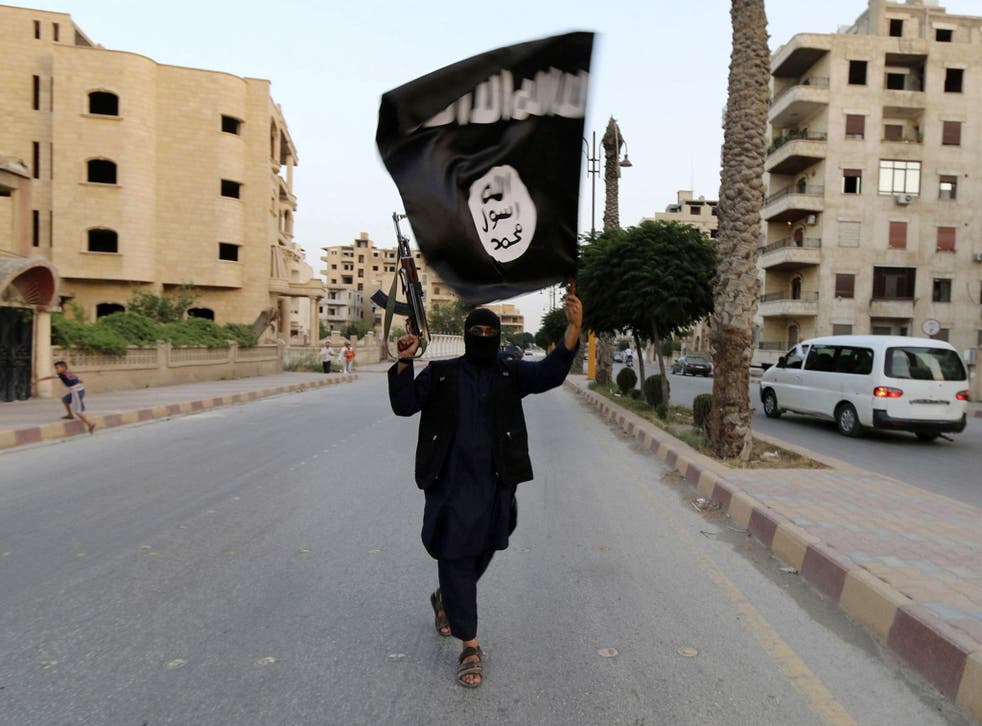 Isis has released gruesome footage claiming to show the murder of more than a dozen men by drowning, decapitation and using a rocket-propelled grenade as it seeks to boost morale among its fanatical supporters.
The so-called Islamic State's media arm claimed the 16 men were killed in Iraq's Nineveh province for spying, releasing a video of their deaths following losses in Syria and Iraq.
Images, which The Independent has chosen not to publish, showed them split into groups and dressed in orange jumpsuits to be murdered.
Four men were trapped in a car that was blown up using a rocket-propelled grenade in the desert, while five more were seen being locked in a cage similar to that used to burn Jordanian pilot Muath al-Kasasbeh alive earlier this year.
They were filmed being lowered into what appeared to be a swimming pool in the cage, which was loaded with underwater cameras that recorded them drowning.
A third group of seven men were made to kneel as explosives were wound around their necks to decapitate them.
The deaths were shown in a seven-minute video, complete with religious backing music and militants inspecting their corpses and body parts.
Isis also forced the prisoners to make statements that appeared to affirm their supposed guilt before they died.
Timeline: The emergence of Isis

Show all 40
Nineveh forms part of the group's territories across swathes of Iraq and Syria and a video was released by militants in February showing them destroying ancient artifacts from its ancient Assyrian city after declaring them blasphemous.
The province has also been the scene of more killings, including stoning a woman to death for adultery and beheading allegedly gay men, under Isis' bloody interpretation of Sharia law.
The latest mass killings came as Kurdish fighters and their allies reportedly captured a military base once held by Isis in Syria activists and officials said Tuesday, moving within some 30 miles of the extremists' de facto capital of Raqqa.
Charlie Winter, a researcher at counter extremism think tank the Quilliam Foundation, said that the "appalling brutality" of the murders aimed to both boost morale among supporters at a time when it is facing increased pressure on all fronts, and gain coverage in Western media.
He cautioned against spreading Isis photos and videos on social media, saying it is part of their strategy and plays directly into extremists' hands.
"We need to talk about Isis atrocities and crimes but the minute we start distributing propaganda on behalf of the propagandists it becomes ludicrous, and really dangerous," Mr Winter added.
"Isis is very rational and it knows exactly what it's doing.
"It knows that by producing appalling content like this it will scare people and get coverage on Western media outlets…they will have made this video fully anticipating the storm that would follow."
He noted the timing of the video coming after Isis losses in Syria and pressure in Libya and Iraq.
Mr Winter had predicted Isis would be "more active than ever" as the one-year anniversary of the declaration of the Islamic State approaches on Sunday
"There is a concerted effort to appear as relevant as ever, stronger than ever and more defiant than ever in the face of international opposition," he said last month, saying the group would be planning "more violence, more advances, more attacks".
The US is heading two separate international coalitions conducting air strikes against Isis in both Iraq and Syria, while Kurds, Iranian-backed militias and government troops are fighting on the ground.
Register for free to continue reading
Registration is a free and easy way to support our truly independent journalism
By registering, you will also enjoy limited access to Premium articles, exclusive newsletters, commenting, and virtual events with our leading journalists
Already have an account? sign in
Register for free to continue reading
Registration is a free and easy way to support our truly independent journalism
By registering, you will also enjoy limited access to Premium articles, exclusive newsletters, commenting, and virtual events with our leading journalists
Already have an account? sign in
Join our new commenting forum
Join thought-provoking conversations, follow other Independent readers and see their replies