Isis defeated in key town of Shirqat as Iraqi army prepares for Mosul offensive
Residents and soliders celebrate the town's freedom after two years of Isis' rule 
Thursday 22 September 2016 17:33 Comments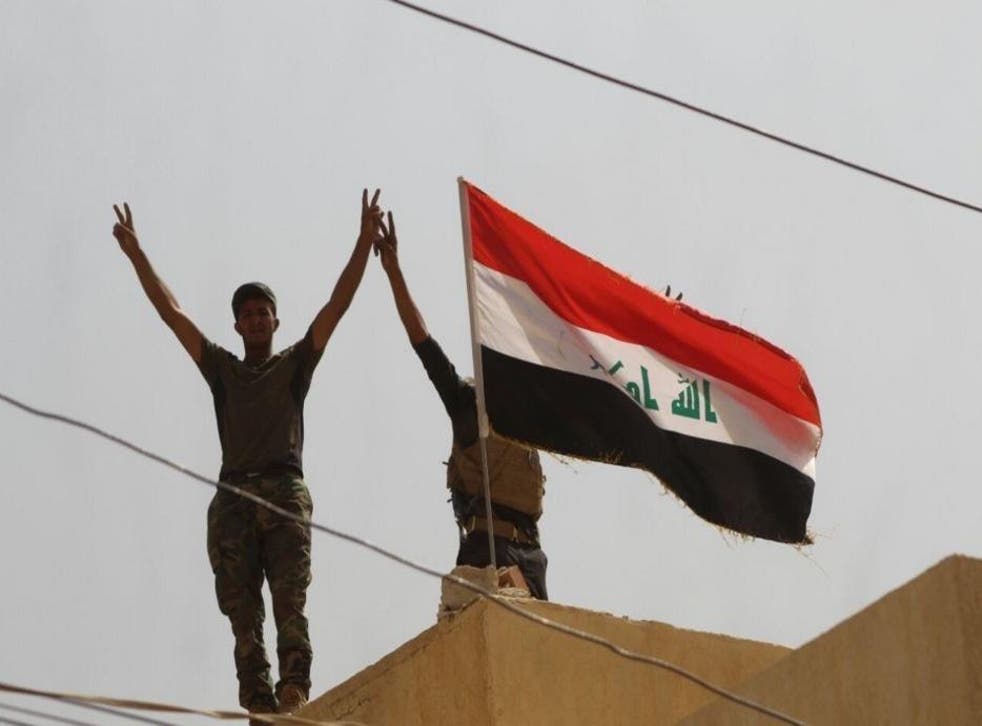 Iraqi forces have managed to drive Isis militants from a strategically important town near Mosul in the north of the country.
An Iraqi army operation backed by US-led coalition airstrikes and government-allied militia units recaptured the town of Shirqat from the extremist group after two days of fighting.
Isis militants fled across the Tigris River and government forces now control 80 per cent of the city, the head of the local provincial council, Ahmed al-Karim told the AP.
Images of the Iraqi flag being reinstated above government buildings were released by the Defence Ministry, and video of celebrating citizens and soldiers was broadcast on state TV and released by the media wing of the Iraqi Popular Mobilisation Forces (PMU), an umbrella group of anti-Isis militia units.
Spokesperson for the Joint Military Command, Brig. Gen. Yahya Rasool, declared in a televised statement that Shirqat had been "fully liberated."
The defeat is another significant blow to the terror group's rapidly shrinking territory. Isis had controlled Shirqat, which has a rough district population of 100,000 people, since the summer of 2014, when it rapidly expanded across north and west Iraq.
In pictures: Civilians freed from Isis in Manbij

Show all 11
The spokesperson for the US led-coalition forces, Col. John L. Dorrian, said the "very successful strike" managed to "eliminate a significant number of fighters who were trying to flee toward Hawija," to the east of the town.
Dorrian did not have specific figures, the AP reports.
Shirqat is about 250 kilometres northwest of the Iraqi capital Baghdad and 100 kilometres south of Mosul, Isis' last major stronghold in Iraq.
Prime Minister Haider al-Abadi has vowed the army will retake the city from the extremists before the end of the year.
Recapuring the town will greatly strengthen the Iraqi army's current base in Qayara, securing supply lines, from where it will launch the Mosul offensive.
Iraqi forces and Kurdish Peshmerga units have recaptured a string of towns and villages around Mosul in recent months as the coalition gears up to remove Isis from the city.
Register for free to continue reading
Registration is a free and easy way to support our truly independent journalism
By registering, you will also enjoy limited access to Premium articles, exclusive newsletters, commenting, and virtual events with our leading journalists
Already have an account? sign in
Join our new commenting forum
Join thought-provoking conversations, follow other Independent readers and see their replies