War with Isis: Australian teenager dies in Iraq suicide bomb attack for militant group
Jake Bilardi converted to Islam after the death of his mother in 2009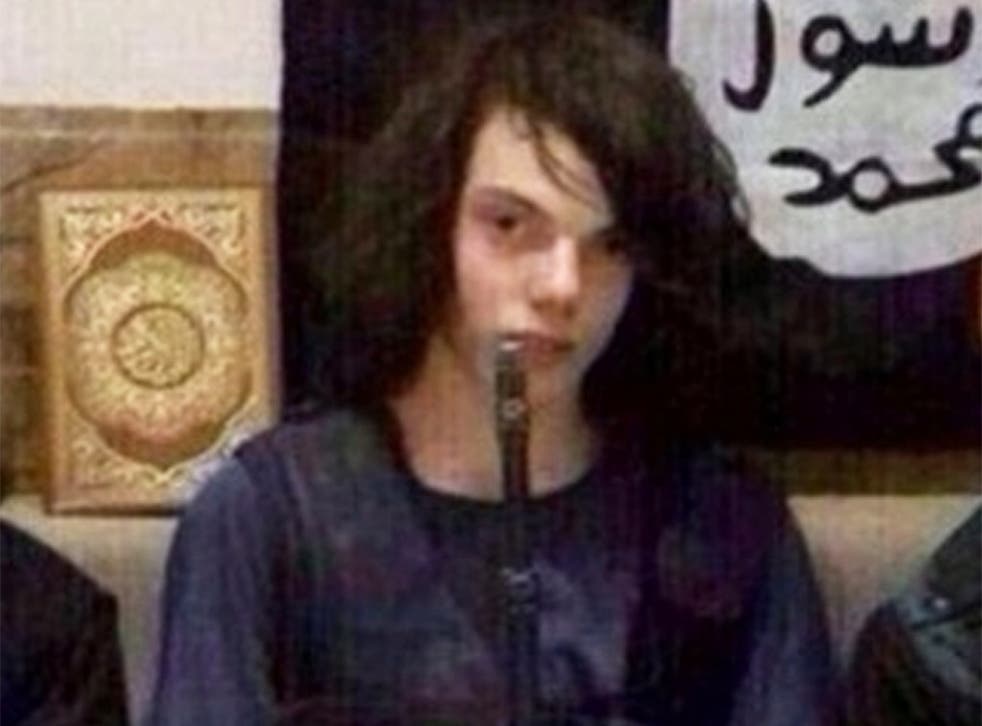 An Australian teenager who joined Isis has died in a suicide bomb attack on Iraqi army forces, according to the extremist militant group.
Jake Bilardi, 18, identified by his Isis name Abu Abdullah al-Australi, was pictured behind the wheel of a battered white van, before apparently launching his attack in Anbar province, west of Baghdad, in information posted online.
He dropped out of school in Melbourne last year and travelled to Iraq via Turkey. He converted to Islam after the death of his mother in 2009.
Australia's Department of Foreign Affairs told ABC News that it was very difficult to confirm reports of deaths in Syria and Iraq. Mr Bilardi reportedly contacted his family after he arrived in Iraq to say he was planning a "martyrdom mission", but later said he was "too scared to do it" and preferred to be a soldier.
"Oh God. Yes, that's Jake. That's horrendous," she told ABC. "He did some work experience with us. He was quite a talented writer and a nice young man."
Timeline: The emergence of Isis

Show all 40
Meanwhile, a boy seen executing an alleged Israeli "spy" in the latest Isis propaganda video is a French citizen, security officials have said.
His companion, a bearded man in his 20s, is believed to be the half-brother of Mohamed Merah, the "scooter killer" who murdered three Jewish children and four other people in south west France exactly three years ago. The use of the boy – as yet unnamed and believed to be 11 or 12 years old – and Merah's brother in the latest Isis video is believed by French intelligence analysts to be a deliberate, double "publicity stunt" by the jihadist movement.
It emerged today that another French boy had become the youngest jihadist to die fighting for Isis. Abu Bakr al-Faransi, 13, was confirmed by French sources to have died two months ago, apparently in a fire-fight with the Syrian army. His two older brothers had already died in the Syrian conflict. The entire family, including his sister and parents, moved to Syria from a suburb of Strasbourg in August last year.
Intelligence sources in Paris told the Le Parisien newspaper and the Associated Press that the bearded man who is seen speaking French in the "child executioner" video is almost certainly Sabri Essid, half-brother of Mohamed Merah. The first of Merah's murderous attacks in the Toulouse area occurred three years ago - suggesting that the video was timed partly to increase fears and community tensions in France.
The boy, seen murdering an Arab-Israeli jihadi claimed by Isis to be a "Mossad spy", has also been identified by western intelligence as French but has not yet been named. The older man believed to by Merah's brother describes the boy as "one of the cubs of the caliphate".
In the video, the older jihadist threatens Jews in France and warns that Isis has plans to conquer Jerusalem. The boy shoots the prisoner in the forehead and shouts "Allahu akbar". He then fires four more shots into the young man's body.
The family of the victim, Muhammad Musallam, 19, have adamantly rejected the claim that he was working for Israeli intelligence.

They said that he went to Syria as a jihadist volunteer. In east Jerusalem the youth's father, Said Musalam, said Isis made up the story "so that they would have an excuse to kill him" after he deserted and tried to go home.
Mohammed's younger brother Amir said he had been duped into joining Isis. "What happened is they promised him a place to live, a wife, money and he believed them," he said. "He simply made a mistake, a very big one."
Essid has a long history of Islamist extremist activism. He was questioned in 2012 as a possible accessory to Merah's scooter-borne attacks on a Jewish school and off-duty French soldiers.
No evidence was found linking him to the murders. Although supposedly under surveillance, Essid was known to have travelled to Syria via Turkey last year.
More than 1,000 French Muslims, including several entire families, are believed to have joined extremist movements in Syria and Iraq. Some have already returned.
"Nearly 90 French citizens have died there, weapons in hand to fight against our values," French Prime Minister Manuel Valls said last Sunday.
They now include 13-year-old al-Faransi. French radio reporter David Thomson said one Isis source had described the boy as "a good young guy."