Isis in Iraq: John Kerry condemns severed-head child photo as 'one of most disturbing, stomach-turning and grotesque ever displayed'
The images shows the seven-year-old son of Australian terrorist Khaled Sharrouf holding up the head of a Syrian soldier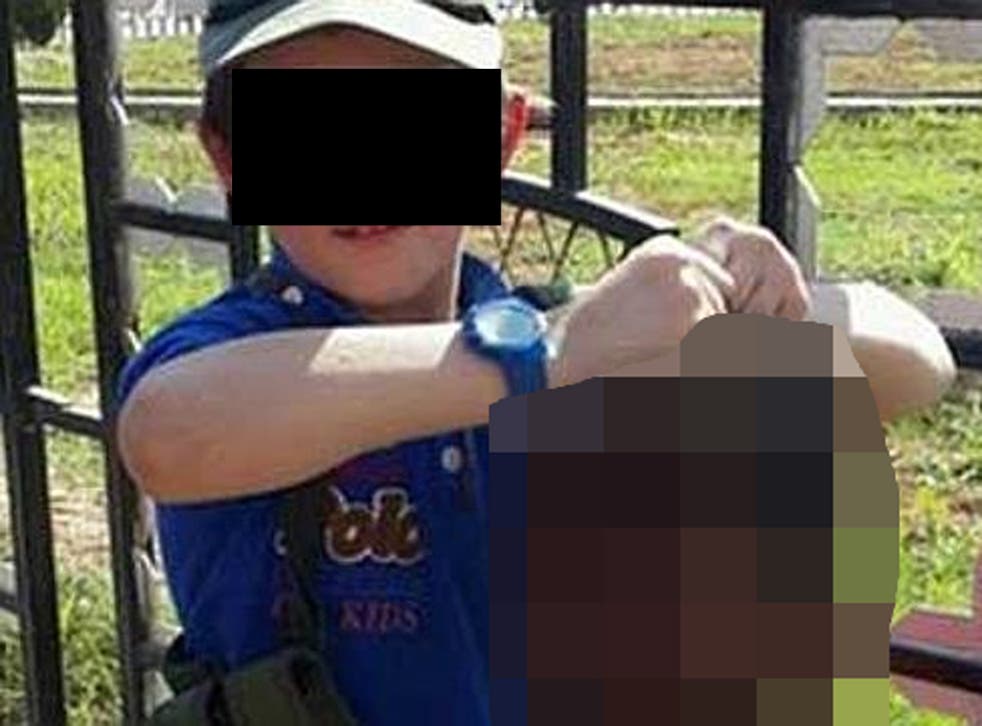 An image showing the seven-year-old son of an Australian terrorist holding up the severed head of a Syrian soldier is "one of the most disturbing, stomach-turning, grotesque photographs ever displayed", the US Secretary of State has said.
John Kerry, who is in Sydney for talks on US-Australian military cooperation, said that the image tweeted by Isis foreign fighter Khaled Sharrouf showed why the militant group posed such a threat to the world.
The danger faced by Australia and the US from imported Isis- and al'Qa'ida-related terrorism is expected to be one of the main topics for discussion during the annual summit.
And Mr Kerry proposed taking the issue of foreign fighters to the UN so that countries could unite in agreement on the best practices to protect themselves against terrorist fighters returning from Iraq and Syria.
Sharrouf, 33, is a convicted terrorist who left Australia using his brother's passport last year. Pictures posted to Twitter appear now to have confirmed his extended family's worst fears – that he took his three Sydney-born sons to join the fighting with him.
Peter Nettleton, the father of Sharrouf's Anglo-Australian wife Tara Nettleton, said he had been under the impression that his daughter and his five grandchildren had stayed in Malaysia while their father went on to wage war in Syria.
He said he was later "gutted" to see a front page photo in The Australian newspaper of his grandson lifting the head by the hair with both hands.
"I'm scared for the children," Mr Nettleton told Australia's Daily Telegraph newspaper. "What life are they going to have now? Can't the government do something to pull these kids away from that man?"
Sharrouf has also posted a photograph of his three sons posing with him in matching camouflage fatigues and armed with assault rifles and a pistol with an Isis flag as their backdrop. He also has two daughters, the Telegraph reported.
Mr Nettleton said he had become estranged from his daughter Tara nine years ago – when she was just 17 – after she converted to Islam and married her teenage sweetheart Sharrouf, an Australian born to Lebanese immigrants.
In pictures: The rise of Isis

Show all 74
He said that he had never seen his grandchildren, but knew that his ex-wife Karen had remained close to their daughter. He said they thought she would be coming back from Malaysia "within the month" – though none of the images from Syria show her actually out there.
Speaking to ABC, Australia's foreign minister Julie Bishop said the family would face legal action if they returned to Australia. She did not say whether her government would make an effort to secure the children's return.
"This imagery, it's shocking and it underlines what we've been saying about this threat to Australia and Australians from violent extremism," she said.
Ms Bishop said jihadists whose "barbaric ideology" threatened Australia's way of life would be one of the key focusses of the talks with Mr Kerry and the US Defence Secretary Chuck Hagel.
Register for free to continue reading
Registration is a free and easy way to support our truly independent journalism
By registering, you will also enjoy limited access to Premium articles, exclusive newsletters, commenting, and virtual events with our leading journalists
Already have an account? sign in
Register for free to continue reading
Registration is a free and easy way to support our truly independent journalism
By registering, you will also enjoy limited access to Premium articles, exclusive newsletters, commenting, and virtual events with our leading journalists
Already have an account? sign in
Join our new commenting forum
Join thought-provoking conversations, follow other Independent readers and see their replies